15 Social Media Plugins – WordPress 3.2.1
July 14th, 2022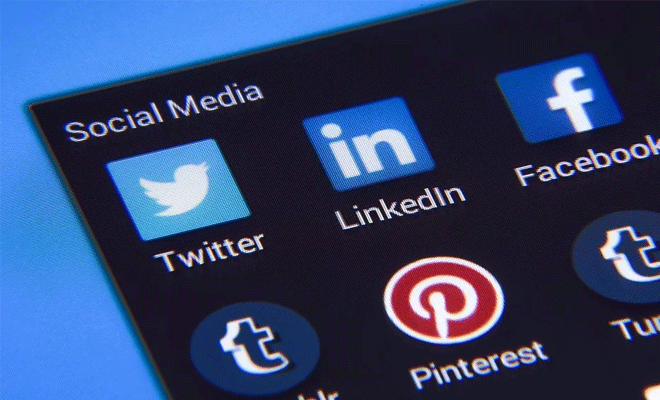 The social promotion of every Website becomes quite necessary not only to fetch the visitors' attention but also to gain the better search engine rankings. Adding the social sharing, bookmarking, follow or login options in a non-CMS Website becomes a cumbersome job. If you're running your Website on WordPress then it is an easier task for you. In this write up, we will highlight the best 35 social media plugins for the latest version of WordPress. You can use them to promote your Website on major social networking platforms.
NOTE: We've installed and tested working of all these listed plugins on WordPress 3.2.1 at localhost through WAMPserver 2.1e as on Jan 23, 2012.
This plugin features social sharing and bookmarking icons from all major social networking Websites. It also includes the buttons for Google +1, Facebook Like and Facebook Send. SexyBookmarks allows you to either animate the icons on mouse hover or have them static. One can also set the script for this plugin to load in footer means no effect on performance of your Website. It is available in 15+ different languages. You can set this plugin not to display in mobile browsers for better performance. Click here to see how you can install and configure this plugin in WordPress.

Preview of Shareaholic SexyBookmarks in WordPress 3.2.1
This plugin allows you to publish the new or already published posts on major social networks. In its default free versions, it support auto-publishing at seven social platforms like Facebook, Twitter, LinkedIn, MySpace etc.  In paid version, it allows auto-publishing at 30 networks. You are register an application on each selected social network along with LinksAlpha and then enter its key in the plugin to enable auto-publishing feature.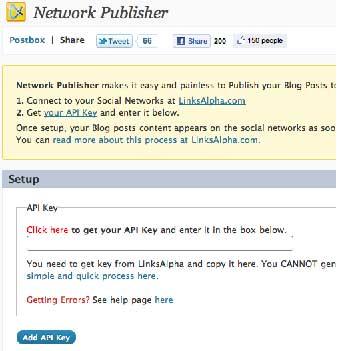 Preview of Network Publisher Settings
ShareThis plugin allows visitors to share content on your WordPress Website on major social networking platforms like Facebook, Twitter, Google+, MySpace etc. It also allows them to share the content through email as well. Currently, it is being used on more than 1,000,000 Websites.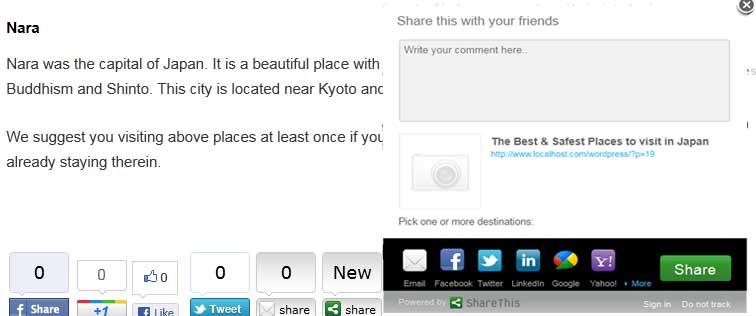 Preview of ShareThis Plugin with Vertical Count Buttons at WordPress 3.2.1
You can change the appearance order of icons and set them in seven different styles like: Large icons, Horizontal Count, Vertical Count, Classic, Regular Buttons, Regular button no- text and Buttons. ShareThis also allows you to modify the HTML tags and other widget options. It automatically adds a publisher key for each new installation. Please note that you cannot turn off this plugin for mobile browsers.
AddtoAny is one of the most used plugins on WordPress. It contains more than 100 social sharing & bookmarking buttons for your Website. The plugin first appear as a link, which pop-ups a context menu on click. The pop-up style layout benefits the Webmasters to have multiple social sharing options in a very small place. The context menu has three different tabs: Share/Save, Bookmark and Email, which allows users to find out the required option easily without wasting much time. You cannot turn off this plugin for mobile browsers.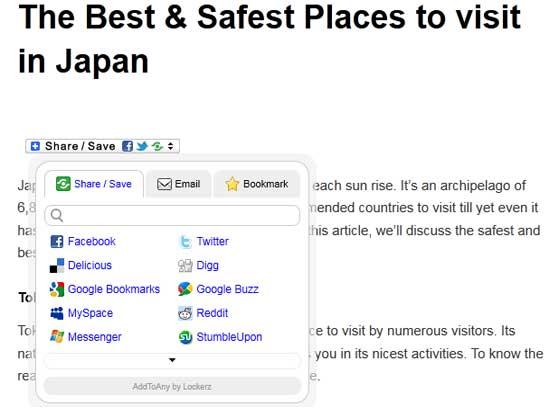 Preview of Add-to-Any Plugin on WordPress 3.2.1
NOTE: One can use a combination of SexyBookmarks plus AddtoAny. He/she can set the SexyBookmarks to appear in the posts only and set AddtoAny to appear in the Index page, front page & RSS feeds.
It is a lightweight plugin to integrate the social sharing icons at the bottom or WordPress posts. Its icon list includes Facebook, Twitter, Google Buzz, Yahoo Buzz, Delicious, bebo, Stumbleupon, Reddit, Digg it, Technorati, LinkedIn etc.

Preview of Light Social Plugin in WordPress 3.2.1
WibiyaToolbar
Wibiya Toolbar is one-stop solution to display the services of different & major social networking platforms on your WordPress Website. Wibiya Toolbar has following options:
Translate
ShareThis
Facebook Like button for your Fan Page
Twitter Tweet button
Google +1 button
Facebook Fan Page Latest Activity
Twitter Live Stream
YouTube Videos
Login & Chat options from different providers like Facebook, Twitter, MySpace and Yahoo. One can use any option to chat with their friends.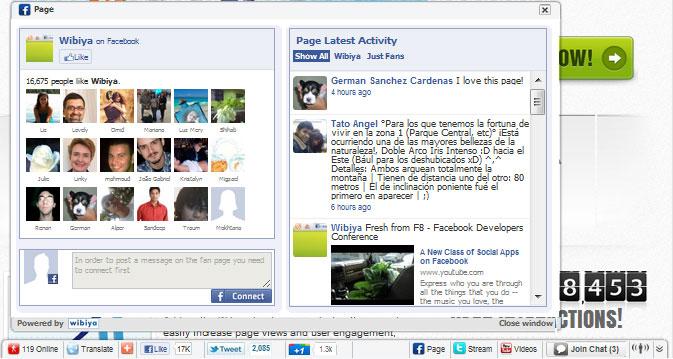 Preview of Wibiya Toolbar along with Facebook Fan Page Activity Window (Courtesy: Wibiya.com)
The toolbar will take only two to three inch space on your Website and shows all above interactive options. You just have to create an account at their Website, select the social required options, set up your toolbar and then add it in your WordPress installation.
Google FriendConnect allows users to login with their Google, Twitter, Yahoo, AIM, OpenID and Netlog accounts. The people can leave feedback, pass on comments, rate your Website and see the list of recent visitor. You can also start a Newsletter Subscription Service on your Website, launch an event, and run a poll. The visitors can also sign in with FriendConnect to leave comments.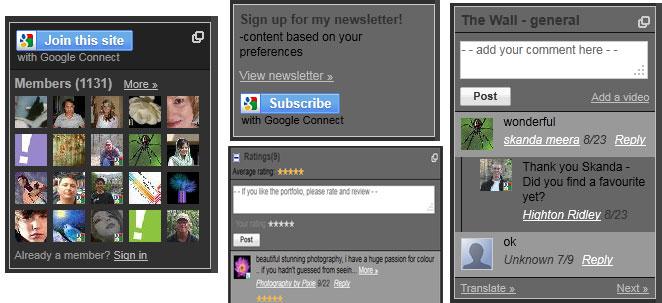 Preview of Google FriendConnect Widgets (Courtesy: highton-ridley.co.uk)
Using this great plug-in, you can add a highly customizable toolbar with share buttons, recent tweet, social network icons, and color selection into footer of your WordPress site or blog. The best thing is it also works great in small-screen mobile environments, means it is fully responsive. Even, you can decide whether you want to show the Social ToolBar on a mobile device or not.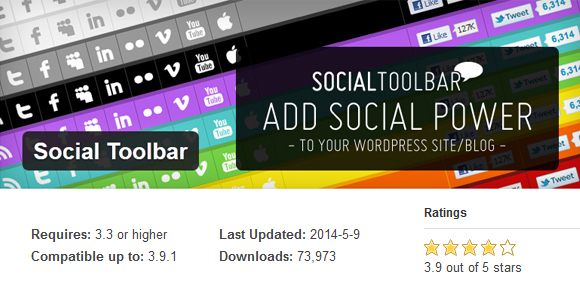 Preview of Social Toolbar plugin
This plug-in is designed to keep your old posts alive by tweeting about them and getting more traffic to them from Twitter. Also, you can set time and no of tweets to post to drive a huge amount of traffic.
It has following great features:
Exclude categories
Include links back to your site.
Choose the number of tweets to Tweet.
Choose the time between tweets.
Share new and old posts.
Exclude specific posts.
Use hashtags to focus on topics.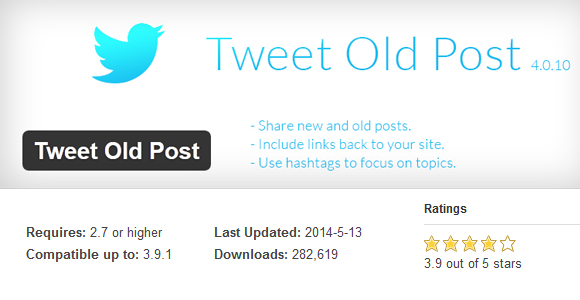 Preview of Tweet Old Post

Digg Digg is a plugin to offer the social sharing buttons in both horizontal and vertical positions. Do not go on name as it offers social icons for major platforms like Facebook, Twitter, Google+, Google Buzz, Digg it, Reddit, LinkedIn, Delicious, Tweetmeme etc. Its biggest drawback is that it calls the social icons from their relevant providers, which means a separate script will run for each icon. Selecting all the icons can make your WordPress-website load slowly, therefore, select only the necessary icons.

Preview of Digg Digg Plugin in WordPres 3.2.1
This plugin allows you to add the +1 button at Posts, Pages, Attachments, and Custom Post Types. You can select any one of the provided four button styles. WP +1 Button also comes with a +1 widget. While publishing a post or page, you can select whether to show the +1 button on it or not.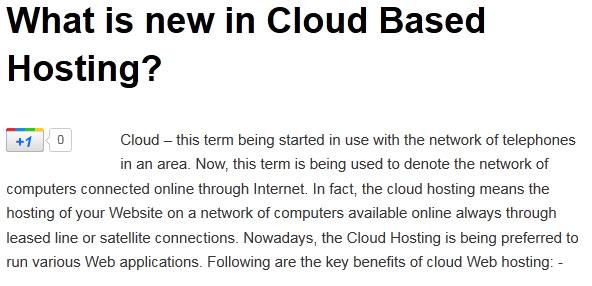 Preview of Google +1 Button in WordPress 3.2.1
Bookmarkify provides a set of small sharing or bookmarking icons for major social networks. It allows you to either generate XHTML 1.0 Strict or HTML 4.01 Strict markup code. You can select where to show the icons – top of the content or at bottom. In addition, you can also integrate the Feedburner using this plugin.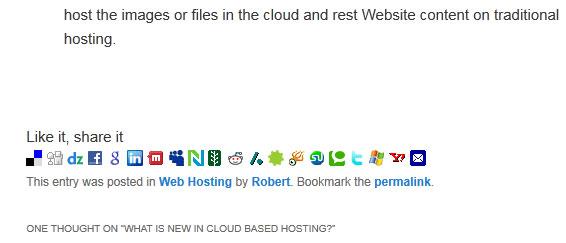 Preview of Bookmmarkify Plugin icons in WordPress 3.2.1
Socialize provides both types of social icons to share your WordPress Website: Vertical and Horizontal. The vertical icons are the default one in Socialize Settings, whereas Alert Box Social Buttons will be displayed in a separate widget horizontally below the content. Like Digg Digg, it loads separate script for each icon so please select only necessary icons.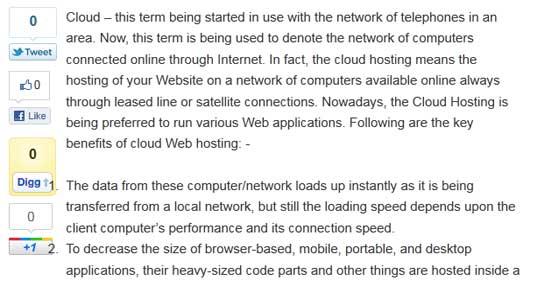 Showing Vertical Social icons through Socialize in WordPress 3.2.1

Horizontal Social icons in Alert Box Widget through Socialize in WordPress 3.2.1
Sharebar allows you to create a vertical or horizontal toolbar containing social sharing/bookmarking icons. It contains icons of Google Buzz, Facebook, Twitter, Reddit, stumbleupon, Yahoo, and ShareThis. In addition, you can add other icons as well like Google +1 in this toolbar.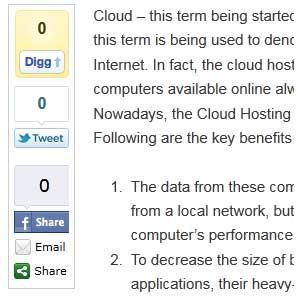 Preview of Sharebar installed at WordPress 3.2.1
Conclusion
Above article contains the feature-rich social sharing, bookmarking, follow and connectivity plugins. You can use them to boost your Website on social media platforms. If you are using or have used anyone of the above plugins then share your experience with us. We also request our readers to provide their valuable feedback through comments about the listed plugins.