Adding Shareaholic SexyBookmarks to your Website
January 28th, 2022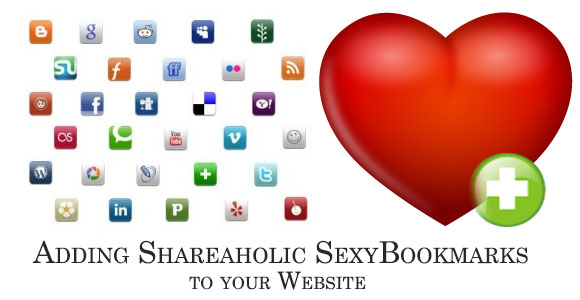 The Webmasters and SEO professionals are giving more importance to generating social signals for URL instead of building links for it. Do you know why? Because major search engines like Google and Bing are giving more preference to human generated actions like social signals, content etc. The users can do Facebook Like, Twitter Tweet, LinkedIn share etc. You've to add the scripts for each social function to your blog in order to allow the users to like/share the articles. There are numerous social Websites providing such functions including a button and script. If you add all of them then Website will load slowly ever than you imagine. Wanted to save your Website from being slow and add all the social media sharing options within 5 minutes then go for Shareaholic SexyBookmarks.
Benefits of using Shareaholic SexyBookmarks
No cost
Options to share the post on famous

Social Networking,
Social Bookmarking,
Blogging Platforms, and
News Sharing Websites

Innovative and Interactive Layout of buttons
Easy customization and Faster loadings
Ability to load the scripts in footer to minimize the loading time
No technical knowledge required
How to Install and Use?
You can watch following video to know how to install and use it for your Website.
Steps to install Shareaholic SexyBookmarks
Visit the WordPress login page, i.e. wp-login.php.
Login with your credentials and come at WordPress Dashboard.
Scroll down and click 'Add New' option in Plug-ins section.
Type the name SexyBookmarks in search box and click 'Search Plug-ins' button. It searches the WordPress Plug-in Directory and shows off the different social bookmarking plug-ins.
The first one is SexyBookmarks, which we need.
Click Install Now link underneath SexyBookmarks and then click OK button to install it. It may take a while or few seconds to install this plug-in.
After installation, this will ask to activate the SexyBookmarks plug-in. Click on Activate Plug-in link and it redirects you to Plug-ins page. You will notice a red banner on the top asking to configure Shareaholic SexyBookmarks plug-in.
Scroll down and click on Shareaholic option located beneath Settings. It will open the SexyBookmarks Options page.
Here, you have to select which sharing/bookmarking options you want to display on the blog posts. You can check the options to be added in the Enabled Networks section. For example, we are selecting bebo, Blogger, buzzster, comfeed (means Comments Feed), digg, friendfeed, googlebookmark, googlereader, hotmail, identica, myspace, netvibes, newsvine, orkut, plaxo, posterous, sphinn, squidoo, technorati, tumblr, virb, yahoomail, yandex, and zarbox.
You can also drag and drop the buttons to change their appearance order, like we are doing here.
Scroll down and select whether you want to display the Facebook Like button or not.
You can also customize the Twitter Tweet configurations in Twitter Options section.
Shareaholic SexyBookmarks use different URL shortener services like bit.ly and goo.gl, you can select what you need.
Now, select the image which you want to display above the social buttons.
If you want to minimize the loading time of your Website then check 'Load scripts in Footer'.
In 'Menu Placement' Section, you can also select where you want to display the Social buttons like in
Pages, Indexes, Posts, or RSS feeds.
You must select any option having Posts to display bookmark buttons on your articles. We also advise you to select 'Yes' for 'Show in RSS feed'.
If your Website is being heavily visited from Mobile browsers then you can hide the SexyBookmarks from mobile users to minimize the loading times.
Customize the SexyBookmarks as per your own convenience and click Save Changes button. This will save the changes and refresh the page. That's it.
Please provide your valuable feedback and suggestion about this video from your comments. We will wait for your responses.