Optimize Your Blog Posts for SEO: A Quick and Easy Guide
September 21st, 2023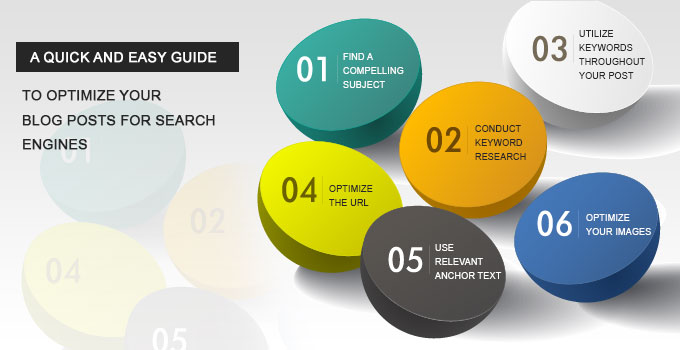 The omnipotent notion of the Internet marketing goes like this—the one that is visible is predictably too sellable!!
Avid competition of the brands is dwelling on the web portal, wherein the foremost destination is the page one of top search engines, such as on the Google. Henceforth, to foster the result manifold, an apparent technique has evolved since few decades, that is: Search Engine Optimization (SEO).
SEO is better known as the God father of the Web marketing industry. It is that one tool that leverages your website and transforms your brands presence on the Internet by percolating numerous strategies of link building, generating keyword traffics, and so on.
Nonetheless, there are several elements that are always in demand to make a site visible and user-friendly; and surely one of them is the blog post. Content is the foremost element that makes a site authentic and interactive; therefore, it inevitably becomes the most vital pillar, which must be nurtured carefully. A write up should always be demanding and engaging. Although, there are various tips required for writing on the Internet; nevertheless, it is also effective to cater an SEO optimized writing skills, which is no way different but more elucidating.
This article briefly overviews the distinctive and significant factors that can optimize your Blog Posts for SEO:
• Find a Compelling Subject:
The first and foremost thing you can do is to offer your readers a fresh and unique perspective on a particular subject. This will not only differentiate your content from all the other pieces available around the web, but also will attract a large number of inbound links which moves your website up in the search engine ranking. Therefore, spend some time on finding a new blog post idea before going through the rest of the optimization process. Remember, SEO starts once you've got a unique, informative and enthralling blog post. Listed below are some the best tools and resources you can use to find blog post ideas quickly:
Blog Title Idea Generator
• Conduct Keyword Research:
Keyword research is the absolute mandatory step to determine whether your selected topic is aligned with what people are searching for on the web. Before you're going to write your post, develop a list of keywords that are relevant to your blog post and driving the highest search volume in your industry. There are several free and paid tools available to help you perform keyword research and analysis, including but not limited to:
Once you have done your keyword research, it's time to pick a low difficulty keyword, which has the highest search volume and the lowest competition. Use this keyword as your Focus Keyword.
• Find Semantic Keywords for Your Focus Keyword
The next step is to find out the concepts and phrases related to our focus keyword. These are the Latent Semantic Indexing (LSI) keywords that you need to include in your blog post. You can easily find them by entering your focus keyword in Google and then scrolling to the bottom of the search results page.

Or you may find them in "People also ask" section of the search results page.

Or you might see them before you finish typing your Focus Keyword in Google.

Try to incorporate as many of these phrases and keywords in your blog post so that you can provide the most comprehensive content to searchers.
• Utilize Keywords Throughout Your Post:
Once you've determined your targeted keywords, it's very important to place them where they can have the most impact for search engine spiders to index your web page content. For better results, incorporate your keywords into your blog post at the places given below:
Title: The title of your blog post should contain your focus keyword and be under 70 characters. Use these tools to analyze how compelling your titles are:
Meta Description: A good Meta description contains your focus keyword and is within the 155 characters limit.
Headings & Subheadings: Try to include variations of your primary keyword in the Headings and Subheadings of your blog post.
Note: While using keywords in your post, avoid keyword stuffing that is an act of filling your content with a large number of keywords. Doing so will not only annoy your blog readers, but also get your site penalized by Google. The optimal keyword density for SEO is up to 3%.
• Add Images and Videos to Your Blog Posts
The more engaging your blog post is, the higher will be its chances of ranking higher in search results. And there is no doubt that images and videos are one of the sure-fire ways to turn your content from boring to fascinating.
Hence, to make your blog post content more valuable, informative, and engaging, add royalty free images between paragraphs of your content. You can even use a tool like Canva to create visually appealing images and infographics to incorporate in your blog posts. Moreover, embed relevant videos from platforms like YouTube in your blog posts to make them more interesting for your audience.
• Optimize Your Images:
An SEO friendly blog post doesn't only contain informative text, but also has gorgeous images to explain the content. Unlike humans, search engine spiders are not able to recognize an image, but they make use of Alt text to understand what the image means. So while uploading an image to your blog, add a pertinent and keyword rich Alt text to it. To take the full SEO advantage possible from your images, use your keyword in the image file name.
• Optimize the URL:
A good and clean URL structure of your web pages makes it easier for search engine bots and website visitors to figure out what about your post is. Include relevant keywords in the post URL and make it reader-friendly. Keep your URLs accurate, compelling, and relevant to get your post ranked higher on Google. Use hyphens instead of underscores to separate words. For example, The URL yoursite.com/blog-post-optimization is more SEO-friendly than yoursite.com/blog post optimization. If your blog is running on WordPress, you can choose to create a custom URL structure for your permalinks: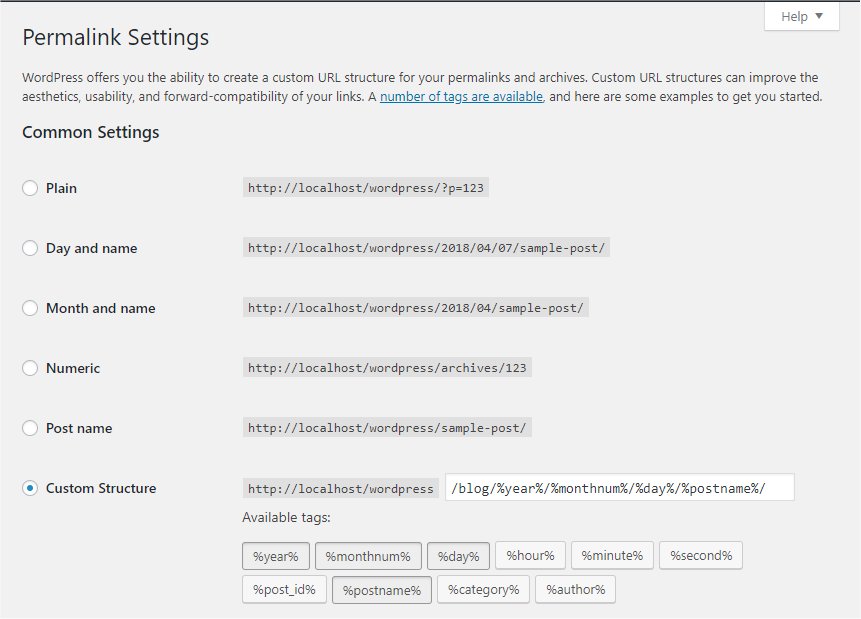 • Use Relevant Anchor Text:
While you're going to publish your blog post, don't forget to incorporate relevant links to important pages within your website and to other authentic pages outside your website. A good linking strategy not only gives your readers a chance to get the more information about the particular topic, but also tells search engines about the pages you consider relevant and authoritative. Choose the right words for your anchor text and place them at the right place in your blog post. For instance, if you're linking to the same internal page more than one times in a single blog post, make sure to optimize the first instance of anchor text. Moreover, if you have sponsored or affiliate links on your page, don't forget to set them to 'nofollow.' Use the following plugins to add the Nofollow tag to your links in WordPress:
• Optimize for Featured Snippets
Featured Snippets are the highlighted search result that appears just above the first position, usually in a box. Here is how they look like: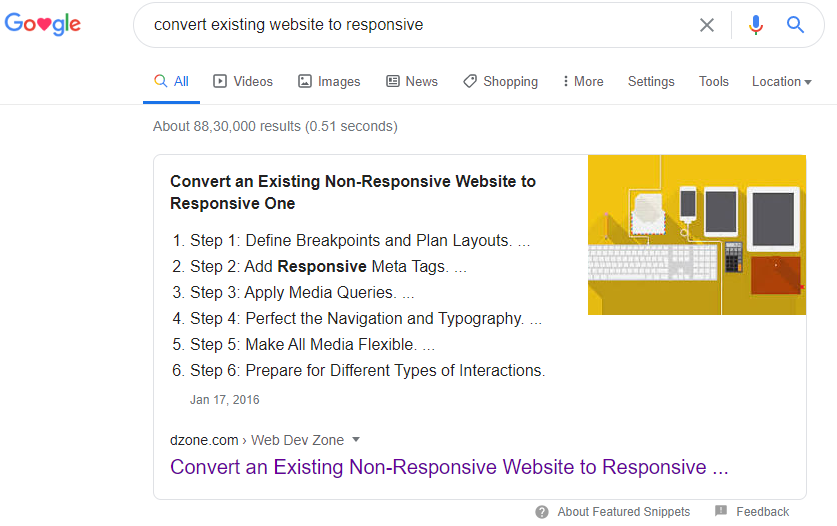 There are mainly four types of Featured Snippets that you can see on Google:
Paragraph
Video
Table
List (both numbered and bulleted)
Also known as the Google Answer Box, Featured Snippets secures an astounding 32.3% CTR. Since Google doesn't provide any specific set of instructions regarding how they determine what to show as the Featured Snippet, the only thing you can do is optimizing your content for the Featured Snippet.
• Make Your Content Easier to Read
Readability is another crucial factor considered by search engines. Generally, articles with good readability rank higher than those that are difficult to read. Incorporate the following elements into your content to make it more readable and consumable:
Short Sentences and Paragraphs
Headings and Subheadings
Bulleted and numbered lists
Quotes from experts
Punctuation
Multiple images
Concise writing
To further check and improve the readability of your content, you can take advantage of Yoast SEO's built-in readability checker.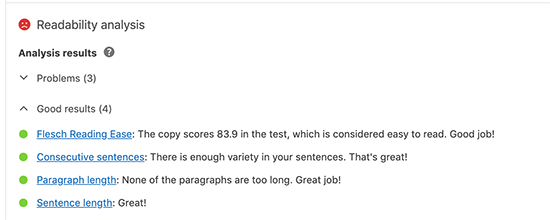 Or you can also use a tool like Grammarly.
• Improve Your Site's Load Speed
Page load speed is now a ranking factor even for mobile searches, which means that you need to optimize the load speed of your website to rank higher in search results. Go to Google PageSpeed Insights and enter your URL to see how fast it loads.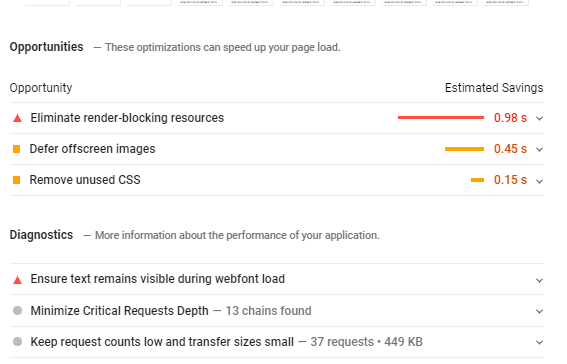 Go through the recommendations provided by Google and improve your website's page speed accordingly. Additionally, you can check out our tips on how to speed up your WordPress blog.
• Update Your Blog Posts Regularly
Hitting the publish button is just a beginning, so don't stop there. You can drive more traffic to your website or blog just by updating your blog posts on a regular basis. Updating your older blog posts with the latest content is far better than publishing a completely new post as most of your old blog posts may already be ranking high in search result pages. In other words, publish new content, but don't forget to update old content as well.
• Building Inbound Links to Your Blog Posts
Since link building is the spine of SEO, you can't just ignore it. If some high-authority inbound links back your content, you'll see a significant increase in its search rankings. Hence, focus on getting quality incoming links from blogs with high domain authority and increase your chances of ranking in Google's top 10 results.
That's It!
Need help with the SEO of your WordPress site. Hire WordPress SEO experts from WordPressIntegration to get your site on the top of search engines.