Building Social Networking Site with WordPress using WP Symposium
January 28th, 2022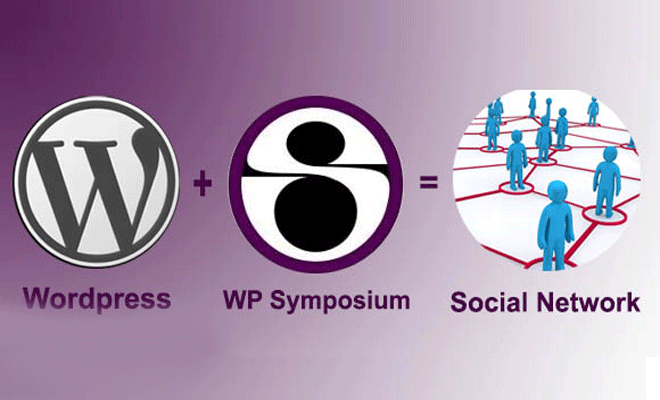 In the past 5-7 years, we all have seen how social networking has evolved on the web. In this period Google launched 'Orkut', and Mark Zuckerberg introduced 'Facebook' to the world, and provided their users with a platform to engage with their erstwhile acquaintances/friends from school, college and professional lives. And after a few years, things changed drastically as organizations also started using these platforms as a medium to promote themselves and to engage with their fans and users.
Considering the popularity of social networking websites, many tech savvy entrepreneurs launched some more social networking sites, which made it to the list of socializing websites. If you too are looking to develop your own social networking website, the open source software-WordPress would prove to be the easiest platform to work on with some amazing plugins, which are free to use and provide their users with all the necessary features and functionalities that social networking websites must possess.
As WordPress is globally popular among online entrepreneurs, and if you are one of them, there is a strong possibility that you might be aware of certain plugins that helps in setting up a social networking websites, such as 'Buddy Press' and 'bbPress'. However, today we aren't talking about them, as both these plugins require technical skills. In fact, today we are going to talk about 'WP Symposium', tell you more about it, how it's just a matter of minutes to set up a social networking site with all the required features and functionalities.
Building a social networking site with WordPress using WP Symposium is quick and easy, and most importantly it doesn't require you to have expert technical skills. In fact, what you need is a little bit of knowledge about installing and using WordPress. With WP Symposium you get a wide variety of features, which you can enable or disable at any time.
With this great plugin, that any WordPress user can download to make a social networking site (as it is available for free), one can make world class social networking websites. And given below is a list of social networks that you can build.
You can create a social network for your University or Club or for people who live together in groups.
You can make an internal intranet for organizations and NGOs.
Building dating websites is hard. As you need to integrate a lot of features, for which 3rd party software are generally required, but with WP Symposium you can create a highly sophisticated dating portal, which also includes portals for a niche group of people.
In the market there is a strong demand for a social network that can support products and services, and with WP Symposium you can make it possible with ease.
Nowadays there is a trend of making hobbies and interests specific social networks, and with the availability of WP Symposium, you can build that kind of networking websites within a few minutes.
Private Mails and Live Chat
As far as its features are concerned, it has got member profiles and activity streams to see what people 'like' and 'dislike', and what they are doing over internet like sharing videos, posts, and updating their status. If you construct a website using this magnificent plugin, people on the website can add unlimited number of friends. Moreover, it comes with a feature called 'follow', with which users can follow their friends or any other profile.
In addition to this, to keep things private, it lets the user to have a private conversation with your friends via 'private mail'. And to keep you updated, it has got 'real-time notification alert', which is present in the menu itself. Moreover, if you are eager to know who is online and who isn't, then you can have a look at the 'panel' available on the right hand side of the home screen, which displays the same. Within the same panel, you also get an option for 'live chat', including a chat room.
Forming the Forums
WP Symposium also provides you with a member directory, which lists all members by their name, last activity and their distance from your place. Moreover, people having common interest or hobbies, can also form their private or public group with a dedicated forum and live activity stream. With 'forum', you can give your members, a place where they can post topics, they need some assistance on, and can organize them into specific categories. Within the forum, they will also get many exciting features like uploading images, videos, sticky posts, etc. Each member of the forum gets access to privacy settings, which they can set according to their requirements. And that is not the end of features yet, in fact, the users can get votes from other users on their particular posts, which eventually helps you create a question and answer sort of forum.
In today's time, organizing events is a tough task, but with WP Symposium, it is easier than you can think, and to help you with this, it comes with a dedicated 'events' feature that lets you create events with a booking facility. Moreover, you can even ask the event attendees to pay for the event that you are planning to host.
Conclusion
Apart from this, if you also want your users to provide with a certain feature so that they can create their personal photo albums then what all you need is just activate the 'gallery' option. Once its done, the users will be able to showcase their photo albums, which can be easily viewed by their friends.
All in all, WP Symposium is one such WordPress based plugin, which offers you a wide variety of advanced features, which are helpful in setting up a complete social networking website.