14+ Coronavirus (COVID-19) Plugins for Your WordPress Site
February 13th, 2023
The Novel Coronavirus (COVID-19) has become the biggest global threat for humankind, with the number of cases growing exponentially every day. At the time of this writing, the new global pandemic has infected over one million people and caused over 50K+ deaths worldwide. Click here for the latest estimate!
Since we all are now hit by the long-term lockdown and shutdown worldwide, it's imperative to raise awareness and update your clients and website visitors about the status of your business. The best way to do this is probably through your WordPress-powered business site.
Listed below are some of the recently launched WordPress Coronavirus (COVID-19) plugins to get you started or you can hire a reliable WordPress plugin development company to build a custom one.
A very simple yet extremely powerful plugin built with the sole purpose of allowing site owners to add a highly customizable COVID-19 notice banner to either the top or bottom of their WordPress sites. You can even display your banner as a pop-up window.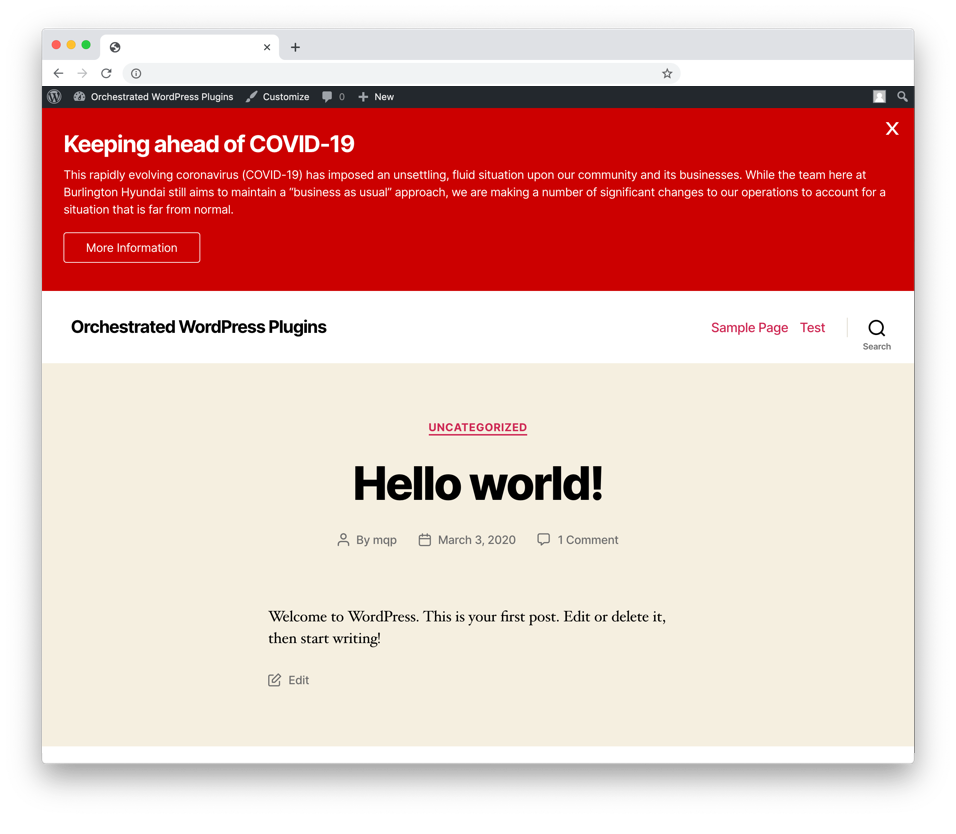 Built on the top of the NovelCOVID API, this plugin allows you to display the latest COVID-19 data of the entire world and your favourite country in your WordPress post or page through shortcodes:
[cov2019]: Shows basic data of the world and selected country.
[cov2019all]: Displays data of all countries in the form of a table.
[cov2019map]: Shows a map with data of each country.
You can also display the number of confirmed, dead, and recovered patients in the world, a specific country or region you select.
Using this GeoMarketing plugin, you can display country-based and worldwide information about Coronavirus in real-time on your WordPress site for free. You simply need to use shortcodes or tags to show the information.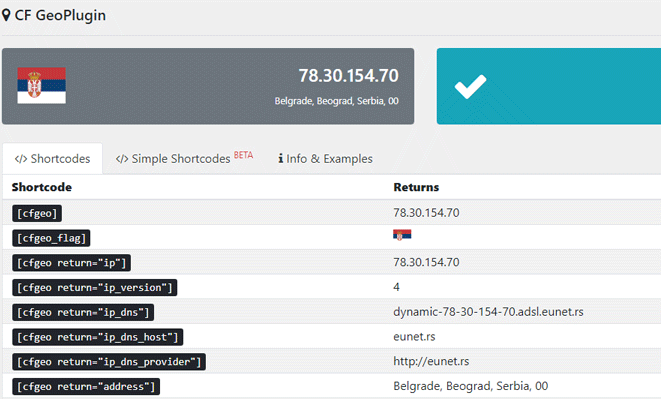 You can use this plugin to display live updates related to Novel Coronavirus in your WordPress page, post, and widget sections. With the help of shortcodes, you can show the live number of deaths, infected, and recovered cases across the globe. Also, you can create a country-based Coronavirus outbreak data card.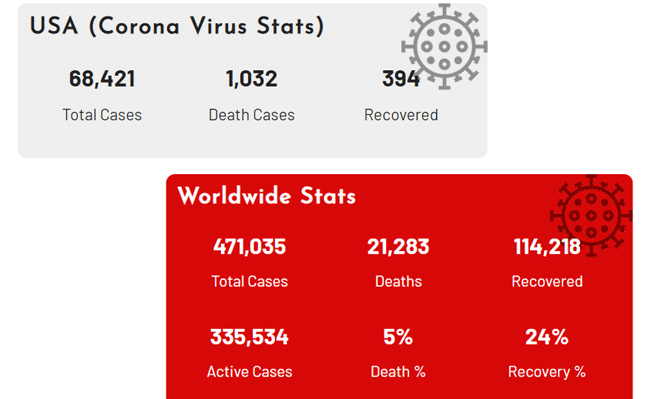 Created by using the NovelCOVID API, this plugin allows you to show the real-time number of deaths, confirmed and recovered COVID-19 cases by country or global. The plugin is Shortcode flexible, which means you can display the information everywhere on your WordPress site.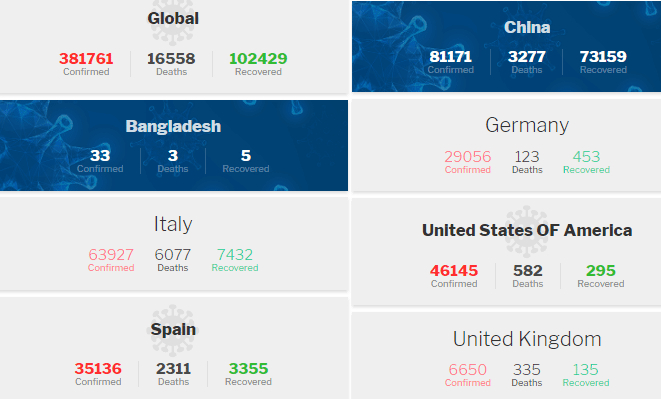 Using this plugin, not only can you display live COVID-19 data, but also you can add a custom Awareness popup to your WordPress site. You'll be able to show the relevant information, such as new cases, total deaths, the number of recovered and critical cases on your site. The plugin also supports Shortcodes, widgets, and the Elementor page builder.
With this plugin, you can simulate the outcome of the SARS-CoV-2 Coronavirus, using your own input parameters or by using real-time data provided by the CDC/WHO. The plugin automatically generates summary charts and tables to help you better understand the generated results.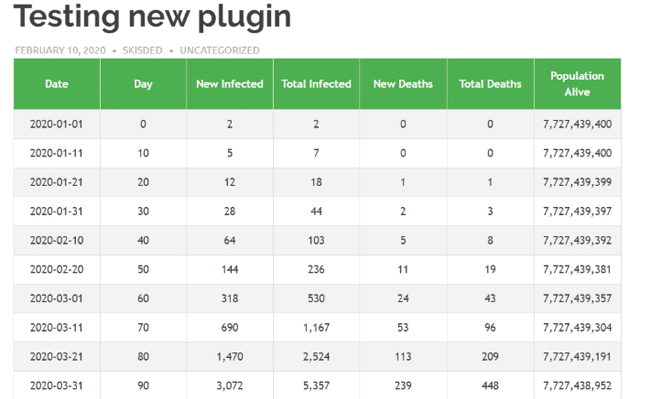 If you're a blogger, you can take advantage of this plugin to show the COVID-19 stats on your blogs to spread awareness. All you need to simply use the shortcode anywhere you want to display the stats on your WordPress site or blog. The plugin uses the NovelCOVID API to fetch real-time data.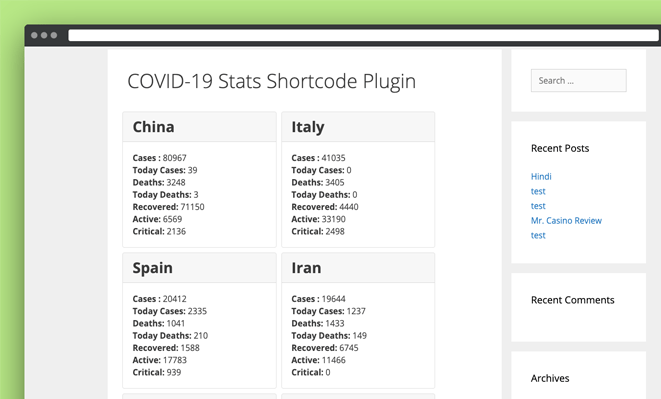 Using this plugin, you can create a campaign to raise public awareness about the new global pandemic, Novel Coronavirus. The plugin allows you to show a banner that you can link to a page showing all the information about COVID-19.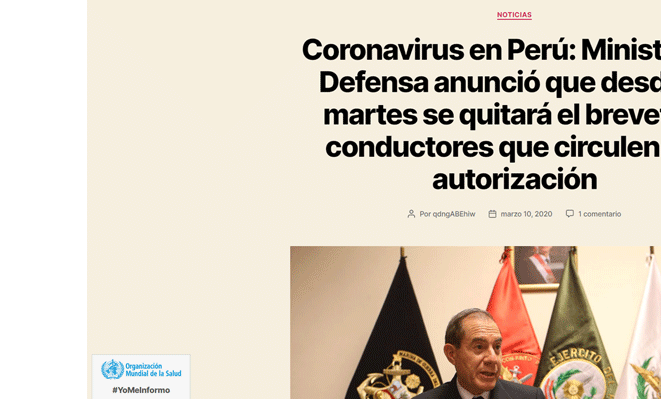 Adding a very simple yet easy to configure badge on your WordPress site, this plugin keeps your clients and visitors updated throughout the COVID-19 outbreak. As per your website theme, you can change the color or theme and position the badge in four different locations of your WordPress site. Also, you can toggle the badge on/off anytime.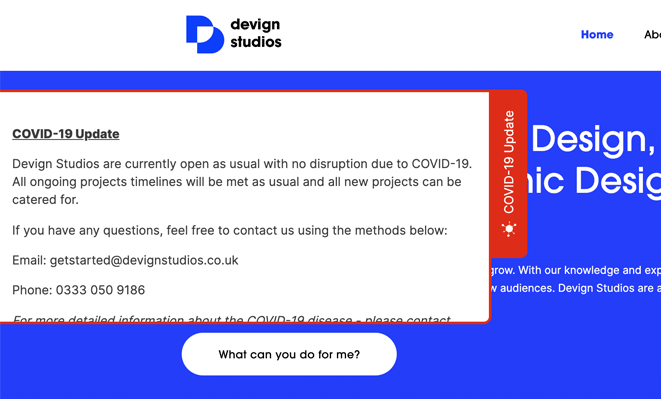 This plugin enables you to display live COVID-19 data on your WordPress site via a shortcode or widget. You can show up to date confirmed cases or deaths in your country or worldwide. There's also an option to add a link in the top toolbar to help your visitors get more information about the disease. You can even add a widget to your footers or menus.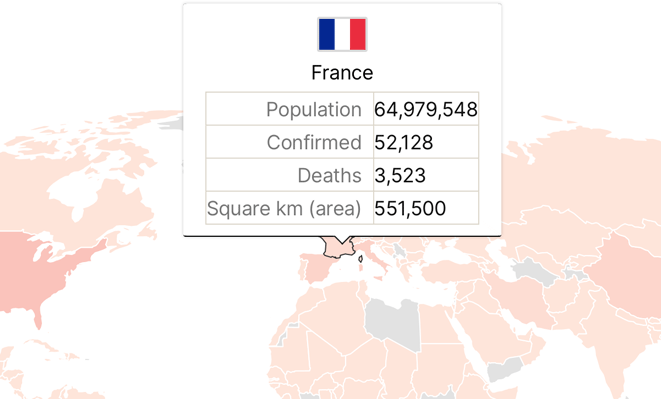 With this plugin, you can show a Coronavirus notice message in the form of a notification banner on either the top, bottom, or inside the text on your WordPress site using a shortcode. Additionally, you can direct your victors to a specific COVID-19 web page with a "read more" link.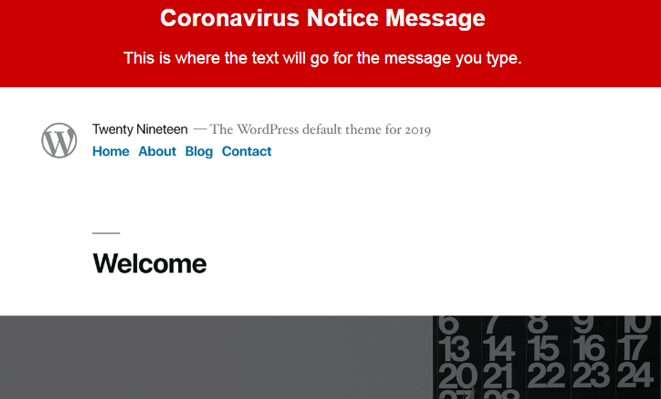 Using this WordPress plugin, you can display a widget like component showing the latest global or specific country data about COVID-19. In the settings page, you can choose the following data to display:
Total cases
Today's cases
Total deaths
Today's deaths
Recovered
Active cases
Critical
Cases per one million
To display the widget, you simply need to insert the [coronavirus] shortcode into your page or post. Best of all, you also have the option to customize the widget to your taste.
Given the massive COVID- 19 outbreak, Schema.org added structured data types related to Coronavirus in version 7.0 on 16th March 2020. A significant structured data type introduced in the new version of Schema is "CovidTestingFacility." This WordPress plugin is a standard implementation of the new structured data types, making it easy to integrate the COVID-19 schema to a school or hospital website.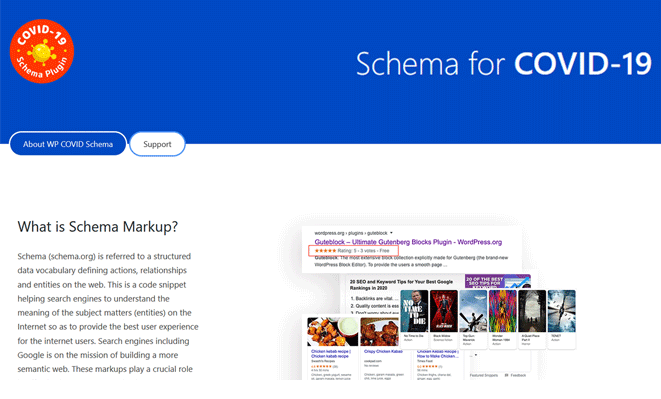 Some other plugins you can try are: