When to Hire a Professional to Customize Your WordPress Theme?
September 16th, 2020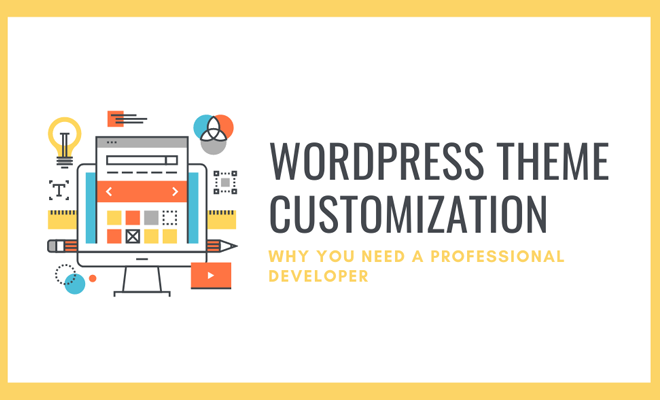 While you can already take advantage of the WordPress Theme Customizer to tweak your theme's appearance to a great extent, there are times when you're required to make advanced customizations. In such cases, you have only two options: either hire certified WordPress developers to perform the customization or do it yourself.
However, even if you're able to customize the theme yourself, hiring a WordPress professional proves to be a wiser option in some cases. Ideally, you should consider hiring a WordPress professional to customize your theme when:
You Need an Absolutely Original and Unique Design
With hundreds of thousands of paid and free WordPress themes out there, you can find a suitable theme for your WordPress site or blog. You can even tweak it a little yourself as per your requirements. However, chances are you might soon come across a website that is identical to yours.
And this is where you need to hire a professional for WordPress theme customization. If you do so, you get a unique, feature-rich WordPress theme that no one can duplicate without making a considerable effort. Hence, if you want a competitive edge over your rivals, get your WordPress theme customized by an experienced professional.
There Is PHP/JavaScript is Involved
As mentioned above, you also can customize your WordPress theme. All you need to have an in-depth knowledge of HTML5, CSS3, JavaScript, and PHP. Although it is mainly CSS through which you can customize your WordPress site's appearance, playing with a particular type of code (for instance, PHP and JavaScript) without adequate hands-on experience may prove dangerous in many cases.
Unlike CSS, where any modification to the code can only make your WordPress site look a little weird until you fix it, a small error in PHP or JavaScript code can completely take your website down. As putting your site at stake is not worth the risk, better is to get help from a WordPress professional whenever a modification in PHP or JavaScript code is required.
It's an eCommerce Site
If you run a WordPress-powered online store or membership site and plan to make significant changes to it on your own, it's recommended you don't. That's because doing so will only waste hours of your time, and you'll hardly achieve the desired results. Also, being not familiar with security standards, you may unknowingly expose your customers' information to others.
Hence, instead of using a poorly coded plugin to troubleshoot issues or bring the required functionality to your online store, you should always prefer to hire WordPress eCommerce development experts for the same. Being well-acquainted with PCI compliance, they will add the stated functionality to your store in no time.
You Can't or Just Don't Want to Do It
Many business owners love customizing their site and feel empowered when they can achieve what they want without help from a professional. On the other hand, others don't want to touch their website and want everything done through a team of experienced WordPress professionals. And sometimes, you need to hire a WordPress professional just because you don't have any idea of how to customize a WordPress theme.
No matter the reason, if you're a member of the latter two groups, you'll have to hire a WordPress professional one day or another to get theme customization done. Many professionals have devoted their life to WordPress, so don't half-ass it yourself when someone is always there to do it for you.
Something Goes…Wrong
You just added some PHP code to your WordPress theme or installed a new plugin to augment its functionality, and suddenly, things get worse instead of better. What would you do in such a situation? You'll try to fix the issue on your own. Well, did you know fixing even a single error can take hours or even days, particularly when you don't have an idea what you're doing!
Troubleshooting WordPress errors can sometimes prove to be a daunting task. Sometimes it's just a matter of figuring out the issue, and sometimes you need to update everything to fix the problem. You can waste your precious time fixing the problem or hire a WordPress professional to get it fixed in minutes – the choice is yours!
A Google Search Turns Up Nothing
When you try to find a plugin to integrate unique functionality or a solution to a specific WordPress error, but you don't see too many results in Google, it's a telltale sign that you need to hire a veteran WordPress professional to get the job done.
Finding nothing at all in Google related to your WordPress query, be it related to the plugin or an error, is a surefire sign that you need to hire a WordPress professional with adequate knowledge, experience, and skills to do it for you. In other words, when Google fails to help you, a WordPress professional can do.