Most Useful WordPress Subscribers Plugins
December 19th, 2022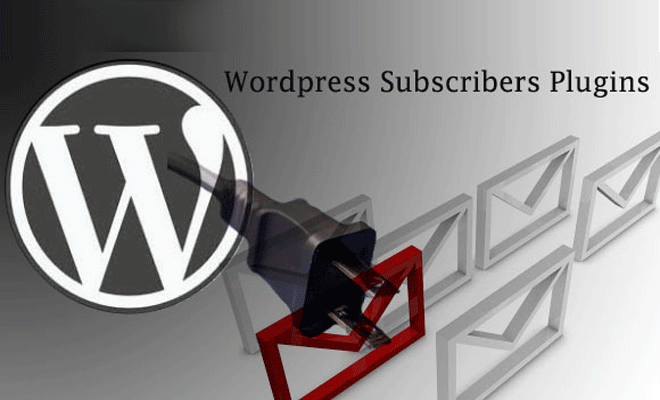 Subscribers are the ones that make a website or blog successful. That is because they are the ones who read out your blogs or utilize your products and service the most and on regular basis, in fact, they even tell others to subscribe to it to get the best out of your blog or website. However, getting them is one of the biggest and toughest tasks in blogging or running a website. But you need not worry anymore, as with this blog post, we have come up with the list of amazing WordPress Subscribers plugins that you can use and expand your subscriber's base pretty easily.
So here we go!
WP Email Capture is a fantastic and easy to use plugin. It creates a two form fields namely; Name and Email to get the details from the readers or website visitors. Soon after the users fill in the required data, you can begin sending emails to them, for which what you all need to do is simply export the email list into your selected email marketing software or service and enter the text and hit send. Isn't that so easy?
ADVANTAGES:-
It is widget ready.
For sending emails, it uses WordPress' internal wp_mail function.
You can integrate it with your blog or website posts and pages.
Dashboard Widget.
You can export the data into a CSV file format
It is compatible with a wide variety of Email Marketing applications, which include Aweber, Mailchimp, and Groupmail.
It's absolutely free!
It's a new plugin, but quite effective if you are looking for a plugin which you can integrate on your blog or website pretty quickly, then this would probably the best option for you. It adds a newsletter subscription form on your site with which you can start grabbing those email addresses.
ADVANTAGES:-
It works with MailChimp and Constant Contact
You can even use it with any other bulk-mail sender.
Offers a complete email management admin panel.
Pippity
Pippity is one of the most dynamic plugin that is made specifically for winning subscribers easily. Basically, it's a pop-up subscription form maker with which you can make a subscription form within 5 minutes. Isn't that quick? And that's not all, it offers complete analytics report, it comes with an inbuilt analytics that keeps track of every pop-up.
ADVANTAGES:-
It keeps an eye on the conversion rate to trace which pop-up gets you the most subscribers.
Opens and closes instantly, which doesn't annoy your readers.
Comes with 12 pre-made designs and 6 pop-up bars.
Provide the user with a unique capability to activate two different pop-ups to analyze which one works better.
Subscribe 2 is one of the most comprehensive subscription plugin, as it's a complete subscription management and email notification system. With this plugin you can encourage your readers to subscriber and send mass emails to a list of your blog/website subscribers every time you publish new post or article on it. Moreover, the emails can also be sent on a per-post basis. Additionally, you can also exclude some of the categories that you have on your blog/website on an individual basis by creating a custom field for it.
ADVANTAGES:-
It makes it easy to manage bulk subscribers
Offers flexibility to select the subscriber and send email manually.
Its users can set pre-post email notifications for their subscribers.
MailChimp is one of the best subscriber's forms, which is currently being used by thousands of bloggers and website owners. And with this plugin you can easily setup and integrate a cool looking sign-up form on your website/blog as a widget. The user data you collect with this plugin is added in your MailChimp list automatically.
ADVANTAGES:-
It comes with a simple and easy to use admin interface.
Can be set-up and activated within 5 minutes.
Hello Bar is one of the trendiest plugin you may have ever seen. Once installed and activated, it pops-up a bar on your blog or website, which instantly catches up the visitors' eyes. With this plugin, you can guide users to your website's most crucial information, as well as to the subscriber's form.
ADVANTAGES:-
You can monitor the clicks, vies and overall CTR from the stats panel.
Gives an option to integrate Twitter and RSS feed, which gets dynamically updated with the social content.
You can play with its color, texture and font n number of times.
With it you can do A/B testing by setting-up different messages and styles. The results come directly in your inbox.
You can get it for free till you get 25 or below number of clicks on it.
It cost only $4.95 for 100 clicks.
We believe these plugins will definitely help you in getting a lot of new subscribers, and make your blog/website a successful venture. However, if you think we have missed out something or any great plugin, then don't forget to tell us via the comment section provided below.