PSD to WordPress Conversion at WordPressIntegration.com
April 14th, 2020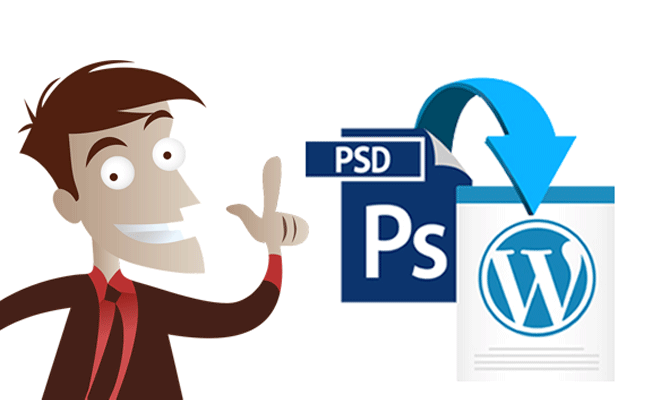 Websites and designing new websites used to be a difficult task where today the same difficulty has been easily met from application called CMS.  This new technology has made it possible for web content to be managed easily. While working on "content management system" HTML coding information is not required. Usually all websites are managed by site owners themselves. Within all types of CMS, WordPress is the most popular. This type of conversion   is thus increasing everyday. It has been preferred as the best application by both web developers and website owner's worldover. The WordPress conversion is powered from PHP as also MySQL.
PSD to WordPress
This type of conversion includes using a processor template. The users get to rearrange widgets without any edition into code made up of PHP or HTML. This allows all users to switch themes. Various users can create such coding by themes for an advanced customization. It formally includes a management link, clean and clear permalink structure, multiple article categories, tagging support and ability for assigning nested. The varied filters can deliver standard formats and article styling. While WordPress conversion is provided, theme conversion is also provided from effective costing. Altogether a whole range of benefits have been provided clean coding, browser compatibility, validation code of W3C, software integration and guaranteed satisfaction.
Services like theme designing, customization, module installation and CMS development all are provided by a highly qualified team of designers. The major benefits of PSD to HTML /WordPress conversion are  :-
Cost-effective: such a conversion is highly cost effective. These services are cost effective as these have advantages inbuilt. This transition towards WordPress conversion is easily possible for smaller firms.
Convenient:  WordPress conversion is easily built which proves convenient. To be able to work with WordPress the basic knowledge of computers becomes necessary.
Search Engine Friendly: Providing a WordPress website can be friendly with all given search engines. One can develop and scale site easily. This can be done by posts tagging. WordPress proves to be easily able to optimize search engine. This makes it likely for the site to be listed in search engines and people can easily find you.
Social Media: WordPress is a formidable application which is compatible for all social media. WordPress is integrated with all major payment platforms, newsletters, ecommerce and contact forms.
Cross Browser Compatibility: A WordPress website is compatible with all browsers. Firefox, chrome, safari, opera can all access this website.
W3C Validated: This indicates that the website is error free and structured properly.
Pixel Perfect: WordPress conversion also provides a   website which is perfect with pixels. This allows for a site that has a consistent look.
A perfect WordPress design meets all requirements where it is affordable as well. It is expected that all clients get this benefit and advantage of the services.