15 Crucial Considerations While Picking the Best WordPress Theme
September 13th, 2023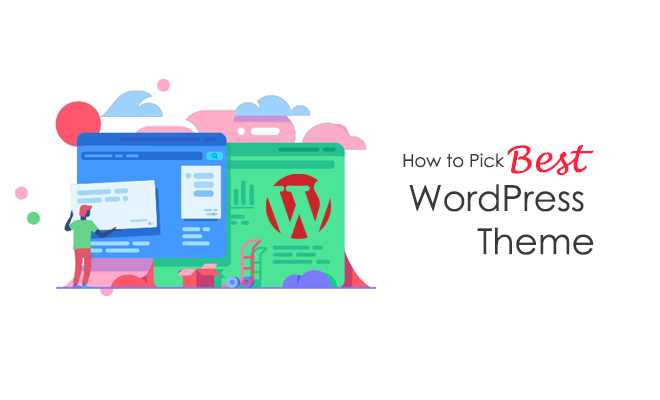 When picking a WordPress theme, you have thousands of free and paid options that may leave you feeling overwhelmed and stressed. With a nearly unlimited pool of free and premium designs, sometimes you may find yourself in the middle of nowhere and be unable to recognize which theme fits your specific business requirements best. Isn't it true?
Selecting a suitable theme for your WordPress-powered business is almost like choosing a mate in your real life. If it's good, it will make you. Otherwise, it may even break you. To save you from those mind-boggling situations of getting confused and feeling irritated, we have come up with some questions that you should ask yourself during the theme selection process. When you're in search of a perfect WordPress theme for your business, "consider these questions to narrow your options".
#Do You Know the Core Objective of Your Site?
The first and foremost thing you need to focus on is the purpose of your site. Before you're going to do some research on finding a high-quality WordPress theme, you must have a clear idea of your site's crucial aspects and what kind of design you're looking for. The best way to know your site's objective is to make a list of your desired features. Doing so would surely help you make a perfect theme selection.
#Is the Theme Fully Responsive?
Responsiveness is the next big thing! If your site is not fully responsive in the era of mobiles, you'll be missing out on a massive influx of traffic and sales. According to studies, 94% of users judge a website on responsive web design. So before you fall in love with any theme, check whether or not it's fully responsive. To check the responsiveness of any theme, you can use Google's mobile-friendly test tool.
#Does It Best Describe Your Budget?
Budget matters! Before jumping into the process of theme selection, decide what kind of theme you want to go with: free or premium. While most people prefer to use free templates, premium themes have their advantages like professional design, rock-solid support, and extensive documentation, which free templates usually don't. Although you should go with premium themes, it's always better to opt for a high-quality free theme than a low-quality premium one.
#How Fast Is It?
While you're choosing a theme, you must check how much time it takes to load. A blazing fast website gets ranked higher in search engine result pages (SERPs) and delivers users a smooth experience by instantly loading web pages. To determine whether your selected theme loads fast or not, test the page speed of its demo URL using tools such as GTmetrix, PageSpeed Insights, and Pingdom Website Speed Test.
#Is It Search Engine Optimized?
By default, WordPress is very search engine friendly, but unfortunately, not every WordPress theme is built with the best SEO practices in mind. Many WordPress themes are coded poorly, making it difficult for search engines to digest a website's content. For this reason, it becomes crucial to ensure whether or not your selected theme adheres to semantic HTML and web standards to allow for maximum exposure in search engine results.
#Does It Have Built-in Social Media Options?
Social media is a great way to drive massive traffic, engage with your audience, and build brand awareness. Many free and premium plugins offer plenty of social media functionalities, but most of them require some customization and often slow down your website. Therefore, it's much better to use a social media ready theme from the beginning than later installing multiple plugins to integrate social media functionalities into your site. Go with a design that has perfect social media integration!
#Is It Optimized for Monetization?
Are you interested in placing advertisements on your WordPress site to generate passive income? If yes, then you need to check if the theme you've decided to go with is built with monetization in mind. Before picking a design, determine how many ad units of what size you want to display on your site. Go for a theme that has enough room to serve advertisements. However, you should always bear in mind that too many ad units may distract your visitors and eventually lead to a bad user experience.
#Does It Include a Child Theme?
A child theme is considered the best way to modify a WordPress theme as per a website's requirements without the fear of losing changes due to an update. It speeds up development time and provides you with a learning curve for custom WordPress theme development. And the best thing? You don't have to mess up with the parent theme's code to make any design customizations to your site. So it's always beneficial to consider a theme's support for child themes.
#Is It Easily Customizable?
Many themes offer a "theme options panel" to save you the hassle of jumping into the code to make minor changes to your site's look and functionality. Those kinds of themes are best to move forward with since they offer you room for growth right from your WordPress dashboard. Remember, a good WordPress theme is widget compatible and allows for basic customizations through Customizer. For advanced customizations, you can hire WordPress theme customization experts at any time.
#Is It Simple, Clutter-free, and Easy to Use?
Always strive for simplicity! Does the theme that you're interested in have a cluttered user interface with complex functionalities? Is it easy to navigate? How comfortable would a user feel while browsing your website with a particular theme? All these questions are worth considering before you download or purchase a design. In short, picking an elegant, clean, and user-friendly theme should be your topmost priority.
#How Secure Is It?
If the theme of your choice doesn't get regular updates or is not compatible with the most recent version of WordPress, the chances are high that it has numerous security loopholes. Before you get impressed with a theme, ensure if it is secure enough to stand against malicious attacks. Since most of the free designs usually have security vulnerabilities, it would be better to purchase a premium theme from a reputable developer from the security point of view.
#Is It Able to Stand the Test of Time?
Is the theme you're planning to purchase future-proof? Will it help you grow your business with time and meet your future needs? Is it crafted with your audience in mind? Will the author provide free regular updates in the future? Ask yourself such questions to avoid facing any unwanted troubles in the future. Remember, a good theme is one that gives you wings to fly instead of limiting you.
#Does It Offer Consistent Support & Detailed Documentation?
Consistent free support and extensive documentation: you should not overlook these two things at any cost while picking a theme. Where well-written documentation helps you get the most out of the template, high-quality support lets you make any customization by yourself without fear of getting stuck into code. Be it free or premium, go for a theme that ships with extensive documentation and offers active support either via a public forum or email ticketing system, or live chat.
#Have You Checked Out Live Demo?
Before you make any purchase decision, it is strongly recommended you go through the demo of your selected theme. This way, you can know how it looks and functions across multiple devices and browsers. Be sure to test the theme's features like browser compatibility, responsiveness, navigation, layout, user-friendliness, etc., before buying it. Opt for a design built with a seamless user experience in mind.
#Have You Taken a Look At Reviews?
Last but not least, have you checked out what other buyers think of your favorite theme? What star rating does it have? How many times has it been downloaded? Is there any negative feedback about it? Consider these questions to determine if the theme is worth to download or purchase. Also, don't forget to go through reviews to get familiar with the usability, flexibility, and security of the theme you're planning to go with.