Slice your PSD to Compatible WordPress
April 16th, 2020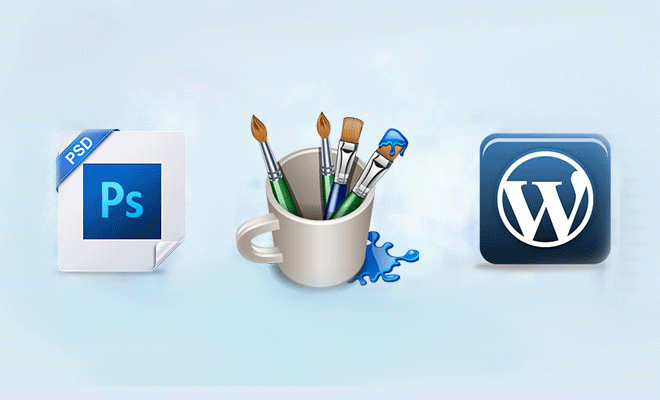 Today's technological era is dominated by many advanced technologies. These technologies have made inroads into numerous people's lives. Majority of these people maintain transactions shopping etc online. If there is a well structured and professional website it would be successful. While developing such a website WordPress conversion is the main preferred application. It is one of the best solutions for a user friendly website. Since the advantages are larger it is best to have a WordPress conversion.
Slicing the design to a compatible WordPress theme a feature rich and unique website is obtained.  This conversion of PSD to WordPress has numerous steps. The first step must be to convert PSD design files for a correct markup. Such files are incomplete and not totally web compatible. Without the conversion of PSD design to HTML usually the website cannot be launched on any given browser.  Therefore the image must be sliced into various layers.  Here any mistake can prove to be disastrous for the entire process of conversion. Various components can be added or deleted once the step of slicing has been completed.
The WebPages must then be codified. Usually the fitting of codes must be done manually. Once the manual conversion has been done the markup is error free and neatly structured. Once the coding is completed, the WordPress theme can be added. WordPress is a Content management system which is offering a larger base of themes. Any of these themes can be selected as per the requirement. One can opt the theme which is appropriate for the website. The best part of having a WordPress conversion is obviously the fact that the database of themes and other features are available in larger numbers.
The best capability within the WordPress themes is that they offer a larger number of features along with a visually appealing and also sophisticated website.  WordPress is expectedly a content management system that is high on customizability and also user friendliness. There can be a cutting edge capacity added to the website from using word press. Another advantage is of the ability to get installed easily. WordPress is easily updatable and while being easily maintained. WordPress ensures that a website is performing fairly alright, as also is receiving higher volume of traffic. With a high quality in traffic the website would be able to have a higher conversion rate and sales rate would need to be improved.  With a better WordPress conversion, one can obtain a W3C valid, sophisticated and cross browser compatible website.
The WordPress conversion is the best available with maximum and latest features. Not to mention the WordPress conversion is best suited for search engine compatibility. One can obtain a highly compatible theme for website, leading to the success of the website and a greater return on investment for business. The website development from PSD to WordPress conversion can be designed from a reputed and hired service provider so as to get a compatible WordPress theme.