How WordPress Can Help You Get the Most out of Your Business
February 10th, 2023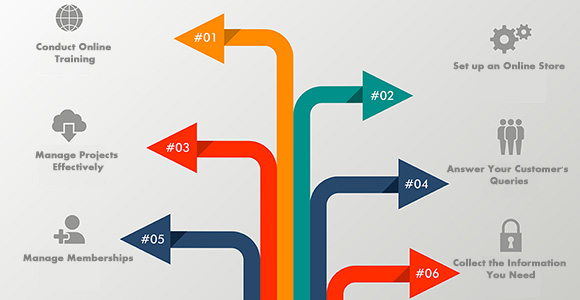 Powering over 24% of the entire web, WordPress is not just a popular web publishing platform but also a great way to start and run a successful online business. Most of the businesses today prefer to use WordPress since it's quick to install, ease to use and flexible enough to extend. Be it blogging or eCommerce or any other thing, there is nothing you can't do with WordPress.
If you're also using WordPress for business and want to streamline your workflow, then you've come to the right place. In this blog post, I'm going to share ten online business activities, including sales process, customer support, email marketing, project management and more, that can be streamlined with WordPress.
Let's start!
Set up an Online Store:
When it comes to integrating eCommerce with WordPress, you start worrying about the design, functionality and security of your eStore. Isn't it? Well, WordPress offers a number of plug-ins to help you prepare your site for eCommerce without any hassle. Using plug-ins like WooCommerce, WP eCommerce and Jigoshop, you can set up your own online store in minutes without using any dedicated shopping cart software. All you need to do is install the plug-in, set up online store and start selling!
Answer Your Customer's Queries:
As most of the customers have a lot of queries in common, answering each one of them can take up a huge amount of your precious time and resources. In this situation, you need to automate and streamline your customer service and support. For this purpose, you can use bbPress, DW Question & Answer and WordPress Advanced Ticket System WordPress plug-ins. While bbPress allows you to set up a basic discussion forum, on the other hand, DW Question & Answer lets you add a Quora-like question and answer section to your WordPress site. If you want to keep your customer support private, then use WordPress Advanced Ticket System.
Run Engaging Webinars:
Since Webinars are one of the most powerful ways to generate sales, there is a number of plug-ins offered to let you create professional, high-converting webinars. Some most popular and powerful of them are WebinarIgnition and WebinarJam. While WebinarJam is famous for its one-click sign-up technology, Evergreen Business Systems is known for automated or evergreen events. However, most of the businesses prefer to use WebinarIgnition since it offers a complete webinar funnel.
Manage Projects Effectively:
Whether you're running a small or large business, keeping your projects managed is one of the crucial things that you must not ignore at any cost. Doing so not only helps you and your team stay on top of tasks but also keeps your clients informed about the progress of their projects. Some of the best project management solutions for WordPress are WP Project Manager, Project Manager by TPC and Project Panorama.
Collect the Information You Need:
In order to grow your business, you have to collect essential information from your potential customers. One of the most effective ways to capture customers' information is integrating forms on your WordPress site. Gravity Forms and OptinMonster are premium WordPress plug-ins that allow you to create and publish high-quality, complex forms on your WordPress site. If you're looking for a free option, then opt for Ninja Forms.
Manage Memberships:
If you want to sell membership access on your WordPress site, there are a number of free and paid membership solutions available. While paid options include MemberPress, Paid Memberships Pro, iThemes Exchange Membership Add-on, free options include Simple Membership, Membership 2 and s2member. Having their own advantages and disadvantages, all these plug-ins provide you the ability to easily create and manage various membership levels.
Conduct Online Training:
Want to educate customers about your complex products and services? If so, you can easily do that by providing online training to your clients via your WordPress site. For this, you'll require two things: a membership plug-in to restrict content access and a learning management plug-in for creating and managing training material. To protect your content, you can use any of the above mentioned membership plug-ins. And for learning management, you may try plug-ins like WP Courseware, LearnDash and Sensei by WooThemes.
Launch an E-mail Marketing Campaign:
While there are a number of ways to market your business online, email marketing is still the most effective strategy to reach people directly. Though you can use WordPress' built-in functionality to send out emails, but I recommend you go for a professional email marketing solution, like MailChimp or Aweber. The reason is that the default mail function doesn't work sometimes. In case, you have less than 2000 subscribers, you may opt to use MailPoet that lets you send emails inside WordPress for free.
Manage Relationships with Customers:
To ensure your business' growth, it's crucial to engage with your customers and track your sales leads. This can be done with CRM (Customer Relationship Management) software. There are numerous WordPress plug-ins that provide seamless integration between your WordPress install and CRM software. WordPress-to-lead for Salesforce CRM is probably the most powerful relationship management solution for WordPress. Other popular options include plug-ins such as WP-CRM and UpiCRM.
Create a Job Board:
Talent acquisition is one of the vital tasks that every business performs. If you're a small business owner, acquiring top talent can take up a lot of your time, money and resources. To avoid this, you can integrate a job portal with your existing WordPress site. Plug-ins like WP Job Manager, WPJobBoard and Jobs & Experts let you seamlessly do that. Out of the 3 plug-ins, I recommend you use Jobs & Experts since it offers you a huge feature set at absolutely no cost.
Final Words:
As you can see, there are a number of ways you can use WordPress to streamline or automate your online business. All you need to do is to take a look at your business model and analyze what tasks can be made simpler and easier using these plug-ins. Remember, your workflow has the power to make or break your online business. So, you seriously need to consider optimizing your business workflow before it's too late.
Published By: WordPressIntegration Team – Feel free to contact us for WordPress theme customization service.