Top 5 Free WordPress themes for Real Estate
February 10th, 2023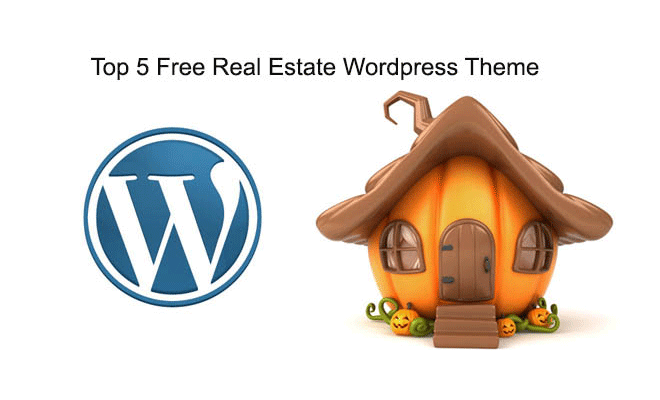 Real estate is one of the most booming industries in the United States. To capture a larger market in this industry a professional looking website is must. But creating your own site from scratch is a very lengthy process and requires extensive knowledge. So, for small time real estate dealers, real estate developers, and interior decorators, the best bet is to build a website on an easy to use and simple to maintain content management system such as WordPress.
WordPress, the most popular CMS available on the Internet, is highly customizable, user friendly, search engine friendly, and fast loading. It is an ideal platform to build your first website or to update your old website to newer standards.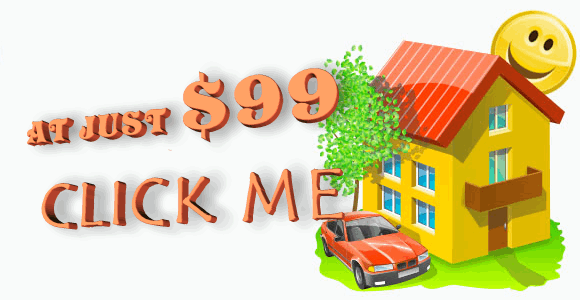 The first step in building your WordPress site is choosing a right theme and it is one of the toughest steps. There are hundreds of WordPress themes available in the market out of which most are paid, but even out of the freely available themes, finding the right one is a tough choice.
If you are real serious about a Commercial website then my recommendation would be your own custom brand building. For the same go for a real estate wordpress theme with your own design and company logo, now a days custom theme development is as cheap as 99$.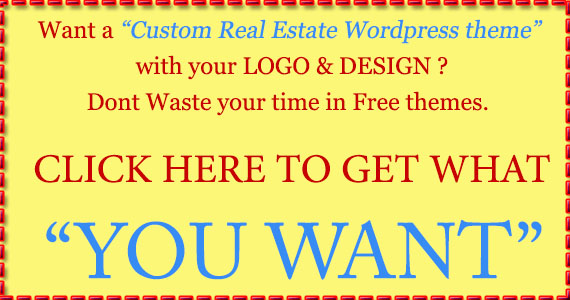 So, to work around this problem we present you top 5 WordPress themes for a real estate website
Avenue
Avenue is a complete theme for real estate businesses that is both elegant and simple. This theme is specifically targeted towards the real estate industry. The best feature of this theme is its unique property listing system. You can add details about the property such as its price, location, type, number of rooms and bathrooms, area, garages, property photo, and the type of listing. The theme will automatically post the thumbnail of property image on site and even add it to the Featured Property Slider. It's highly customizable, user friendly, and comes with instructional videos for beginners.
Design – 8/10| User friendliness – 9/10| Customizability – 7/10| Suitability – 9/10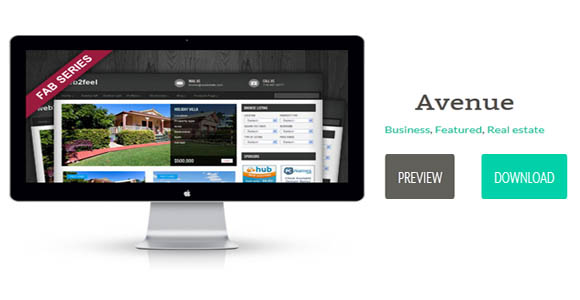 Download – Avenue Real Estate Theme
Allure
A highly professional and feature stuffed theme, Allure is a theme made especially for creating real estate website. It has a dedicated website building tool that uses Real Estate Website Builder plugin to create and customize the site. The plugin also creates a non premium account on Placester .com which has a great tool for managing and adding property listings. This account is integrated with your theme. The Theme is user friendly but because of too many features, requires some time in order to learn its proper and efficient usage. The theme also provides a great support to rectify any technical issues you may face in the theme.
Design – 7/10| User friendliness – 7/10| Customizability – 8/10| Suitability – 9/10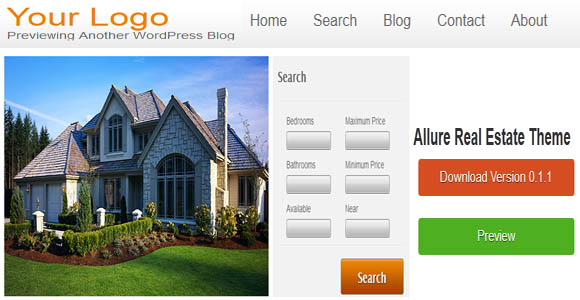 Download – Allure Real Estate Theme
Realty
A highly user friendly, customizable theme, that also offers a responsive design, 'Realty' is one of the best free theme available on the internet. It has a built-in slider, customizable sidebar, a dynamic content loader, and is compatible with latest WordPress versions. The theme is widget ready, shortcode ready, and has a dedicated search engine optimization tab. In addition the theme also has a flexible Social sharing side bar that you can link to your Google+, Facebook, and Twiter page. However the design of the site is just too simple and requires a lot of work to transform it into a dedicated real estate site.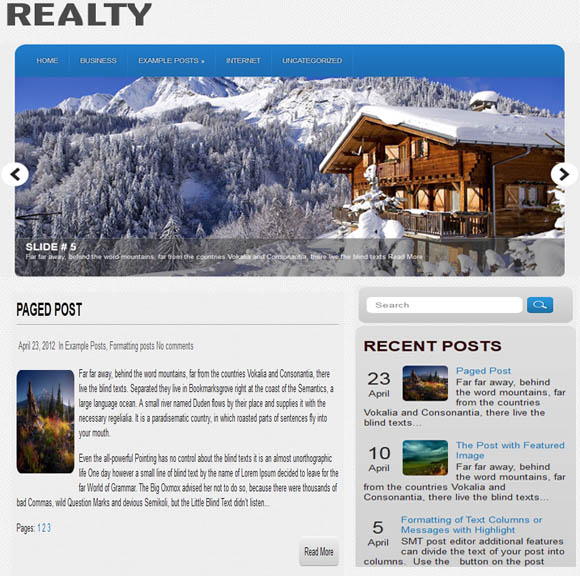 Download – Realty Real Estate Theme
RealEstater
RealEstater is another responsive and customizable site from smthemes.com that is suitable for a real estate site. RealEstater is widget ready, short code ready, and is compatible with latest versions of WordPress. It has a dedicated SEO tab, a Social Sharing side bar, and a smooth built-in slider. The theme has a very simple design and thus may require some work to make it into a dedicated real estate site. However, it does have a decent blog page design, great drop down menu and customizable contact page. In addition you can add your own custom CSS and HTML to change its look. The main feature of this theme is its dedicated theme panel in the dashboard menu bar that has great features to customize the final look of the WordPress site.
Design – 8/10| User friendliness – 6/10| Customizability – 9/10| Suitability – 7/10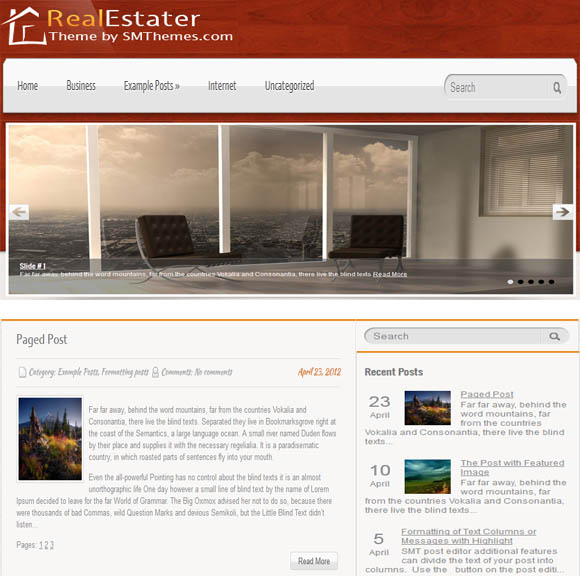 Download – RealEstater Real Estate Theme
Janela
Janela has an elegant and simple design that is ideal for creating a quality real estate blog. The theme has an inbuilt slider, a responsive design, a social side bar, and a dynamic content loader. The best feature of this theme is its animated transition from one page to another. This gives a premium feel to the free theme. This site is particularly great for highlighting the interior decoration of a property. Even though the site is not dedicated for a real estate site, you can load your own CSS and HTML code files to give the theme a custom look.
Design – 6/10| User friendliness – 6/10| Customizability – 8/10| Suitability – 6/10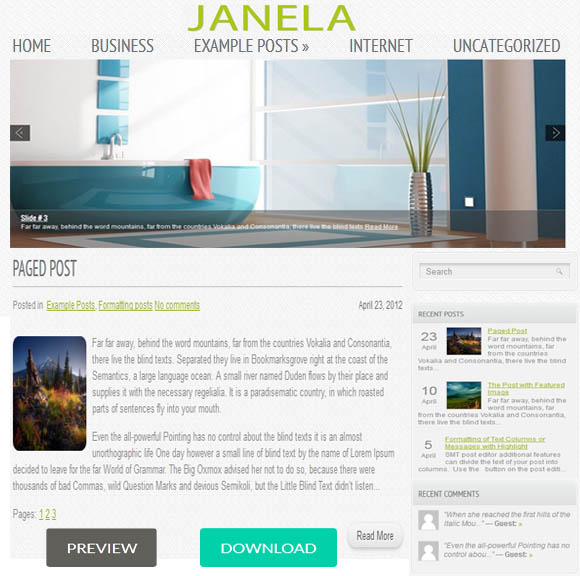 Download – Janela Real Estate Theme