Top Google official Facebook pages you must like
February 13th, 2023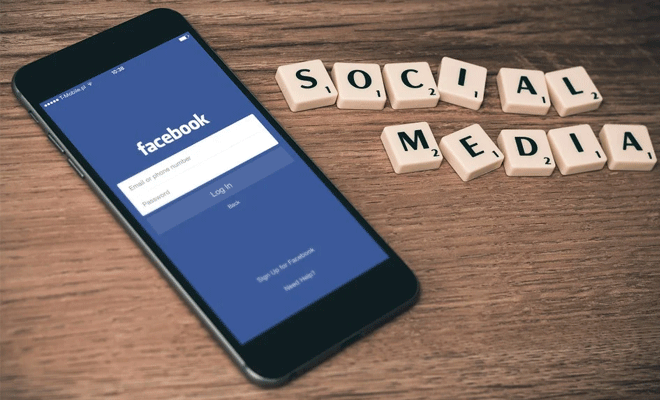 Now before we start with our list of top 27 Google official Facebook pages, we want you to understand the main motive of writing this post. The daily routine of web developers like us starts with Google, by opening chrome browser, and ends with Google, by checking our mails on Gmail. For us Google is deeply embedded in our way of life and we have spent hundreds of hours imagining how the hell we used to live before internet and Google.
However most of us have taken Google for granted and don't realize the high level of innovation that goes along with Google and its products. We daily use Google mail, Google chat, Google docs, Google chrome, and most importantly Google search, all without realizing that hundreds of super talented software engineers have spent hundreds of man hours just to give us these products.
However Google is not limited to only these products and projects. While stumbling through the internet we have mined out some popular and some never before heard of Google projects that we think you really should know about. And in this social-networked world one of the best way know about someone or something is by visiting its Facebook page. Therefore we present you a list of Top 27 Google official Facebook pages you may like and use to understand all that is Google.
Facebook pages:Google Projects
Chrome Experiments :
A Google project that makes you wonder about the heights of human creativity, Google Chrome Experiments is the playground and stadium of every fan of Javascript, HTML5, and latest browser technology along with everyone who is bored and wants to spend some quality time with his computer. You can pass a whole day just exploring and playing with these experiments. The Facebook page of Google Chrome experiments bring you updates on the latest and most interesting browser based experiments. Do beg you to check it out. It's guaranteed that it will blow your mind away.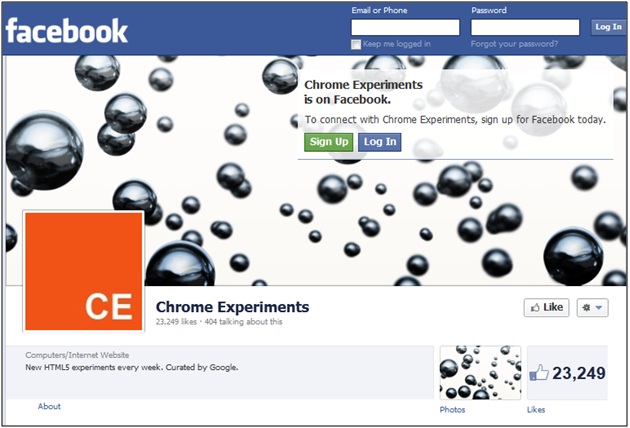 Google Cloud Print :
Google cloud print is another experimental program of Google that allows any application running on any device, operating system, or browser to print from any printer registered to your Google cloud print network. A god send boon for large-scale and small scale organizations that very low printer to computer ratio and thus have to take lots of headache in networking and assigning permissions to printer. The Facebook page of Google cloud print brings you latest updates on this project.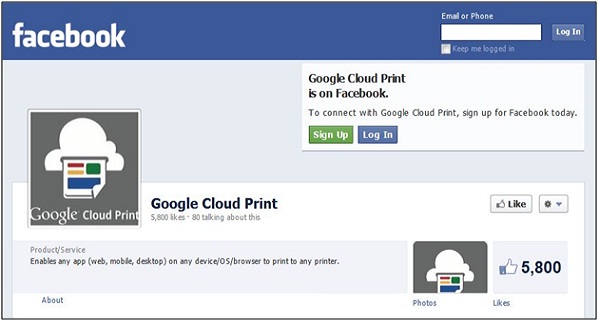 Earth Outreach :
Google Earth outreach program, a sub project under Google.org , focuses on providing knowledge and resources to non-profit organizations and public benefit organizations. The main aim of this program is to find new and innovative ways to utilize Google earth mapping tool especially in the field of wildlife and forest conversion. Through this program Google teaches these new ways to affiliated organizations and even grants free access to premium softwares such as Google Earth Pro, Google SketchUp Pro, and Google Maps API Premier. The Facebook page gives the latest news and events that it has organized or help organize for its affiliated organizations. And the list of organizations is very long and includes NGO's from all sectors.
Google for Nonprofits as the name suggest is the program started to help nonprofit organization. Through this program Google gives discounts upto 100% on its products such as Adwords, Adsense, Google earth and some other products specifically for nonprofits. The Facebook page of Google for Nonprofits the goto page to check latest Google schemes and products that it has designed for nonprofits and how to use them.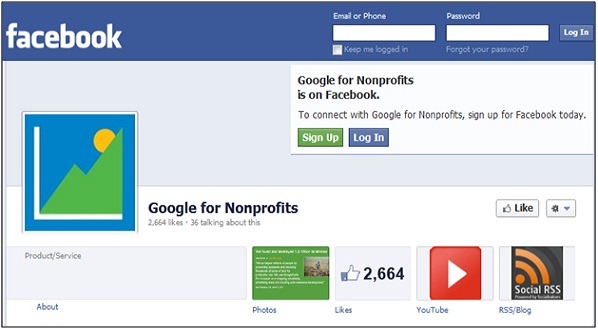 Focusing on young and brilliant minds that are charmed by Google and its work environment, Google nurtures future engineers and innovators through its Google student programs mainly through competitions and scholarships. On Google student's Facebook page you will find latest news and updates for students related to this program.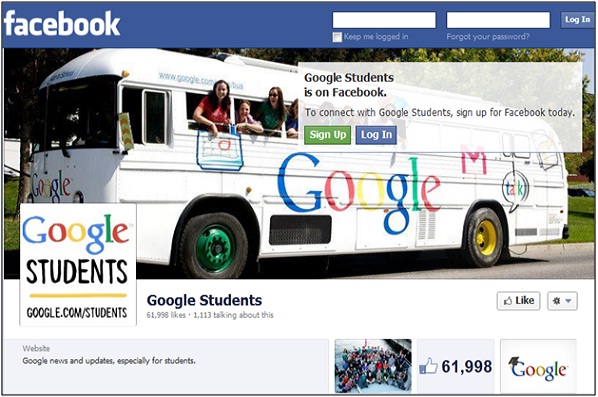 Being a highly innovative firm themselves, Google invests millions of dollars in new and innovative ideas throughout the world. Google Ventures is the program through which it invests in these ideas. Google Ventures on its Facebook page posts updates from the Google Ventures team related to its ongoing projects.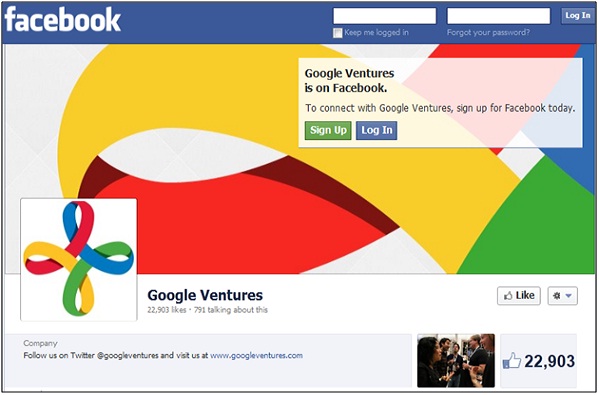 A lot of people out there are highly intrigued by the life Google employees enjoy at Google offices. Life at Google program is the Google's way to boast about its quality of work environment that it presents to its employees. The Facebook page of Life at Google updates you on latest events in the Google offices and brings you a glimpse of life at Google. But the main reason of this page is to update you on latest openings in Google. So if you want to become a part of Google team, follow this page.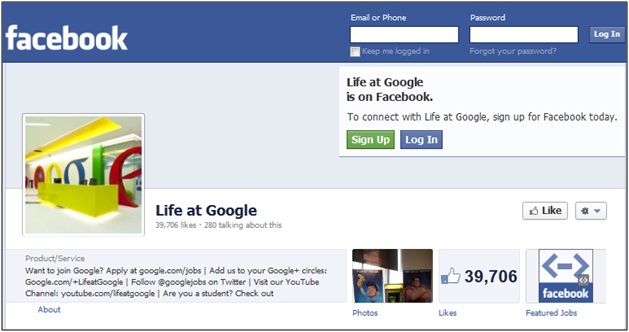 There is no need to mention anything about Google. We cannot imagine our life without Google and its different products and services. The Facebook page of Google is extremely active as it tells you about what's new in Google and its related programs.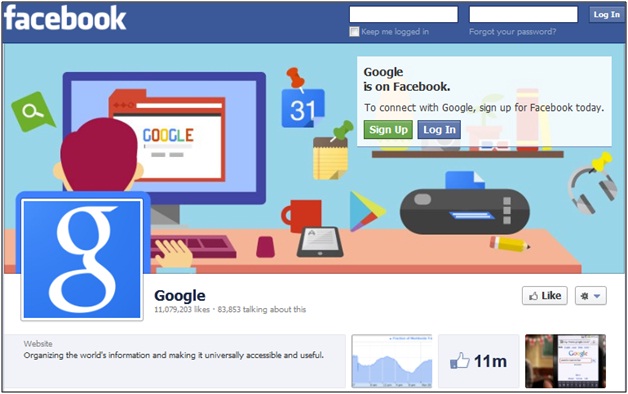 Facebook pages : Products
Regularly used by more than 44% internet users worldwide, Google chrome is most used browser and one of the most popular products of Google. The Facebook page of Google chrome tells about what's new and interesting related to chrome that is happening around the world and is available on the net.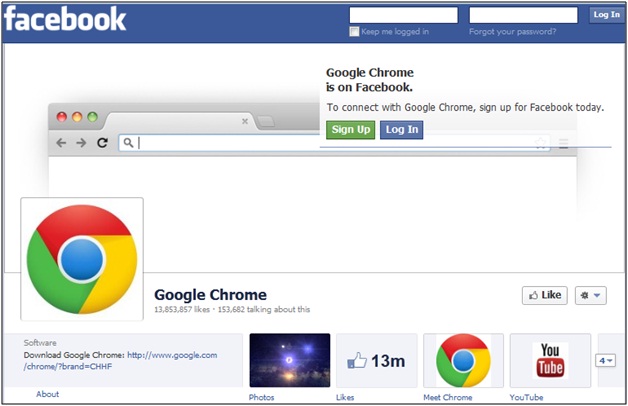 Another greatly used tool of Google, Google maps offers the users map of the whole globe showing even the streets. It offers detailed street maps and a facility to find specific areas and places of any city of numerous countries.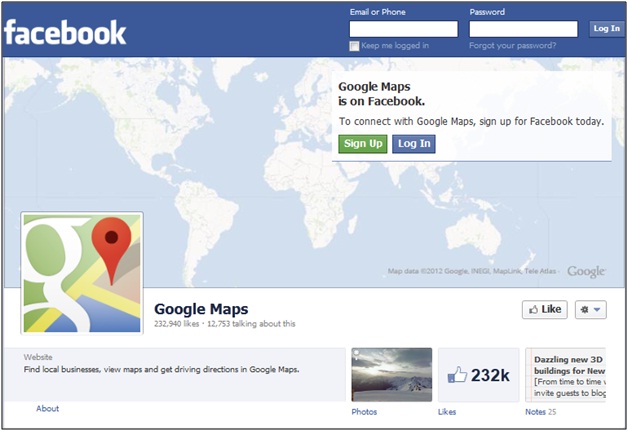 At Google Mobile (http://www.google.com/mobile/) you can keep track of what's new and upcoming is being launched by Google in mobile applications and operating systems. It also highlights the current applications and their useful features that will make your life easier.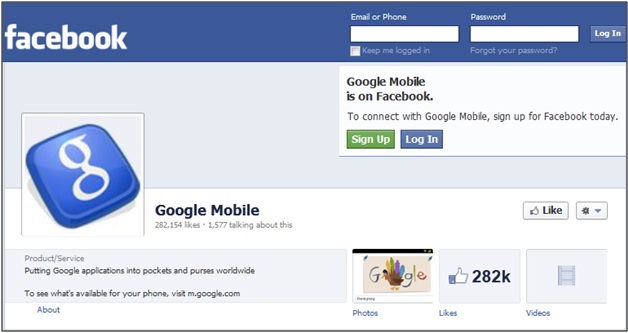 Google News:
Google news is a one stop portal to keep you up to date with the local and global news. You can search news according to a specific area such as for USA or for a specific category such as finance. The Facebook page keeps you up to date with what is new about Google news and how to use it.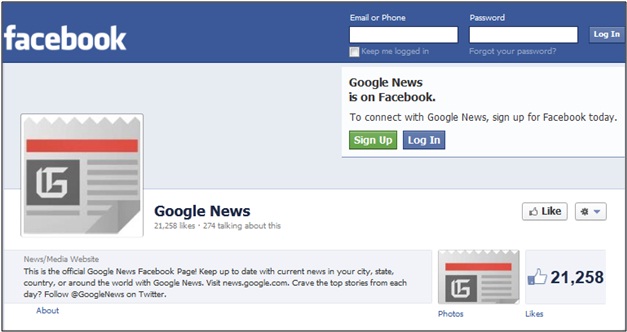 Google TV:
Combining internet and television, Google TV provides you with all your favorite television shows and channels through internet. The Facebook page keeps record of all that new and soon to be launched features and products that is related to Google TV.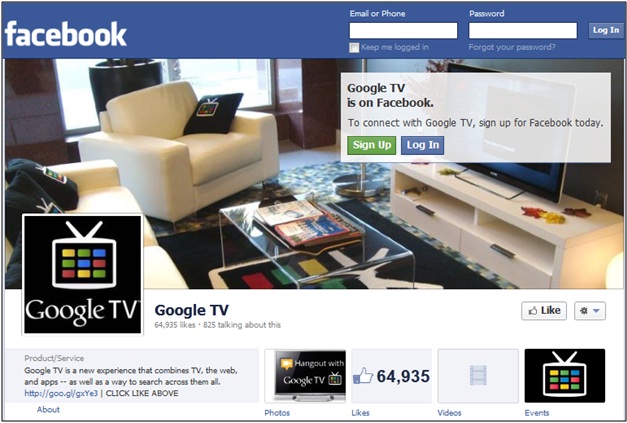 Google Voice:
Google voice is the Google's revolutionary phone calling service utilizing internet. The Facebook page posts updates from the Google Voice team about new features and ways to use it.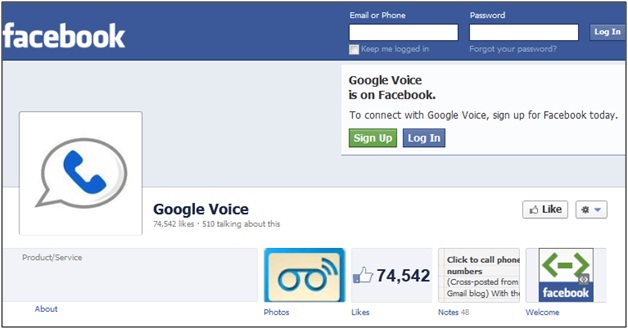 The hugely popular site owned and operated by Google. The Facebook page brings you the latest updates from the Google YouTube team.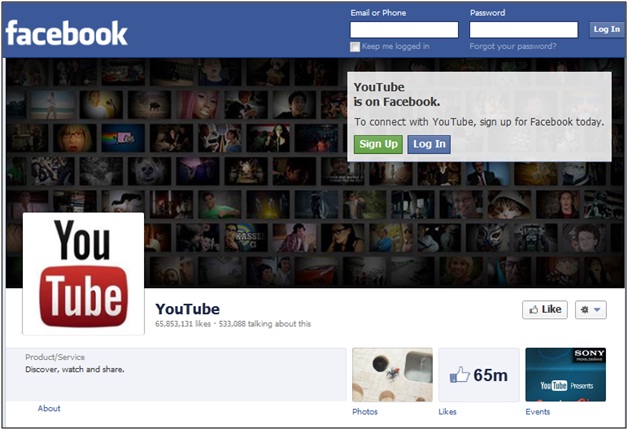 Google Map Maker:
Google map maker is the official Google tool that you can use to edit maps of your local area and add information. The Google map maker Facebook page is an interesting repository of all the new features of the tool and how to use them.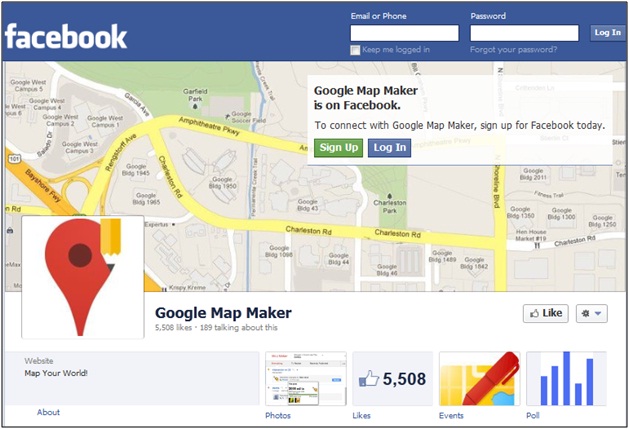 Google Translate:
With the mission to make information present in the world universally accessible and available without any barriers of language, Google translate tool is a huge success. Bringing the power of machine translation, Google translate can translate simple sentences written in one language to numerous different languages. The Facebook page of Google translate, though not very active, provides the basic usage of Google translate and how it works.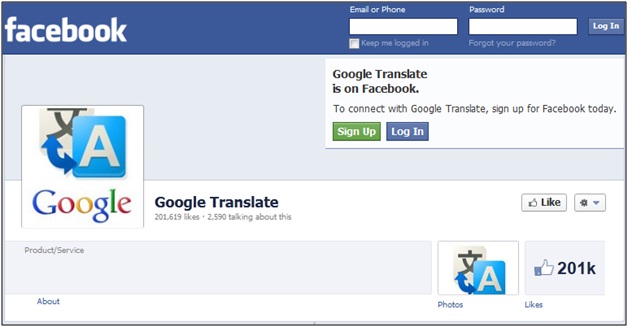 The latest mobile app launched on 27 September 2012, the day celebrated as Google Search's birthday, Field Trip is a great app to find and add cool and unique things around you. At the Facebook page you will find all that there is to know about what's latest in this app and unique ways to use it.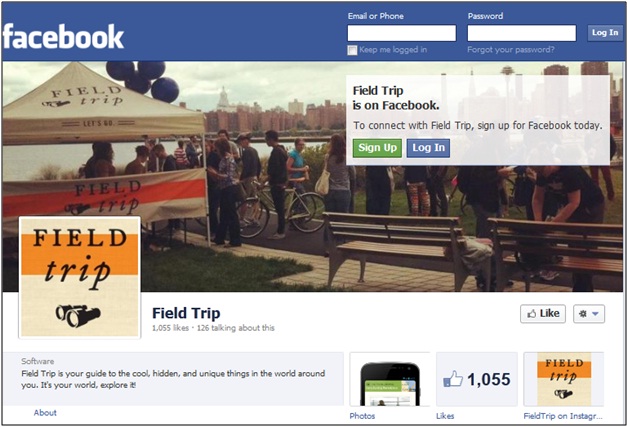 To know just how important Google Analytics tool is you just have to ask a web developer . No website is complete without adding a module of Google analytics in to keep track of the traffic that is coming on the website. The Facebook page of this tool is just as informative and gives you new features and new techniques to use the tool.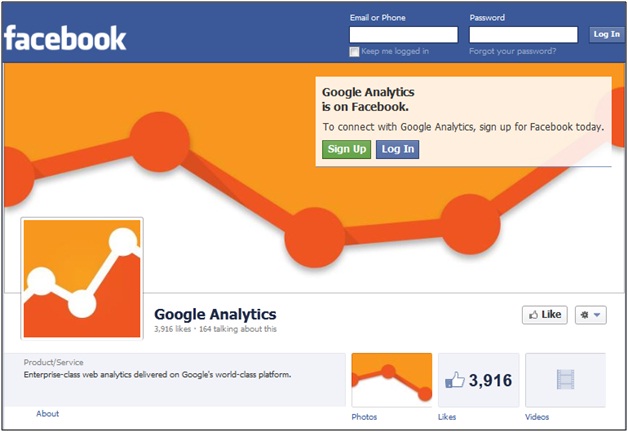 The Google Art Project is the result of collaboration between some of the most popular and acclaimed art museums throughout the world. The project aim as providing high quality images of artwork and giving virtual tours of museums on the internet.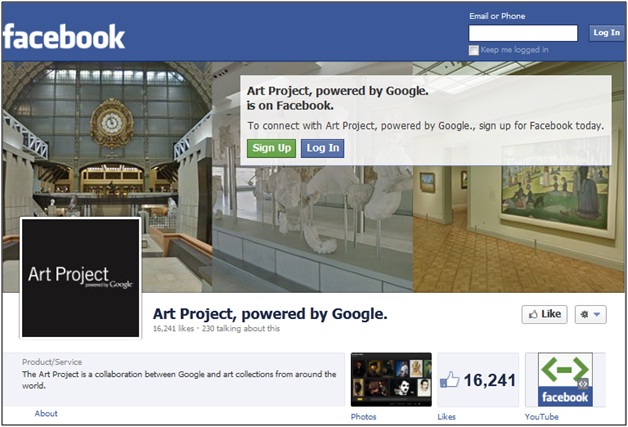 The latest product launched by Google that is still in its experimental stage, Google Fiber is an ultra high speed internet service that is provided by Google at a nominal charge. The Facebook page details the results of the experiments and the journey of Google fiber team. It is actively followed by all those internet users who are waiting for the service to come to their city, including us.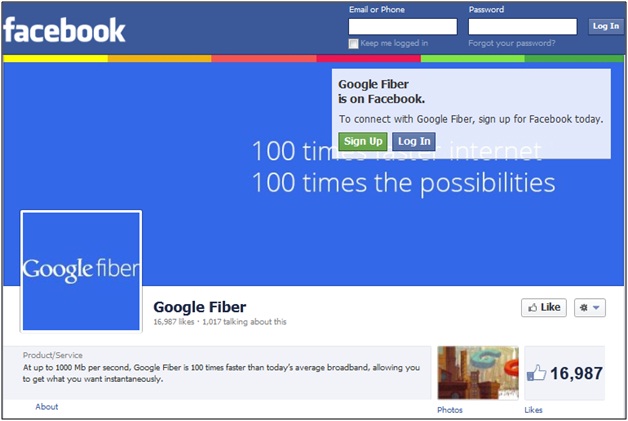 For advertisers
Google AdWords:
The well known advertisement program offered by Google, Google Adwords is hugly popular among business of all types and sizes. Google Adwords Facebook page presents these businesses with latest news related to Google Adwords.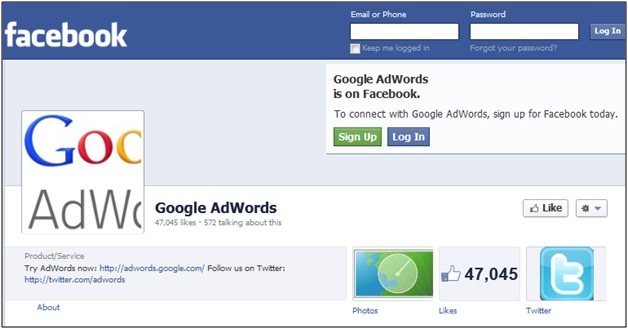 Google Mobile Ads :
An extension to Google Adwords, Google mobile Ads gives your product a even farter reach through the millions of mobiles using Google. And just like the Adwords, the Google Mobile Ads Facebook page brings you the latest news on the Google Mobile Ads program.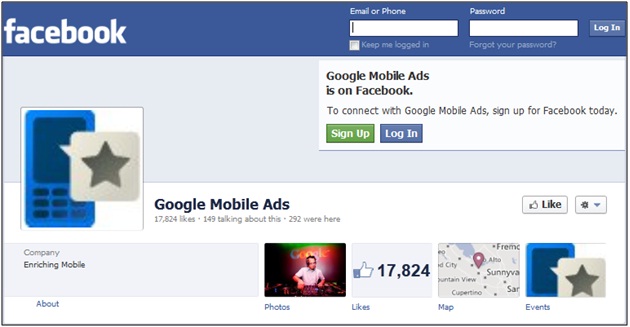 The main income source of many websites, Google AdSense program is one of the most innovative programs that is launched by Google. It allows websites to put a advertisement banner on their site and allow advertisers to put advertisement on these banners through Google. The Facebook page of this program is actively followed by all internet marketing executives and businessmen who profits or advertises through Google Adsense.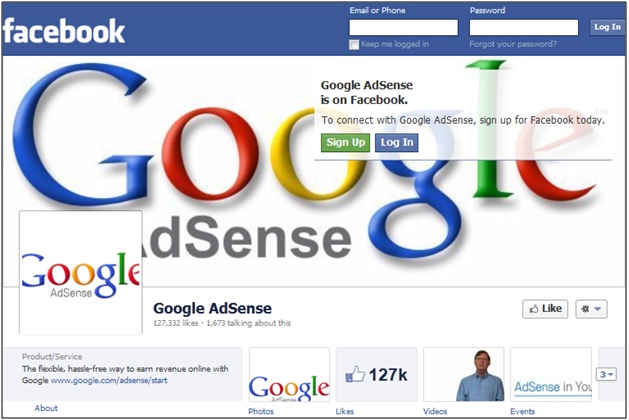 Regional pages of Google
With the aim of developing products designed specifically to serve the Arabic community, Google Arabia is the project of Google that translates, remodels, or localizes its products according to tastes of Arabic speaking community. The Facebook page of Google Arabia keeps you updated on whats new in this project, and this page is fully in Arabic.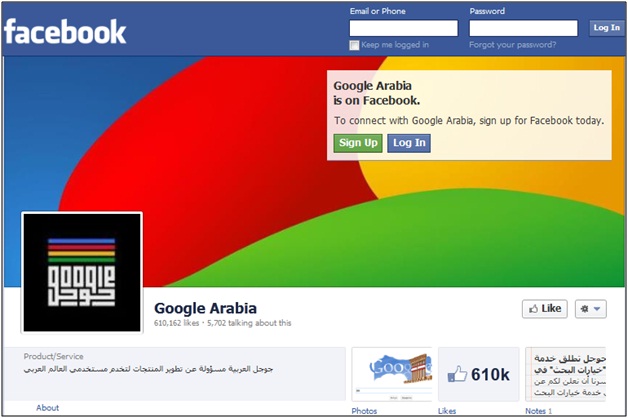 Being an important part of software industry throughout the world, Google India enjoys a specific Facebook page that brings you news from the Google India office.