WordPress 5.1 Released: Know What's New for You
December 30th, 2022
WordPress 5.1, the very latest version of WordPress named Betty, has recently been released and is now available to download or update in your Dashboard area. Unlike the previous release of WordPress, which was mainly focused on providing users a much better and streamlined content editing experience through the Gutenberg editor, version 5.1 attempts to make the CMS more secure, faster, and better by introducing several tools for both site administrators and developers.
So if you haven't experienced WordPress 5.1 yet and are planning to update your website or blog, it would be worthy to know all the unique features and improvements that version 5.1 has to offer. Let's explore what's new and exciting in WordPress 5.1 for both end users and developers.
#Site Health Features
Given the fact that both Speed and Security matters the most for a WordPress-powered site, the WordPress Core team has introduced Site Health features in version 5.1. As a result of this feature, WordPress now notifies site administrators about an outdated version of PHP.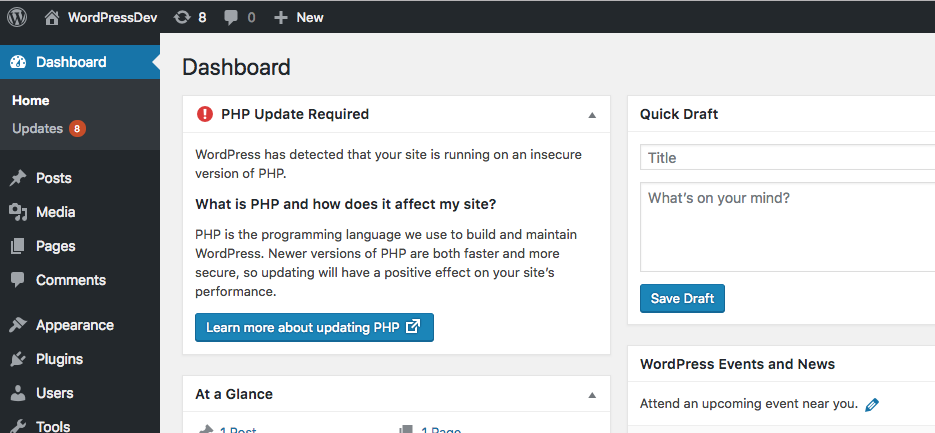 Also, starting WordPress 5.1, when you install a plugin, Site Health features will check it against the PHP version your WordPress site is running on. If the plugin requires an upgraded or downgraded version of the PHP to work, WordPress will continue to prevent you from installing that plugin.
#Enhanced Editor Performance
Introduced in WordPress 5.0, the new Gutenberg editor continues to improve in version 5.1. With several solid performance improvements, the content editor now feels a little quicker to start and typing has become smoother than it was before.
As the WordPress Core team is now focusing largely on making the editor even better, faster, and easier to use, you can expect more performance improvements in upcoming releases.
#Multisite Metadata
Introducing a new database table, named wp_blogmeta, to store metadata related to sites, version 5.1 facilitates the storage of arbitrary site data relevant in a WordPress multisite network. However, developers are recommended not to overuse it since there are significant trade-offs between using site options and site metadata.
#Cron API
Several new functions have been included in the Cron API to assist with returning data. Consequently, return values now indicate whether or not the function call was successful. Additionally, new filters have also been added to modify the Cron storage.
#New JS Build Processes
Following the large reorganization of code that began in the previous release, WordPress 5.1 introduces a new JavaScript build option. As a result, when you hover over menus or access the sidebar in the content editor, you enjoy a much smoother experience.
#Minor Improvements & Fixes
Other notable tweaks and improvements include:
Updates have been made to the values for WP_DEBUG_LOG constant.
New test config file constant and new plugin action hooks.
For wp_unique_post_slug(), count_users(), and WP_User_Query, short-circuit filters have been introduced.
A new human_readable_duration function.
Taxonomy metabox sanitization has been improved.
Now when you use WP_Meta_Query, there is limited LIKE support for meta keys.
When registering REST API endpoints, you get a new "doing it wrong" notice.
…and more!
That's all about WordPress v5.1!
If you're interested in testing out the new version, login to your WordPress dashboard right away and click "Please update now" button. Don't forget to backup your site first!
Alternatively, you can download the release candidate from here and play with it on your local machine. In case you face any issues while upgrading your website to WordPress 5.1, feel free to contact us.