The Ultimate Beginner's Guide to WordPress Core Updates (Including How to Update WordPress Safely)
September 21st, 2023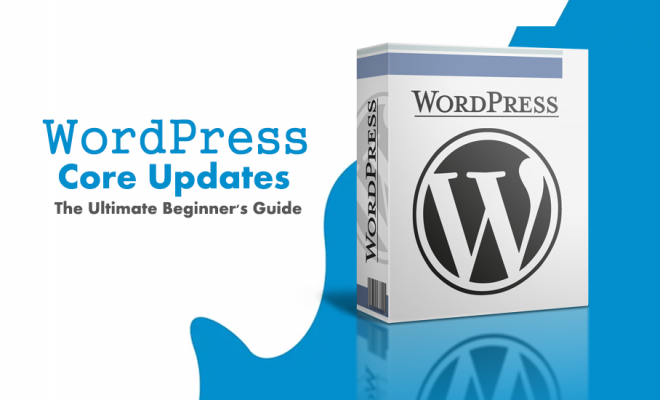 Are you someone who is leveraging the WordPress Ecosystem to power their online business? If yes, then you must be knowing the importance of WordPress Core Updates.
According to statistics, nearly 86% of sites are hacked due to outdated WordPress core files, themes, or plugins.
That means if you keep your WordPress installation as well as your themes and plugins up to date, you can prevent your website from being hacked.
Surprisingly, only 42% of websites are using the latest version of WordPress, and nearly 27% of those sites are two updates behind. And, despite these facts, people often blame WordPress security for any kind of website failure.
While updating your website to the latest version of WordPress is inevitable to keep it secure, fast, and functional, updates may sometimes interfere with customizations and even lead to breaking the functionality of your site. Particularly when you're a novice who doesn't know where to start, you are afraid that a WordPress update might break your website.
And that's why keeping the same in mind, we have compiled this definitive guide. Through this in-depth guide, you will not only get answers to all your questions about WordPress core updates but will also learn how you can update WordPress safely every time like a Pro – without breaking your website.
In this article:
What Are WordPress Updates?
Just like any other software, WordPress is prone to bugs and vulnerabilities if it is not improved and maintained.
Thankfully, since the release of the CMS back in 2003, the WordPress Core Team has constantly been improving the core functions of WordPress with new features, bug fixes, and, most importantly, security patches.
This keeps all WordPress websites in top gear, and that's why you also need to switch to the latest version of WordPress. Check out the various versions of WordPress here.
What Requires Updates in WordPress?
There are four key elements of WordPress that needs to be updated from time to time:
Core: This is the backbone of your site. Just like a phone's operating system, the Core is the OS of your WordPress site. These updates take place at regular intervals and bring improvements such as bug fixes, new features, and security updates.
Plugins: Just like apps on your phone, these components are used to extend the functionality of your WordPress site. From time to time, plugins also need to be updated.
Themes: A theme determines the layout and design of your website. For now, WordPress's default theme is Twenty Twenty. You can either choose from a plethora of free and premium themes or hire expert WordPress developers to develop a custom one for you. Whichever root you take, you will see updates coming in.
Translation File Updates: These updates are carried out by the WordPress community to make themes and plugins available in as many languages as possible.
What Are the Types of WordPress Updates?
The WordPress Core updates are divided into three main categories:
Core Development Updates: Also known as "bleeding edge" updates, these updates are developer-oriented and, therefore, a bit riskier. They may be unstable at times, and end-users have to wait until the final release has been out.
Minor Core Updates: These contain maintenance and security patches and other fixes. You can recognize them by a change in the third digit of a WordPress version. For example, version 5.3.1 and 5.3.2 were minor releases. Starting WordPress 3.7, every site has automatic updates enabled by default for minor core releases and translation files.
Major Core Updates: These updates take place every 4 to 5 months and bring brand new features to the CMS. For instance, WordPress 5.0 introduced Gutenberg – the new content editor. You can easily recognize major releases when there is a change in the first two digits of the version. For example, WordPress 5.4 is a major release.
Why Should You Always Use the Latest Version of WordPress?
Every WordPress Core update, whether it is major or minor, serves a purpose and benefits your website one way or the other. Here are some reasons why it is essential to update WordPress:
To Tighten Security: According to the WPScan Vulnerability Database, 61% of all hacked websites use an outdated version of WordPress compared to 8% being breached due to a weak password. From 18286 vulnerabilities, 14278 are in Core, 3604 in plugins, and 404 in themes.

To Try New Features and Functionalities: WordPress is a CMS in constant evolution. Every new version of the CMS introduces new features to make the user experience even more pleasant, in addition to improving the existing ones.
For Improved Speed and Performance: Nobody wants a slow website, and therefore every new version of WordPress is packed with improvements that are aimed at improving the speed and performance of your site. For instance, WordPress 5.2 forced users to updated the PHP version to 5.6.20.
For Better Compatibility with Themes, Plugins, and Other Tools: Some Plugins and Themes, especially paid ones, require the latest version of WordPress to function. In other words, using an outdated version of Core may also require some themes and plugins to be used in their outdated forms, making your site vulnerable to attacks.
What is the Latest Version of WordPress?
At the time of this writing, the latest version of WordPress is 5.3.2 – a short-cycle maintenance update that was released to the public on December 18, 2019. You can check the latest WordPress version anytime through this official page.
How Do I Find My Current Version of WordPress?
There are multiple ways to check which version of WordPress your site is running on. Here are just a few of them:
Find Out from WordPress Admin Area: Log in to your WordPress Dashboard, scroll down, and you should be able to see the current version at the bottom right of the page.

Find Out from the Generator Tag in Source Code: Right-click anywhere on your website and select the View Page Source option.


A new tab will open showing the source HTML code of the page. Press CTRL+F and search for 'generator.' If the version information is not disabled by the site owner, you will be able to see a tag containing WordPress version information, like this:

Find Out from the "About" Page in Dashboard: Simply write "/wp-admin/about.php" next to your site's URL and hit Enter, and you'll be redirected to a page showing all the information related to the WordPress version your site is running on.
How Do I Know If a WordPress Update is Available?
When a new version of WordPress is available, you will receive an update message like "WordPress #.#.# is available! Please update now." in your WordPress Admin Screens.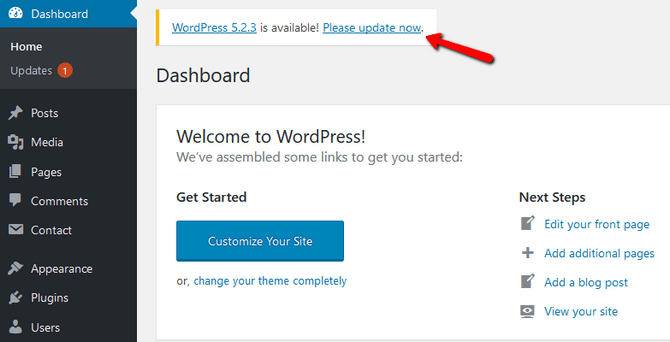 However, you can always check for a WordPress update by going to Dashboard >> Updates in your Admin Area.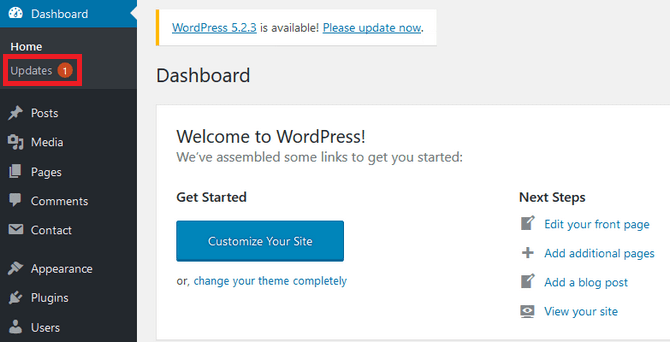 Should I Update My WordPress? Is Updating WordPress Safe?
Obviously, you should. This will not only keep your WordPress site secure and relevant but also you will be able to get your hands on several new features added to the CMS. Updating your website to the latest version of WordPress is 100% safe only if you follow these crucial steps.
What Happens If I Update My WordPress Version?
Most of the WordPress updates aim at tightening the security of the CMS. Hence, when you update your site to the most recent version of WordPress, you can be assured that you have the latest security fix to protect your website from hackers. Plus, you can benefit from new features and improvements that are shipped with the latest version of WordPress.
What Happens If I Don't Update WordPress?
Conversely, if you don't keep up with the latest WordPress version, you will:
Miss out on security updates and therefore keep the door wide open for hackers
Miss out on the new features and improvements
Face incompatibility issues. Your brand new plugin or theme may not be compatible with the outdated version of WordPress.
Experience a drastic degradation in the speed and performance of your site due to deprecated WordPress functions and old PHP. This will eventually affect its SEO.
Will Updating WordPress Break My Site?
Usually, WordPress updates occur without any problems, but sometimes things may go wrong due to an incompatible theme, plugin, or hosting provider. In other words, updating WordPress will not break your website unless you have any incompatible themes and plugins.
Should I Update WordPress, Theme, or the Plugins First?
To avoid any incompatibility between different elements of your WordPress site, you should always update your plugins first, followed by updating your theme and update your WordPress Core afterward.
Making updates in this order contributes to a more bug-free WordPress site update. This is because developers usually coordinate their updates with WordPress Core updates to ensure their plugins and themes remain compatible with the latest version.
Why Can't I Update My WordPress?
Some common signs of WordPress updates are not working are:
Changes you make to your posts, and pages don't appear on the front-end.
Site customizations are not working.
Updates made to plugin settings and widgets are not working.
And some main causes of WordPress not updating are:
A Poorly Configured Cache Plugin: Try to empty all caches or to disable the cache plugin.
Enabled CDN: Try to disable or bypass CDN temporarily.
Old Browser/Server Cache: Clear the browser cache and set web page caching off temporarily.
How Do I Upgrade to the Latest Version of WordPress?
Updating WordPress to the latest version is as easy as one-two-three as the CMS comes equipped with a built-in system to update the software with a few mouse clicks manually. Log in to your WordPress Dashboard, and you should be able to see a message like this recommending you to update WordPress: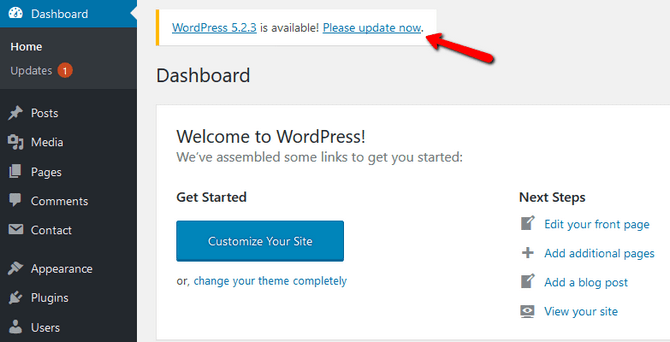 If you're unable to see the message, go to Dashboard >> Updates, and on the next page, you'll see a notice saying, "An updated version of WordPress is available." Now click the "Update Now" button to initiate the update.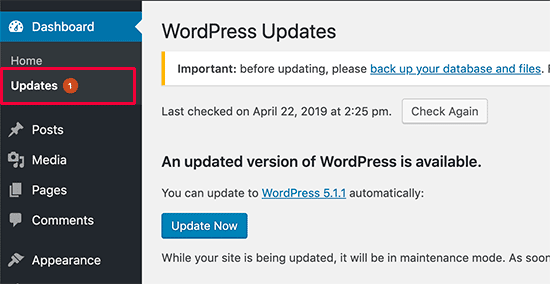 Now, you will be able to see the update progress on your screen.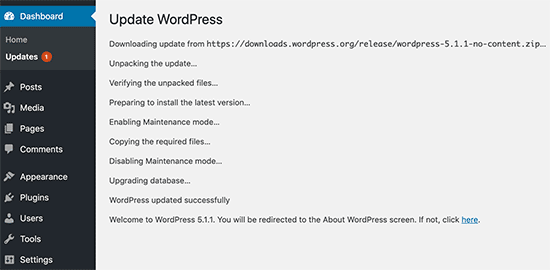 Once the update is finished, you will be redirected to the WordPress welcome screen, showing you a congratulatory message and inviting you to check the latest features and improvements.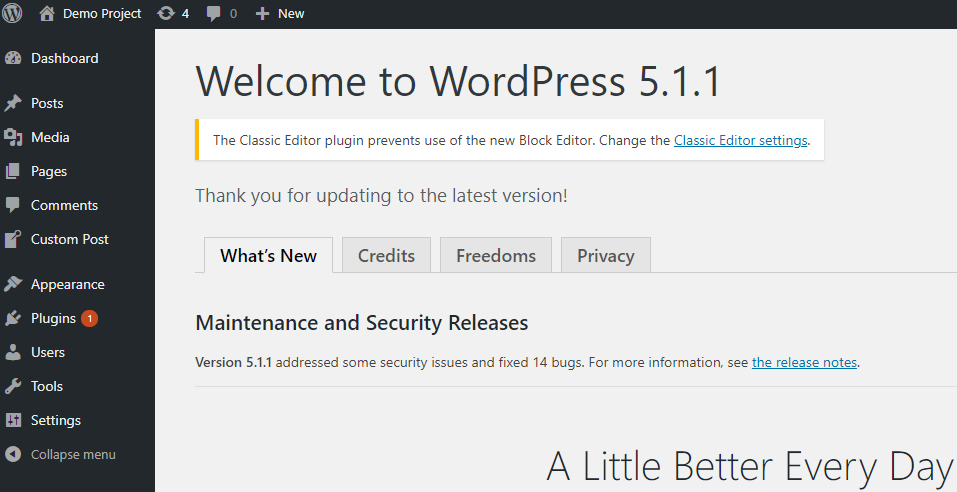 How Do I Update WordPress Without Losing Content?
Nobody wants to compromise their hard work, and you're no exception. If you really want to update WordPress safely without losing any existing data, follow the step by step process mentioned below:
Back Up Your Site: Before you click the update button, make sure to take a full backup of your WordPress site. If anything goes wrong, this backup will help you restore the most recent version of your website. For this purpose, you can utilize any of these plugins:

Irrespective of which plugin you use, make sure you verify the backups you created are there and usable. This is inevitable!

Decide Whether to Stage the Site: Staging refers to creating a copy of your WordPress site to test the update first on a local or another online server. This is beneficial if you don't want to update WordPress on the live website. If you decide to stage your WordPress site, you have three options:

Stage on a Test Server using WP Stagecoach
Stage on the same server using WP Staging plugin
Stage on your desktop using a local staging environment like Laragon

Set Up a Maintenance Page: During the update process, WordPress automatically puts your site in maintenance mode. As you don't know how much time a particular WordPress update will take, it's always a great idea to create a temporary maintenance page using a plugin like WP Maintenance Mode.
Clear the Cache & Disable Caching: If you have Caching enabled, clear and disable the Cache to ensure the changes will reflect immediately. After clearing the Cache, deactivate your caching plugin as well.
Update Plugins & Themes: As mentioned previously, update your plugins first and then update your WordPress theme to avoid incompatibility issues that may arise after updating WordPress.
Deactivate All the Plugins: Given that some of your Plugins may conflict with the upgrade process, deactivate all the plugins (except the Maintenance page plugin if using any) before you initiate the update process.
Update the WordPress Core: Now, you can safely update the WordPress Ecosystem by following these simple steps.
Reactivate Plugins and Turn the Caching Back On: After you have successfully updated WordPress, don't forget to reactivate caching and Plugins.
Check If Everything Is Okay: Now that your WordPress version is updated, browse through your site to ensure that everything is in order. You don't need to look into every small detail. Just take a general look!
Remove Maintenance Page: If you find everything working fine, take the maintenance page down and deactivate the maintenance page plugin, if any.
Back Up Your Site Again: Finally, back up your WordPress site once again to have the most up-to-date version of the website saved somewhere safe.
How Do I Manually Update WordPress via FTP?
Alternatively, you can also update the WordPress core manually via FTP (File Transfer Protocol). For this purpose, you can utilize FileZilla. Follow the steps given below to update WordPress with the help of FTP manually:
Take a full backup of your WordPress site first, as always.
Download the Latest Version of WordPress: Go to the official WordPress download page and download the latest version of WordPress from there.

Once downloaded, extract the zip file using software like WinZip. You'll then get the WordPress folder.

Access the WordPress Root Directory via FTP: Enter your FTP details (username, password, hostname & port) in FileZilla and go to your website's root folder named public_html.

Inside this folder, you will see all your WordPress files and folders.

Upload the Latest WordPress Version: Now select all files and folders (except the wp-content folder) inside the wordpress folder on your local computer and then right-click to choose Upload. Since the wp-content folder holds your themes, plugins, and media uploads, it is recommended you later upload only those files that are new or modified in the wp-content folder.

If the files with the same name exist inside your public_html folder, FileZilla will ask you to replace them by the newer versions. Select 'Overwrite' and check the box next to 'Always use this action.'

Once the upload is finished, log in to the Dashboard, and you may be asked to update your WordPress database. Click the 'Update WordPress Database' button to update your WordPress database to the newest version.

That's all; you have successfully updated the WordPress Core via FTP!
How Do I Update WordPress from Command Line?
Although updating WordPress with the command line is a time-consuming process, it can prove to be very useful if you manage a lot of websites for you or your clients. Follow the steps given below to update WordPress via SSH and WP-CLI:
Precaution: Take a full backup of your WordPress site first, as always.
#Step 1:
First of all, access your hosting account via SSH and then use the following command to navigate to your WordPress root directory:
cd public_html/my_website
Be sure to replace public_html/my_website with the actual path to the root directory of your WordPress site.
#Step 2:
Run the following command to check if there is a WordPress update available:
wp core check-update
The output from that command will be as shown below:

And if you're already using the latest WordPress version, you will get this message:
"Success: WordPress is at the latest version."
#Step 3:
To update WordPress to the latest version, use:
wp core update
The following output confirms the update was successful:

Congratulations! You have successfully updated WordPress using the WP-CLI core command.
Lastly, with the following command, you can also force WordPress to update to a certain version:
wp core update –version=#.#.# –force
To update the WordPress Database, Themes, and Plugins, utilize the following commands:
Database: wp core update-db
Themes: wp theme update –all
Plugins: wp plugin update –all
How Long Does a WordPress Update Take?
The answer to this question is pretty straightforward: not that long. The actual update process usually doesn't take more than five minutes. And if it takes, the update is considered a failure.
Thankfully, if something goes wrong and the update takes too long, WordPress stops it and make your website live again.
Does WordPress Automatically Update?
Since version 3.7 and higher, WordPress checks for minor and security updates every 12 hours and update itself automatically to the newer version. However, for major releases, you'll still have to manually update the CMS unless you are on managed WordPress hosting such as WPEngine, Kinsta, and Flywheel.
How Do I Turn on Automatic WordPress Updates?
Surprisingly, as with most features of the CMS, this too can be altered. You can enable automatic updates for major WordPress releases by adding the following line of code to your wp-config.php file:
define( 'WP_AUTO_UPDATE_CORE', true );
And if you want to disable all development, minor, and major updates, just set the value to false.
define( 'WP_AUTO_UPDATE_CORE', false);
Optionally, you can also enable automatic WordPress updates with any of the following plugins:
As an experienced custom WordPress theme and plugin development company, we recommend you not to enable automatic WordPress updates as they can potentially break your site.
When Is the Right Time to Update WordPress?
Keep the following factors in mind and decide yourself when is the right time to update and when is the right time to skip:
Your Site's Traffic Patterns: Avoid updating WordPress during peak traffic hours to ensure the site is up and running at an optimal level. Either perform any updates in advance or wait till the end of the peak time.
Check Out What Others Say: Dive into the WordPress Support Forums to see what others are saying about the update. If too many issues are reported, wait until the more stable update is available.
Prioritize Security: Never compromise the security of your WordPress site. If it is a security patch update, install it immediately.
How Often Should I Update WordPress?
As soon as a new version of WordPress is available, you should update your site to it immediately. This will help keep things running smoothly and compatible with the latest technologies.
Is It Safe to Update My WordPress from Version 5.3.2 to Version 5.4?
Yes, it is 100% safe to update WordPress to Version 5.4, only if you follow the steps to update WordPress safely.
Do you want to get your WordPress updated to the latest version? Get a FREE analysis.