Top 13 WordPress Development Trends for 2020 and Beyond
February 13th, 2023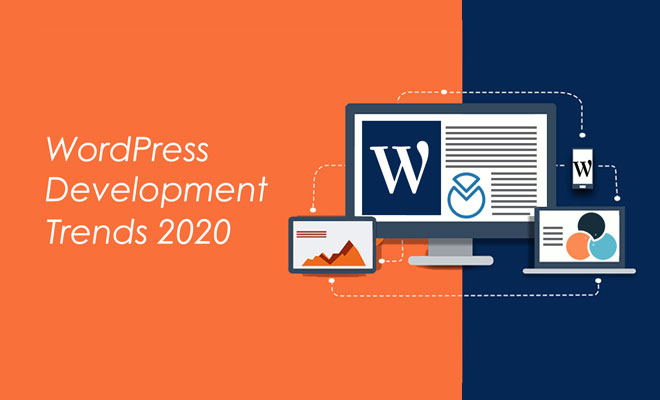 There are over 1.7 billion websites on the Internet today, and most of them are powered by the world's most popular open-source content management system, WordPress. According to W3Techs, WordPress currently powers over 36.6% of all the websites on the Internet.
If this doesn't convince you about the popularity and usability of WordPress, here are a few more facts and figures:
WordPress powers 14.7% of the world's top 100 websites.
It has a CMS market share of about 63.4%.
On average, over 661 new WordPress websites pop up every day.
WordPress usage increases at a rate of about 2% each year.
WordPress is not only for blogging – nearly 93.7% of all WordPress eCommerce websites use the WordPress-acquired WooCommerce plug-in.
One key reason behind the continuously increasing popularity and usage of WordPress is that it never left behind embracing new trends and technologies to ensure constant innovation and room for improvement for users. From introducing the theme Customizer in version 3.4 to incorporating the new Gutenberg block editor in version 5.0, the CMS has come a long way from being a simple blogging tool to a full-fledged eCommerce platform.
If you're a WordPress professional having expertise in PSD to WordPress Conversion, keeping up with the latest WordPress development trends is imperative to serve your clients best and win over the competition.
Want to know what to get ready for? The following are the top trends that are already revolutionizing WordPress development in 2020 and promise to be the most impactful in the forthcoming years.
Let's dive right in!
#Blocks Everywhere
Without a doubt, the most prominent WordPress development trend you need to pay attention to in 2020 and beyond is Gutenberg's drag and drop blocks. During the latest State of The Word, Matt Mullenweg made it clear that Gutenberg is the future of WordPress development.
See Video: https://www.youtube.com/watch?v=LezbkeV059Q
In his speech, Matt emphasizes that all WordPress roads will lead to Gutenberg in the coming years. According to him, over 270,000 posts per day are now being published using the new WordPress block editor.
Furthermore, every major WordPress release adds new features and improvements to the block editor. For instance, WordPress 5.3 clearly shows how serious WordPress is about Gutenberg.
With Gutenberg getting better with every major WordPress release, you can expect to see a dramatic rise in the demand for custom Gutenberg blocks. Last but not least, WordPress is also planning to launch a Block Directory (similar to the theme and plug-in directories) to allow users to search for and install blocks on the fly from right inside the editor.
#More Drag-And-Drop Page Builders
Gutenberg is often seen as the initiative towards WordPress native page builder. However, it is still not powerful enough to outperform professional drag-and-drop page builders such as Elementor, Divi Builder, and Beaver Builder. Despite offering you a drag-and-drop interface, Gutenberg doesn't facilitate WordPress theme customization and is confined to only creating customized posts or pages.
Even though the Block Editor is inspired by the user-friendly, dynamic nature of WYSIWYG (What You See Is What You Get) page builders, it's not strictly a page builder. Instead, it's more of a layout tool that can only customize different areas of a post or page.
While nothing beats the aesthetics and functionality of a custom WordPress site built using PSD to WordPress theme conversion, drag-and-drop page builders are especially suitable for those who don't have the technical skills to build a website. However, they are also now a staple of many developers to gain a competitive advantage.
With Elementor hits 4 million websites in record time, it seems clear that the drag-and-drop page builders are unlikely to go anywhere, and you can expect to see many more in the years to come.
#Multi-purpose Themes
WordPress multi-purpose themes are on high demand in the market as they are super versatile, allowing users to create all sorts of websites using a single theme package. While they already have a bunch of integrated premium plug-ins to choose from, you can also add your choice of plug-ins to extend the functionality of your WordPress site further.
As a matter of fact, the top WordPress themes sold on Envato Market are multi-purpose:
Avada Theme: A responsive, multi-purpose theme with over 596,000 sales.
X Theme: A super-fast multi-purpose theme with over 211,000 sales.
Enfold Theme: Another multi-purpose, responsive theme with over 207,000 sales.
Given that many organizations and agencies are now inclined towards WordPress for the development of their business websites, there is a high possibility that multi-purpose themes will become even more popular in the coming years.
#Artificial Intelligence
Artificial Intelligence (AI) is one of the game-changing technologies that have changed the way we live. In fact, it has now grown to a point where all kinds of websites and applications are leveraging its abilities to deliver users a richer, smarter, and more tailored experiences.
According to a recent survey by MindTree, over 77% of organizations have already implemented some AI-related technologies in their workplaces, with 31% gaining huge returns. If implemented properly, AI can empower websites and applications with incredible new capabilities, like
Deep Insights with website analytics
Automating and streamlining daily processes
Behavior tracking for better marketing campaigns
When it comes to WordPress, we're fortunate to have hundreds, if not thousands, of plug-ins that use Artificial Intelligence to transform how WordPress works.
As an example, where Jetpack utilizes AI to carry out proofreading tasks, on the other hand, the WordLift plug-in optimizes your website's content for search engines with the help of AI and machine learning.
The use of AI in WordPress is sure to grow in 2020 as AI market size is expected to grow to $40.3B by 2020.
#Voice Search Optimization
With the constantly growing popularity of Voice-activated search assistants such as Alexa, Google Assistant, Siri, and Cortana, adding voice capabilities to your WordPress site is undoubtedly a great idea. According to Comscore, 50% of all searches will be voice ones by 2020, with nearly 200 billion voice search queries per month.
And this is probably because searching with voice is 3.7 times faster than typing.
Another reason for the growing popularity of voice search is that users find Voice-based search assistants more convenient and time-saver than typing. Factually, approximately seven out of ten consumers prefer to use voice assistant over manually typing.
To integrate voice search with your WordPress site without any custom coding, you can try WP Fastest Site Search and Universal Voice Search plug-ins.
Installing and configuring voice search plug-ins, however, is not enough. You also have to do several things to get your site ranked higher in search engine results:
Switch to a blazing-fast WordPress theme.
Keep your answers short and easy to read.
Add schema markup to your content.
Optimize your content for Featured Snippets.
Thus, with the use of over 8 billion digital voice assistants expected by 2023, you'll see a dramatic rise of voice-assistance compatible WordPress sites soon.
#Blockchain
Due to the rapid adoption of cryptocurrencies, such as Bitcoin, Blockchain technology is getting quite prevalent, particularly in the financial sector. However, we can also see its direct impact on WordPress plugin development and digital content monetization.
Last year, WordPress launched a new Blockchain-based platform, called Newspack, which was aimed at improving the reliability and on-site security of publishing outlets. Additionally, this game-changing technology can particularly useful for speeding up payment transactions for WordPress-based online stores.
As you expect, there are plenty of WordPress cryptocurrency themes and plug-ins already available to bring Blockchain's potential to WordPress. For example, you can use Site Reviews plug-in to verify your reviews and WordProof Timestamp plug-in to timestamp your WordPress content on the Blockchain.
#Augmented and Virtual Reality
What can take browsing to a whole new level? The answer is Augmented Reality (AR) and Virtual Reality (VR). While these two revolutionary technologies are paving their way into almost every industry, WordPress is no longer an exception.
The CMS now fully supports the VR content as well as 360° images and videos. From embedding interactive 360° images to uploading 3-dimensional videos, you have a lot of opportunities to spruce up your WordPress site with rich multi-media that engage your users.
Particularly if you have a WordPress-powered eCommerce site that relies mostly upon images and videos to represent products and services, AR and VR can prove to be boon for you to deliver highly interactive browsing and shopping experiences to users.
For instance, you can consider using the Ozisti theme to incorporate AR functionality to your WordPress site. Although the theme is built primarily for eCommerce, you can use it for a variety of projects.
With the VR industry set to explode between now and 2024, you can gain a notable competitive advantage by adopting this WordPress development trend at the earliest.
#AI and Automation Driven Chatbots
Automation and assistive technologies are being used on websites and applications in many different forms, and Chatbots are among them. Taking advantage of AI and Machine Learning, these automated messengers can help you with:
Enhancing the User Experience (UX)
Capturing leads
Monitoring clicks
Facilitating 24/7 availability
Automating and improving customer support
Answering frequently asked questions
Acquiring help requests
Learning more about users' behavior
Given that AI-powered Chatbots are the future of marketing and customer service, WordPress offers you many Chatbot plugins and options to help you add automated Chatbot to your site:
Gartner predicts that Chatbots or Smart Agents will power 85 % of all customer service interactions by 2020. On the other hand, another report reveals that at least 85% of businesses will be using Chatbots by 2022. These statistics show that Automated, AI-powered Chatbots will be the top WordPress development trend in 2020 and subsequent years.
#Progressive Web Apps
While Progressive Web Apps (PWAs) have been around for a while, they are becoming rapidly popular as more and more people are now turning to mobile devices. In addition to delivering a native app-like experience to users without installing anything on their mobile devices, they offer several other benefits:
Faster loading times
Better user experience
Increased security
More flexibility
To convert your WordPress site into a PWA, you can use various free and paid plug-ins offed by WordPress. For instance, you can check out Progressive WordPress (PWA) plug-in.
However, if you're planning to build a Progressive Web App from scratch, better is to hire expert WordPress developers to get it developed.
#Accelerated Mobile Pages (AMP)
Accelerated Mobile Pages (AMPs) are essentially stripped-down HTML versions of your existing web pages designed to load instantaneously. As compared to non-AMP pages, AMP pages lead to:
105% increases in conversion rate
31% decrease in bounce rates
29% increase in conversion rates
With the growing demand for even faster experiences on mobile devices, AMPs have emerged as the topmost WordPress development trend. To add AMP functionality to your WordPress site, you can either use a plug-in, such as AMPforWP or hire AMP WordPress theme development experts.
#Headless WordPress
The term 'Headless' refers to the software architecture that can function without a graphical user interface. This approach involves decoupling the front-end from the back-end, allowing for a more tailored development of the underperforming areas of a website or application.
Although WordPress was not initially meant to be a headless content management system, its development has shifted in that direction over the past few years. Of course, the advent of the REST API in 2016 empowered developers to make their WordPress sites headless.
Thankfully, as with anything WordPress related, there are several plug-ins available to turn a standard WordPress installation into a headless CMS. Some most popular of them are:
Also known as Static WordPress, the trend of using WordPress as a Headless CMS will continue to be prevalent in 2020 with the growing numbers of headless WordPress hosting solutions such as Shifter, HardyPress, and NorthStack.
#An Emphasis on Accessibility
As a WordPress site owner, it's now more important than ever to make your website accessible to users with different abilities. After the pizza-chain Domino's lost in lawsuit over website accessibility last year, Accessibility has become a hot topic of discussion on the web. Plus, there is growing awareness and responsibility on how to make websites accessible for everyone and anyone.
Even in a true open-source fashion, WordPress offers a dedicated information page about best practices you need to follow to make your site accessible to all users. And if you want to learn more, you can study up on the latest Web Content Accessibility Guidelines (WCAG).
#The Rise in Coronavirus Themes & Plug-ins
And last but certainly not least, 2020 will see a dramatic rise in the development of coronavirus WordPress themes and plug-ins. While we already have a handful of WordPress Coronavirus (COVID-19) plug-ins, themes like Korisna and MedPlus are also available to aware people of this global, deadly pandemic.
Since it seems like Corona is here to stay, you can expect to see more such themes and plug-ins in 2020.