WordPress eCommerce – The Most Affordable Way to Start an Online Store
September 13th, 2023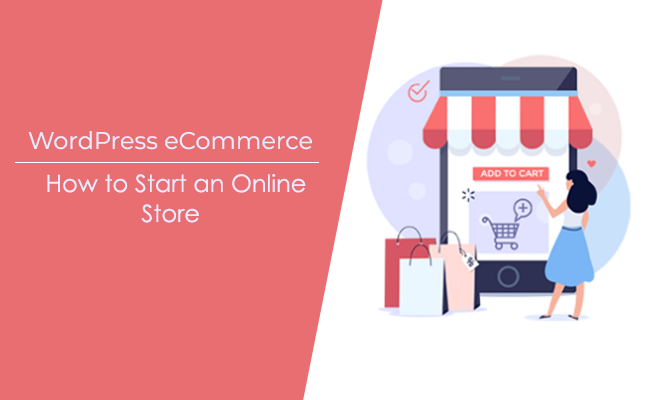 Initially started as a blog-publishing system, WordPress has evolved into one of the world's most robust CMSes, which works well not just for bloggers but also for small to medium and even enterprise to eCommerce sites. Currently, it powers nearly 41% of the web with a market share of 65%.
In This Article:
When to Use WordPress for eCommerce?
If you already run a content-rich WordPress site or blog and want to take it to a whole new level, you can convert it into a feature-rich eCommerce site using appropriate WordPress eCommerce themes and plugins. WordPress can prove to be a robust eCommerce platform for you if:
You already have a large WordPress site and want to incorporate an online store into it without reinventing the wheel.
You're a small business owner who wants to sell a limited collection of products or services (in the range of 40–50) online through a secure and easy-to-manage platform.
You don't have any specific requirements (like a bespoke system) regarding order fulfillment.
Your online store is a part of your existing website.
You want to start small and expand as you grow
You don't want to put a ton of energy behind the store.
Your budget is limited.
The Most Popular WordPress eCommerce Features
A few years ago, most developers avoided recommending WordPress for creating an eCommerce site, but the scenario has changed now. The CMS is now in a better position with the advent of managed hosting and open-source eCommerce plugins like WooCommerce and WP eCommerce. Additionally, the platform supports the following eCommerce features like a breeze:
Multi images and zoom support
Easy social integration
Review system and ratings
Sales and inventory chart
Custom recommendations
Multi-currency handling
Affiliate system
Save, publish, and share cart on social platforms
Multiple Payment gateway integrations
Credit/Debit card and net banking integration
Top Reasons to Use WordPress for eCommerce
Below are a few more reasons why WordPress is suitable for your eCommerce requirements:
#Content-first Platform
Your eCommerce site needs to have rich and relevant content to rank product pages higher in the search engine result pages. This is where WordPress beats many other popular eCommerce platforms. WordPress comes packed with several features to make your eCommerce site successful by generating organic traffic through content. The SEO-friendly nature of WordPress helps small business owners to rank well in search engines for a wide range of long-tail keywords, which is not achievable easily on other eCommerce platforms without a lot of additional efforts.
#Easy to Use & Manage
The backend of WordPress is user-friendly and extremely easy to use. It doesn't require you to have deep knowledge of any programming language or be incredibly tech-savvy. With a few hours of training, even a novice would add products and manage orders. When you're using WordPress as an eCommerce platform, it's effortless to monitor your sales, tweak your products and keep on top of your inventory.
#A Multitude of Themes
WordPress offers a wide range of free (and premium) eCommerce themes to choose from. The best thing is that they are easily editable, and you can modify them as per your specific requirements. You can easily configure and integrate them with popular WordPress eCommerce plugins, such as WooCommerce and WP eCommerce.
#A Wide Spectrum Of eCommerce Plugins
Today, a wide range of free eCommerce plugins is available to help you turn your ordinary WordPress blog or site into a full-fledged online store. These plugins have all the essential eCommerce features your site needs, including order management, product variations, payment gateways, shipping management, and more.
#Multiple Payment Gateways Support
All the WordPress eCommerce plugins offer multiple payment gateways integration, including Paypal, 2Checkout, CCAvenue, Worldpay, ChronoPay, Google Pay, and many more. Besides, these plugins also allow users to use the Manual Payment option for transactions that involve money or cash orders. The availability of multiple payment gateways eventually leads to increased sales and gives you a lot of flexibility.
#Seamless eCommerce Integration
It's effortless to integrate eCommerce with your existing WordPress blog. If you've suddenly decided to sell your products or services online, there's no need to re-design the entire website. You can easily integrate eCommerce functionality into your site using various eCommerce plugins. Your home page, product pages, and checkout page can be seamlessly integrated, and it looks like they were there from the onset.
#Ability to Enhance the Sidebar Using Widgets
WordPress widgets allow you to customize your blog's sidebar with ease. You can easily add text, HTML, JavaScript, images, or anything else to your eCommerce site using widgets. Widgets can fulfill many of your sales objectives. You can create a list of featured products, add HTML links and show special deals and rebates.
#Enhanced Product Customization Options
A good eCommerce site gets updated regularly. To stay successful, it should have continuous addition of new products and removal of outdated products. WordPress offers a simple and easy-to-use dashboard to add and customize your products. All you've to do is follow some simple instructions to add products and their information to your store.
#A Continuously Growing Platform
There is no doubt that WordPress is one of the most popular CMSes across the globe. Initially released as a blogging tool in 2003, it has now grown into a flexible and powerful CMS that can handle even high-traffic sites. Since the day it launched, there have been numerous updates made to it. The platform has a dedicated community of developers who bring regular updates to make it the world's most reliable, secure, and functional CMS.
Top WordPress eCommerce Plugins
In addition to the above-listed benefits, here are some WordPress eCommerce plugins to help turn your ordinary blog or site into a sales-oriented online store. Let's have a look at them one by one:
WooCommerce is one of the most popular and highly recommended WordPress eCommerce plugins that allows you to set up an online store to sell anything beautifully. The plugin is fully customizable, works with most WordPress themes, and offers everything you need to launch your eCommerce site.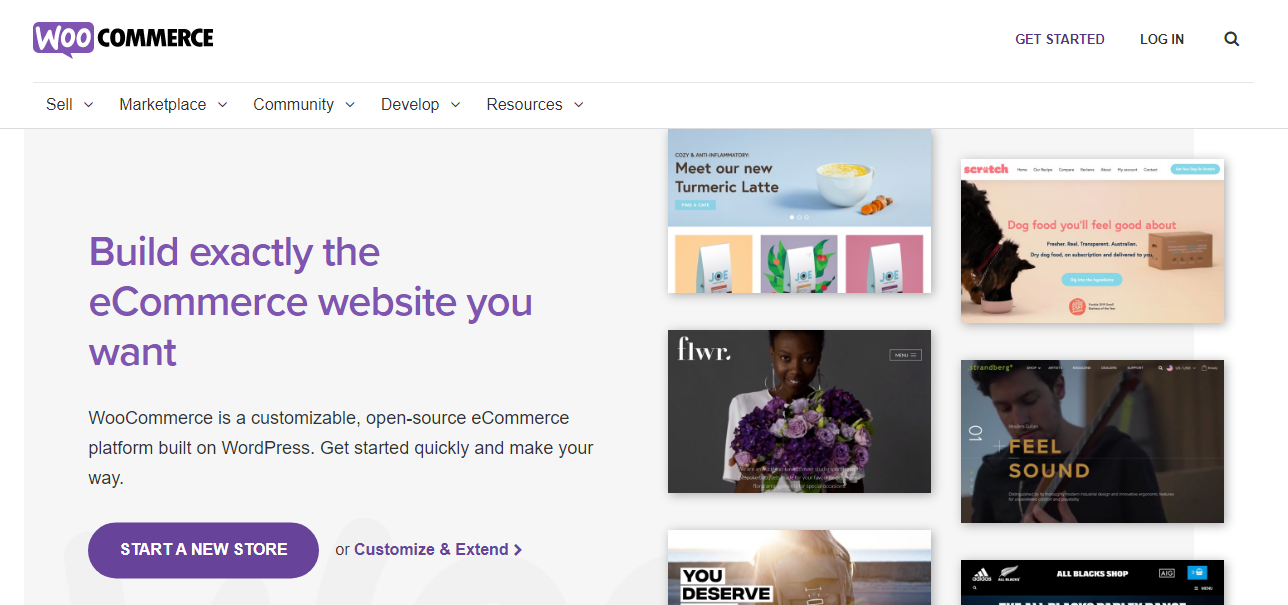 There is also a wide array of eCommerce themes specially designed to integrate with the plugin. Though the plugin can fulfill most of your requirements, you can still enhance the shopping experience through numerous free and paid extensions.
Requirement: Version 5.4 or higher

Active Installations:

5+ million
Ratings: 4.5 out of 5 stars
Price: Free
#WP eCommerce
WP eCommerce claims to be the original WordPress eCommerce plugin that lets you set up a highly functional online shop in minutes. Using this plugin, you'll be able to sell your products, services, and digital downloads on your WordPress blog or site. It offers a free basic version plus a paid version with extended functionality using add-ons.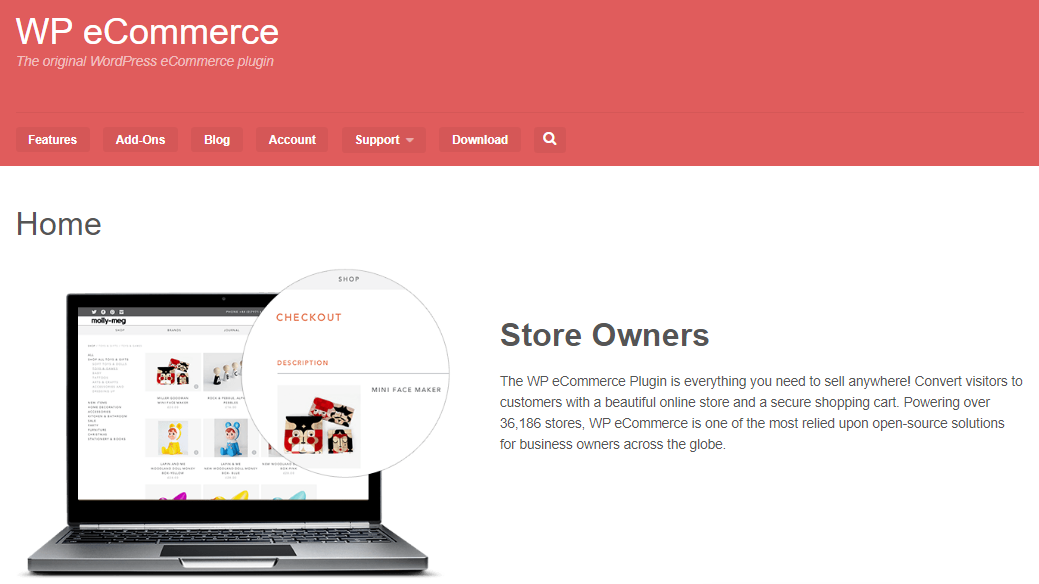 Moreover, it allows you to use the same menus, interface, and styles as WordPress to add products to your online store. You can even customize your online shop's look and feel and modify templates using your own HTML & CSS. Unlike WooCommerce, it doesn't offer any eCommerce themes but allows novice store owners to hire expert WordPress developers to deploy their online stores. It's pretty easy to manage and works well with other plugins.
Requirement: Version 5.0 or higher
Active Installations: 10,000+
Ratings: 3.4 out of 5 stars
Price: Free
Although Shopify is originally a standalone eCommerce platform that lets users set up and run hosted online stores for a monthly fee, this plugin allows you to bring the power of Shopify to your WordPress site. You can seamlessly embed your products in WordPress and automatically sync your Shopify data as native posts.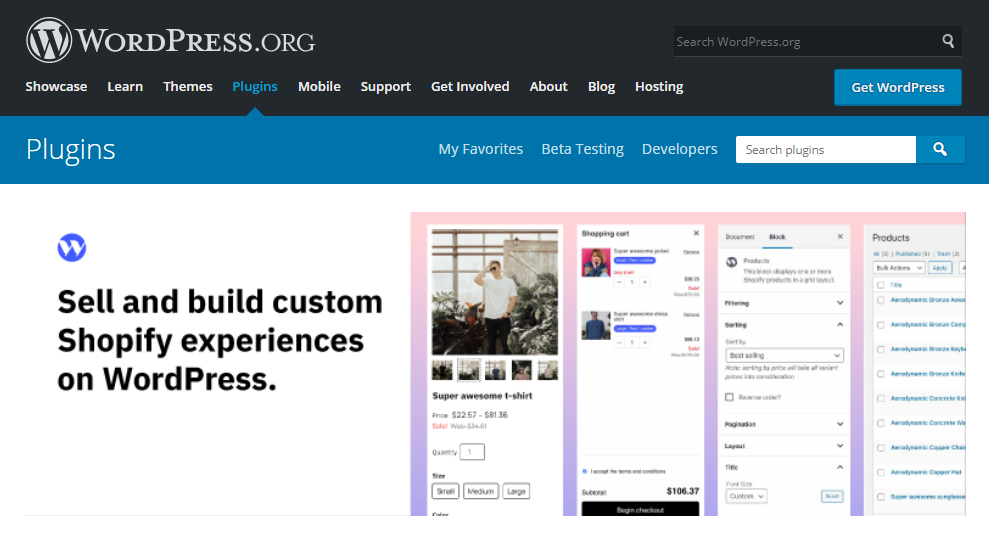 Display a single buy button, or show a whole list of products – the choice is yours. The best thing: you don't have to worry about the checkout or cart experience either as the plugin handles them out of the box with no setup needed. Also, there is no technical know-how required!
Requirement: Version 5.4 or higher
Active Installations: 6,000+
Ratings: 3.9 out of 5 stars
Price: $99/year for 1-3 Sites and $399 /year for unlimited sites
Often referred to as EDD, Easy Digital Downloads markets itself as the easiest way to sell digital products, such as software, ebooks, music, and other intangible wares, online with WordPress. Unlike other WordPress eCommerce plugins, Easy Digital Downloads is built from the ground up to sell digital goods and offers themes that integrate seamlessly with the plugin and its extensions.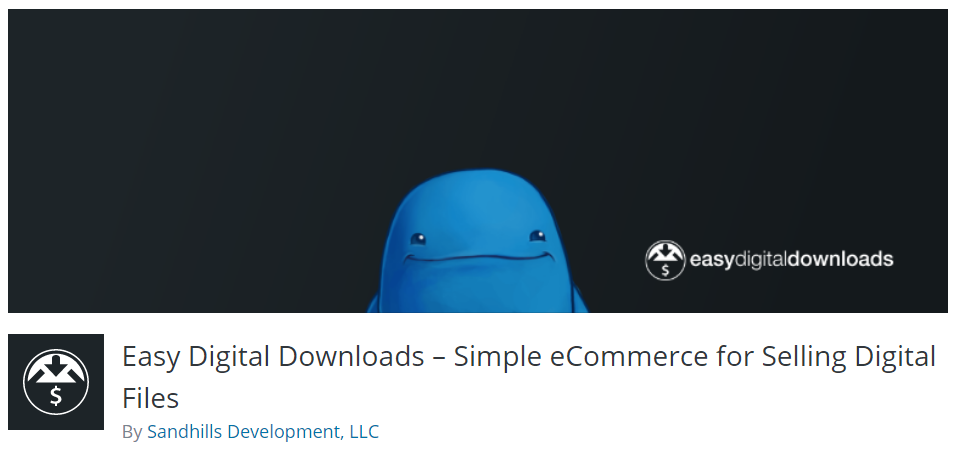 The plugin is relatively easy to use and offers dozens of extensions through which you can augment your storefront's functionalities and even customize its look and feel to your taste. If you merely want to sell any non-physical goods, EDD should be your go-to choice.
Requirement: Version 4.4 or higher
Active Installations: 60,000+
Ratings: 4.7 out of 5 stars
Price: The basic version is free, but you'll have to pay for premium extensions. A Personal Pass that includes everything needed to get started cost $99/year and the top-range All-Access pass costs $499/year.
Ecwid Ecommerce Shopping Cart boasts everything small businesses need to add online store functionality to their existing WordPress sites. It has a setup that looks like WooCommerce, but in reality, it's pretty different. Once you install the plugin, you can display products on your WordPress site through shortcodes in minutes.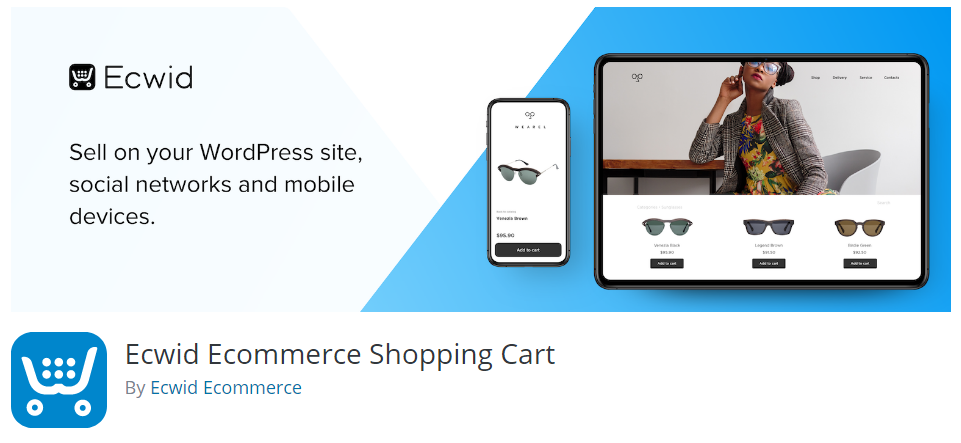 Usually, Ecwid ends up being less expensive than other WordPress eCommerce plugins as you get more built-in features instead of a library of extensions. While the core plugin is free, you can opt for a reasonable monthly payment plan for advanced features.
Requirement: Version 3.7 or higher
Active Installations: 30,000+
Ratings: 4.5 out of 5 stars
Price: The free version allows you to sell up to 10 products. To sell more products, you have to purchase a monthly plan.
WordPress eCommerce Themes
Although there are many paid and free WordPress eCommerce themes available to help you bring online store functionality to your existing site, a custom WordPress theme is highly recommended for anyone looking to launch their eCommerce site. A custom-coded theme has several benefits over a free or paid theme, including but not limited to:
Unique design, look and feel
Aligns with your business objectives
You have plenty of room for customization
Facilitates complete control over your store functionality
Hand-written codes lead to faster page load times
Follows all the latest WordPress SEO standards
So if you're planning to launch an online store with WordPress, prefer custom WordPress theme development over choosing a free or premium theme. It's the best decision you can ever make for your online venture!