WordPressIntegration Is Now Available On Nokia Mobile As 'Blog WordPress Tutorials'
July 14th, 2022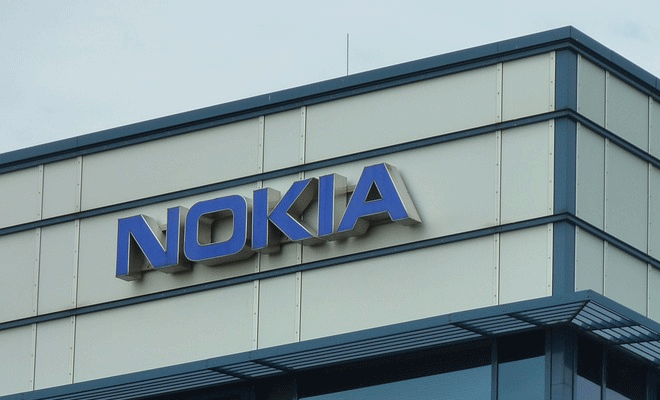 Since long the WordPressIntegration is serving its clients and also creating blogs for its visitors. Recently, we have come up with our YouTube Channel to broadcast the Video Tutorials helping you to use and customize the WordPress according to your needs. Now, you can access our Blogs, YouTube Videos, and stay updated with our latest Tweets on your Nokia Handsets.We @ WordPressIntegration proud to be launch our Blog WordPress Tutorials Nokia Ovi App. If you have liked our work then we are sure to meet you on your Nokia mobile.
This application is compatible with following Nokia handsets:
Nokia 2690
Nokia 5230
Nokia 5250
Nokia 5310 XpressMusic
Nokia 5530 XpressMusic
Nokia 5800 NE
Nokia 5800 XpressMusic
Nokia C1-01
Nokia C1-02
Nokia C3
Nokia C5-03
Nokia C6-00
Nokia C6-01
Nokia C7
Nokia E5
Nokia E63
Nokia E7
Nokia E71
Nokia E72
Nokia N8
Nokia N97
Nokia N97 Mini
Nokia X2-00
Nokia X2-01
Nokia X3-02
Nokia X6
You can follow below mentioned steps to install the 'Blog WordPress Tutorials' on your Nokia phone: –
Open the Nokia Ovi Store.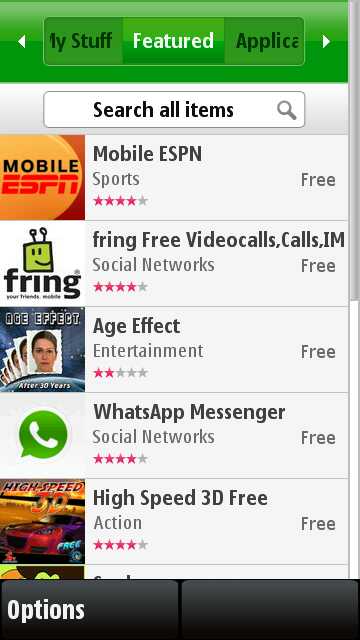 Tap the search bar and type 'Blog WordPress Tutorials' or 'Blog WordPress'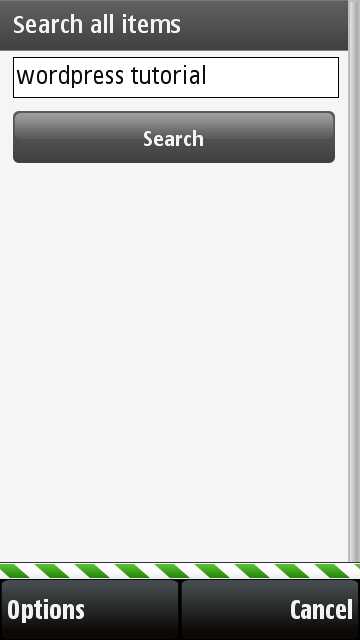 Tap the search button. This will search and show our App in the search result page.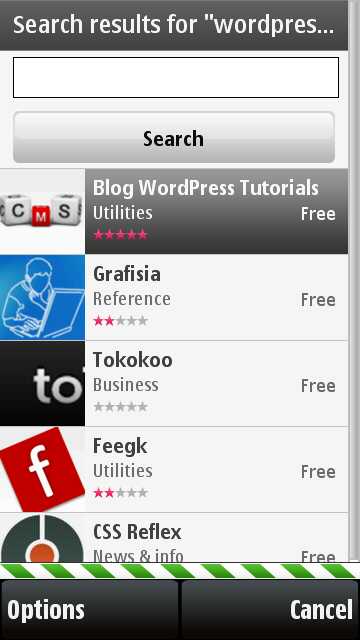 Tap the 'Blog WordPress Tutorials' App. It opens the application page.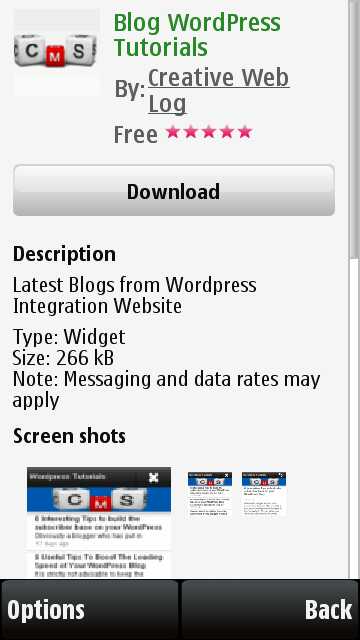 Tap download button. It downloads the App to the 'Installed Files' folder of your memory card or of primary memory (C:\).
Install the application and then click Launch.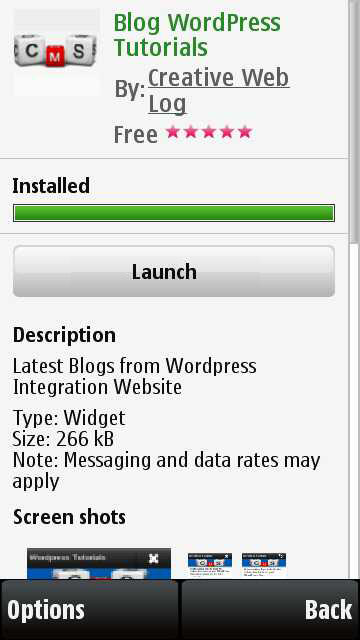 This will launch the application as shown below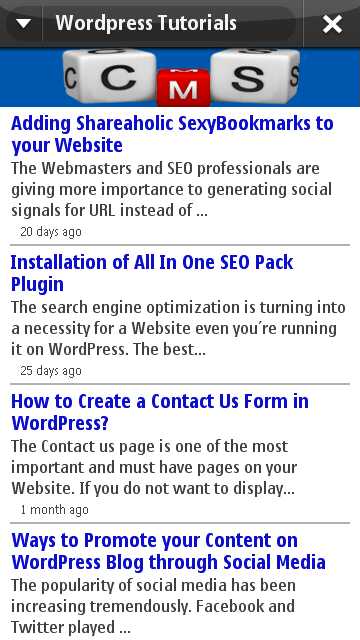 You can tap any section to read the update. It will be shown as:
– You can click the link "See Original Story" to read the complete article at our Website in your mobile browser. Press the back button on the top right corner to come back to previous screen.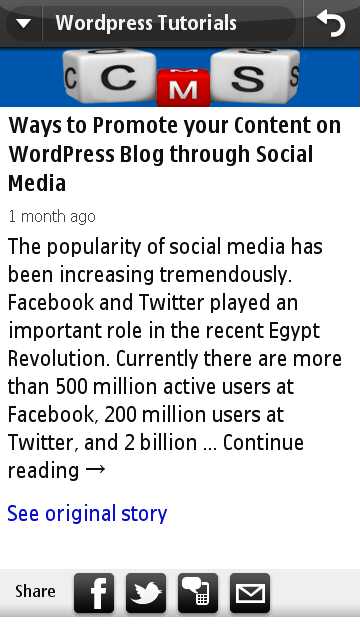 In this application, you will get three different channels. You can click on the down arrow button on the top to select the channels.
WordPress Tutorials – displays blogs and tutorials on WordPress.
Twitter-WPIntegration – displays real-time tweets from WordPressIntegration.
WordPress Videos – shows Video Tutorials to use and customize the WordPress according to your needs.
Choose the channel Twitter-WPIntegration and it shows the Twitter updates from WordPressIntegration.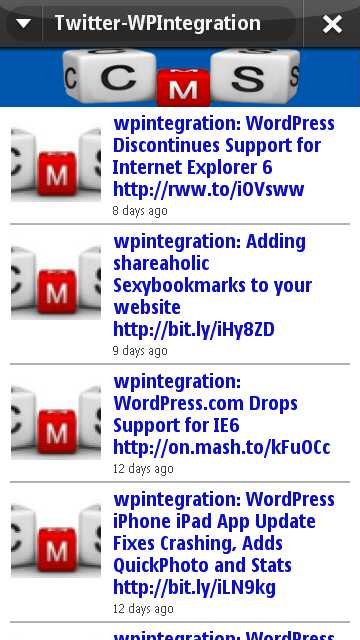 Select any tweet and it will displayed as below.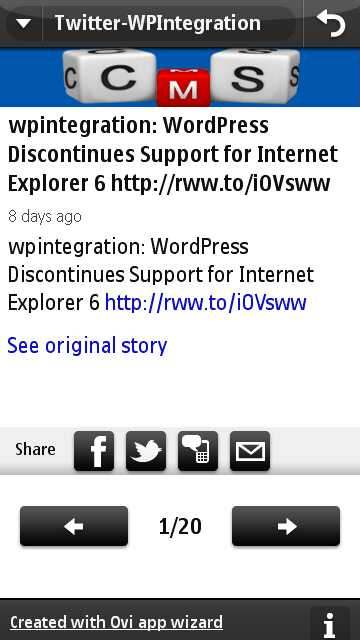 Click on 'See original story' to view the related article in your mobile browser.
Select the WordPress Video Channel and have a look on the videos being broadcasted from our YouTube Channel.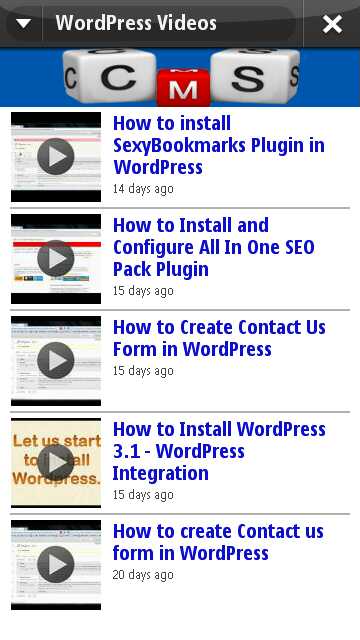 You can watch the videos to install and customize the WordPress on your mobile itself, if it supports Adobe Flash or HTML5. No need to go on desktop now.
Click any video to know about it.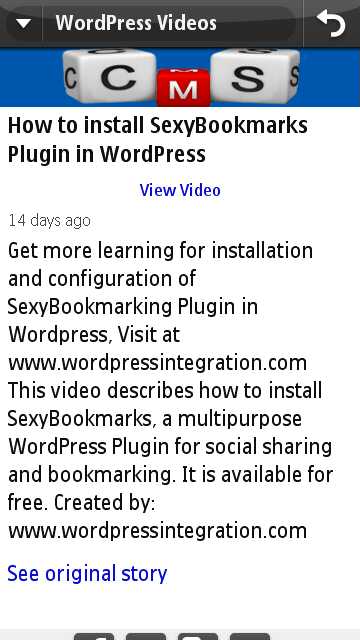 You can click the See Original Story to view the video in your Mobile browser.
Disclaimer
The Blog WordPress Tutorials is provided in free from our company, however, the data and other charges are applicable from your Mobile Network Carrier to download, access or use the application.
Buttons

To check for updates of Blog WordPress Tutorials App.

To change the channels in the App.

To share the open article, tweet or video on Facebook,

To go back to previous screen.

To close the Application.
Usage
In our new app, you can
Select 'WordPress Tutorials' Channel to read blogs and tutorials.
Select 'Twitter-WPIntegration' Channel to read our latest tweets.
Select 'WordPress Videos' Channel to watch video tutorials.
Press the i button on bottom to know the current version of our App and check for its updates.
Press the back button to go back.
Select the same channel again to do refresh.
Share the liked Blog, Tweets, and Videos with your friends on Facebook, Twitter, through SMS, and via email.
How to Get the Download Link to Your Phone Directly?
1. Click the following download link.  This will open our App Page at Nokia Ovi Store.
2. Login with your Nokia Ovi credentials and click on 'Send to Cell'.
OR
If you don't have a Nokia Ovi account but own a Nokia phone then you can register it free at http://store.ovi.com else mail us to support@wordpressintegration.com with your phone number. We will either message or email you the link to download our App.
3. This will send the link to download the Blog WordPress Tutorials App in a text message to your phone.
Note
Soon, we will launch the Mobile Applications of our Website for other platforms like BlackBerry OS, Apple iOS, Google Android, and so on. In addition, we are planning to launch the mobile version of our Website. Stay Tuned for more updates!
We request to provide your valuable feedback, suggestion, advice or complaint about our new Nokia Ovi App at support@wordpressintegration.com. This will help us to improve our services towards you.