7 WordPress Instagram Plugins to Show Interactive Feeds
October 10th, 2023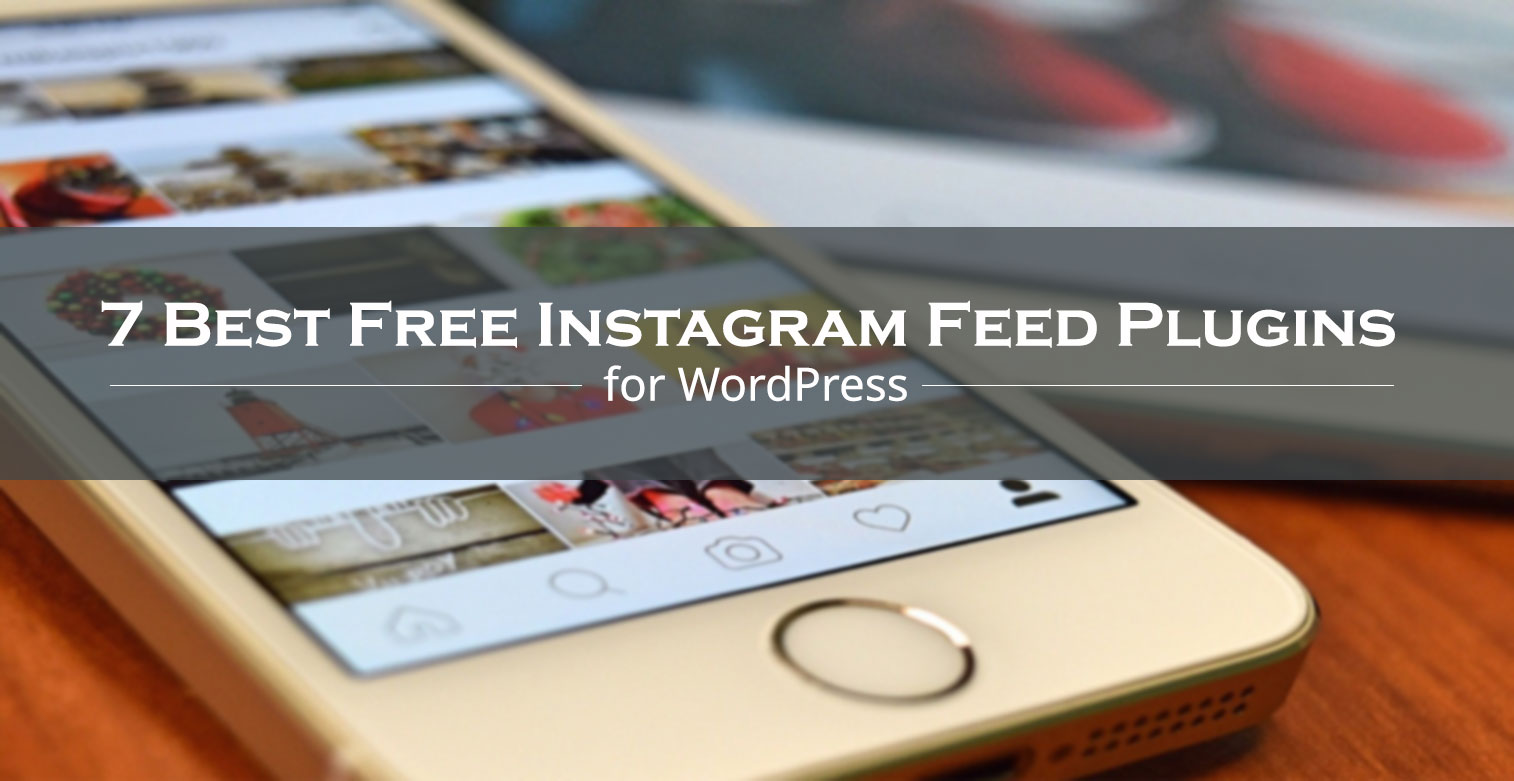 Introduced just a few years ago and now owned by Facebook, Instagram is one of the most popular and widely used social media platforms today, with over 1 billion monthly active users worldwide.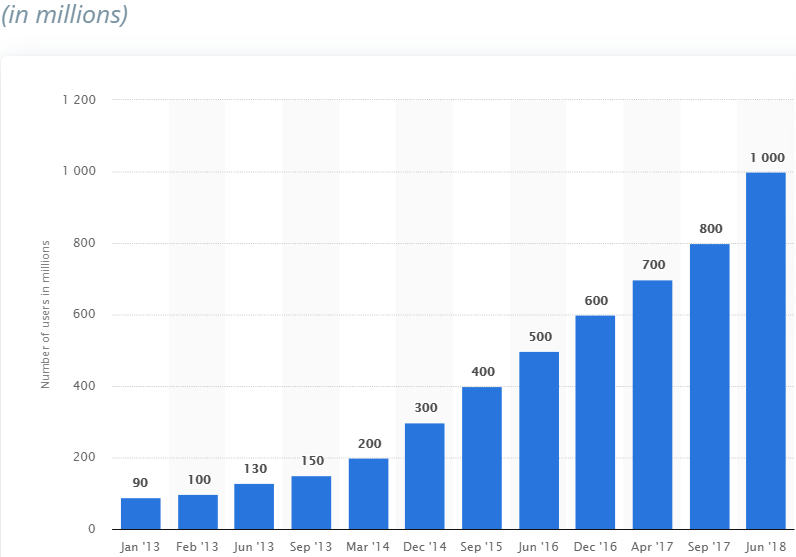 – Monthly Instagram users (Image source: Statista)
From fashion to music and lifestyle to photography, both companies and individuals today leverage Instagram to connect and engage with their customers through eye-catching photographs, videos, and stories. Instagram nowadays is an inevitable part of every business's social media marketing strategy.
Since Instagram is purely a visual social platform, this opens up the possibilities for businesses to share their Instagram content on their WordPress sites. Whether you are a global eCommerce brand or run a WordPress blog, incorporating Instagram into WordPress can be beneficial for your brand in several ways:
Intriguing and vibrant images from Instagram adds a touch of excitement to your brand.
You can moderate your Instagram content, including comments, from a single place.
You can use it as a fantastic opportunity to push user-generated content to your Instagram account and vice versa, to your website.
Showing Instagram feed on your WordPress site increases user engagement as visitors stay longer to look at the photos.
You have the opportunity to grow your Instagram followers.
If you're planning to share your Instagram content through your WordPress site, it can be difficult as the CMS doesn't offer any integration options out of the box. However, as always, WordPress offers plenty of plugins using which you can effortlessly showcase your Instagram feed on your WordPress site. So, without further ado, let's dive into some of the best and free WordPress Instagram plugins!
Here's the List of the Best WordPress Instagram Plugins in 2020
#1- Smash Balloon Social Photo Feed
Previously known as Instagram Feed, Smash Balloon Social Photo Feed is one of the best and most popular WordPress Instagram Plugins to incorporate Instagram Feeds into your website.
Reasons to consider this WordPress Instagram Plugin:
Display posts from your multiple Instagram account, either in the same single feed or in separate feeds, on a single page or throughout your website.
Show a beautiful header at the top of your feed
Add a "Follow on Instagram" button at the end of your feed
Offer an infinitely 'Load More' button to keep your visitors engaged with your feed
Along with being super easy to set up, the plugin is fully responsive, and you can even completely customize each of your feeds.
#2- 10Web Social Photo Feed for Instagram
Formerly known as WD Instagram Feed, 10Web Social Photo Feed is a lightweight and user-friendly WordPress Instagram plugin to integrate a fully customizable Instagram feed into your site. Within a couple of minutes, you can display your Instagram images as small-sized image thumbnails, more giant portraits, or in a lightbox, with or without a caption.
Reasons to consider this WordPress Instagram Plugin:
Fully customizable layouts
Individual, mixed, and filtered feeds
Ability to create an Instagram Feed Widget
Classic pagination with previous and next buttons
Two themes to choose from
On the other hand, the Premium version adds more powerful features like transition effects, social sharing buttons, Infinite scroll, Image metadata, etc.
#3- Feed Them Social
Feed Them Social is an incredibly versatile WordPress plugin that not only works with Instagram, but also for Facebook, Twitter, Pinterest, and YouTube feeds. That's why this plugin is a perfect choice for those who are very active on these social media networks.
Reasons to consider this WordPress Instagram Plugin:
Add as many social feeds as you wish on any post, page, or sidebar.
Fully responsive and mobile-friendly social feeds.
It has an inbuilt super simple shortcode generator.
Add Like, Follow, and Share buttons below or above your social feeds
Customizable font colors.
Concisely, if you're looking for a plugin to combine feeds from multiple social media networks, including Instagram, then you must give Feed Them Social a try.
#4- Social Feed Gallery
Formerly known as Instagram Feed Gallery, Social Feed Gallery is one of the easiest-to-use WordPress Instagram plugins to showcase your Instagram feeds or tags on your website. By offering a one-click setup, this plugin cuts the entire process down to the basics. If comes packed with two different layouts for showing feeds: a carousel slider or a grid gallery.
Additionally, with Instagram Feed Gallery, you can also create hashtags feeds – a unique feature that is usually available only with the premium versions of other WordPress Instagram plugins. The best thing about this plugin is that it doesn't require you to login or link to an API. Your Instagram username is enough to set up your Instagram feed.
#5- WPZOOM Social Feed Widget
Previously known as Instagram Widget by WPZOOM, the WPZOOM Social Feed Widget is a bit simpler than the other WordPress Instagram plugins in the list. Rather than providing you with a detailed settings area, it offers you a dedicated, responsive Instagram widget that you can customize and use to display your Instagram feed anywhere on your WordPress site.
The WPZOOM Social Feed Widget is not limited to display the feed from your own Instagram account and therefore allows you to show a public feed of any Instagram account you want.
Reasons to consider this WordPress Instagram Plugin:
Show a "Follow" button
Display profile details, including your bio
Control the number of images and columns
Show overlay with the number of likes and comment when a user hovers over an image
So if you want to add a simple Instagram feed to your sidebar or anywhere else, this plugin is a great choice.
#6- Social Slider Widget
Formerly known as Instagram Slider Widget, the Social Slider Widget is another essential WordPress Instagram plugin that lets you display your Instagram feeds anywhere on your WordPress site using shortcodes. With this easy-to-configure plugin, you can showcase your Instagram images on your website, either in the slider or thumbnail format.
Like the Social Feed Gallery plugin, there is no API key or authorization required to display feeds. All you need to do is enter your username, and your feed starts showing. You can even use the hashtag feature, which is ideal for showing pictures based on a specific topic.
#7- Kona Gallery Block
Kona is a relatively new WordPress Instagram plugin to easily and instantly preview a dedicated Instagram feed block live within the new WordPress editor, Gutenberg.
Reasons to consider this WordPress Instagram Plugin:
Add an image background
Add image spacing
Use equal-sized images
Choose the number of columns and images
Decide whether or not to show your profile
Like other WordPress Instagram plugins, Kona Gallery Block currently doesn't offer pagination feature and thereby allows you to display your X most recent Instagram images. More features to come soon!
In addition to the WordPress Instagram plugins mentioned above, you can also try AccessPress iFeeds, Meks Easy Photo Feed Widget, and Enjoy Plugin for Instagram to display Instagram feed on your WordPress site.
Hopefully, you would find these plugins useful!
Looking for a reliable partner to develop a custom plugin to extend the functionality of your WordPress site? Avail our quality-driven custom WordPress Plugin Development services and run your website precisely the way you want.