10 Halloween Decoration Ideas for Your WordPress Site
September 21st, 2023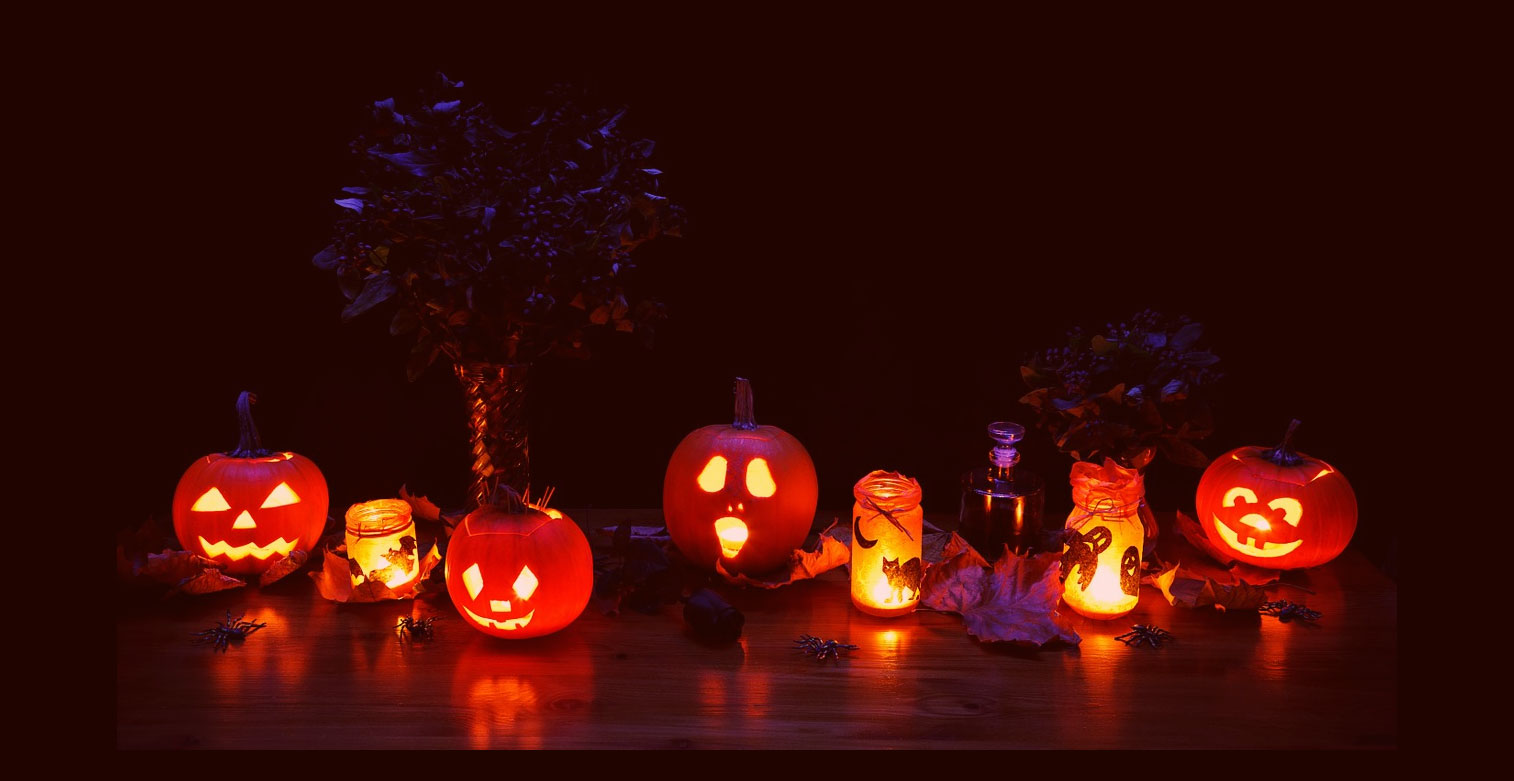 Halloween or Hallowe'en, also known as Allhalloween and All Hallows' Eve, is an annual holiday celebrated on the night of 31st October. The word Halloween is a contraction of All Hallows' Evening, which means the evening before All Hallows' Day.
On this day, children dress up as ghosts and go door-to-door, demanding gifts or a treat of sweets or snacks in exchange for praying for the souls of relatives and friends of givers. If someone refuses to fulfill their demand, they threaten him to play a trick on his family members. In a nutshell, Halloween is another big festive event like Christmas, when you can have a blast with your family and friends.
When it comes to total sales, Halloween is very close to Christmas. You won't believe that most candy is sold on this festival. If so, how the web could be left behind for this special occasion! Almost everyone is now planning to add different kinds of Halloween effects to their sites so as to get their loving visitors ready for the "online trick or treat".
So if you run a WordPress site and are planning to give it a Halloween makeover, here are 10 amazing Halloween decoration ideas to help you bring the festive spirit of Halloween to your WordPress site.
Let's check out them for trick and treat!
Update Your Logo à la Google
Irrespective of how simple, clean, and colorful Google's logo is, the company usually throws up a temporary logo design around every major holiday or event, including Halloween. If you have ever noticed, Google updates its logo every year for Halloween.
Taking inspiration from Google, you can also temporarily change your logo to something Halloween-ish. Leverage the power of the following design tools to get funky with your website's logo:
Not just the logo, you can also design Halloween Themed Custom Graphics using these tools for your WordPress site.
Get Your Site Into the Spirit Using Color
While there are several WordPress themes available to bring Halloween effects to your site, you might not want to completely change your site theme for just one, two or three days. Instead, you can embrace the Halloween spirit by incorporating some of its colors. You can use Green, Yellow, Orange, and Black colors to Halloween-ify your WordPress site.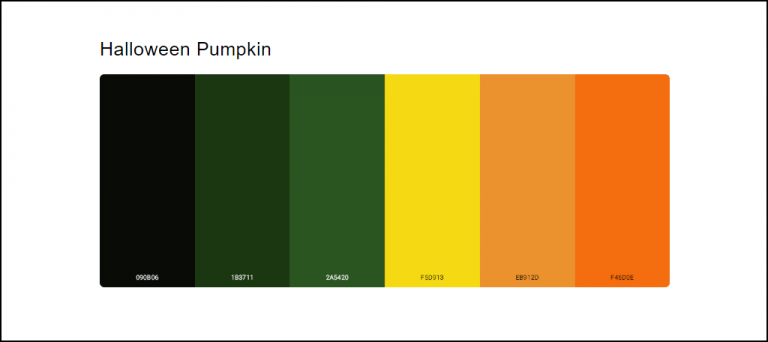 Luckily, most WordPress themes allow you to update your color palette in real-time using the WordPress Customizer. Simply go to the Appearance >> Customize panel and alter your theme's color scheme to something Halloween related.
Terrify Your Visitors With a Halloween Themed Fonts
Another way to add Halloween effect to your WordPress site is by using a creepy title font. We recommend changing only "title (headings) fonts" because no one will be able to read your site if you apply spooky typography everywhere. Hence, need to use them sparingly.

Luckily, Google Fonts offers some cool Halloween-worthy display fonts under "Handwriting" and "Display" categories that you can use, including:
Vamp Up Your Social Icons
No matter whether or not you have a heavy social media presence, it always makes sense to endow your site's social icons with some extra character on the occasion of Halloween. In fact, this is a perfect place to add Halloween spirit since most of the visitors head over to your social media icons to either share your content or follow your social media pages.

You can download free Halloween icons from the web to design your own custom Halloween inspired social icons or you could use pre-made ones.
Make Your 404 Error Page Scary
While you're turning everything on your WordPress site to Halloween-ish, why not give your visitors a spooky 404 page to land on?

Try this Animated 404 Page that costs you a couple of bucks but is perfect to give your lost visitors a random spook!
Launch a Holiday-themed Campaign
If you run a WordPress eCommerce site, consider creating a Halloween discount, sale, or giveaway. This plays a vital role in keeping your brand in the mind of your customers.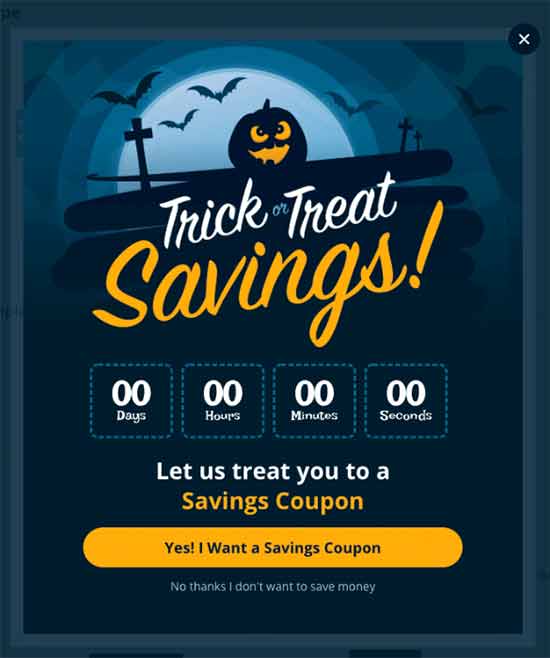 To turn your random website visitors into paying customers, you can take advantage of OptinMonster – the world's leading conversion optimization software. It comes with two pre-made spooky Halloween themed templates that you can now use to create a holiday-themed campaign.
Run Halloween Promotions
Promotions are a great way to engage existing customers as well as attract new ones. If you're in the mood for giving this Halloween, you can run special Halloween promotions for your visitors. Listed below are some promotion types you can consider:
Contests: Ask your site's visitors and social media followers to submit Halloween themed pictures as part of the contest. This will surely engage your visitors and keep them coming back to your website. Just make sure the pictures are related to your business and represent the Halloween spirit.
Surveys/Polls: People love to participate in surveys and contribute to polls. So, create a new survey or poll to get your visitors to interact with you on this holiday. You can use Quiz and Survey Master or Formidable Forms Builder plugins to add surveys and polls to your WordPress site.
Add Spooky Sounds to Your Site
Holidays are a perfect time for fun and you can take this fun to the next level by scaring your WordPress site visitors with unexpected creepy sounds!
Just go to Google and search for some free-to-use spooky sounds. When you find one, you can use a WordPress plugin such as Audio Album to add it to your site.
Add Some Holiday Decorations Using Plug-ins
In WordPress, there is certainly a plugin available for that and Halloween is no exception. To help you get your WordPress site ready for Halloween festival, we've collected 7 free and premium plug-ins that you can use to bring different types of Halloween effects to your site. We're sure you'll find each plug-in in this list cute and catchy!
Halloween Countdown is a user-friendly plug-in that helps you add a simple countdown timer to your site, showing the days, hours, minutes and seconds remaining until Halloween day.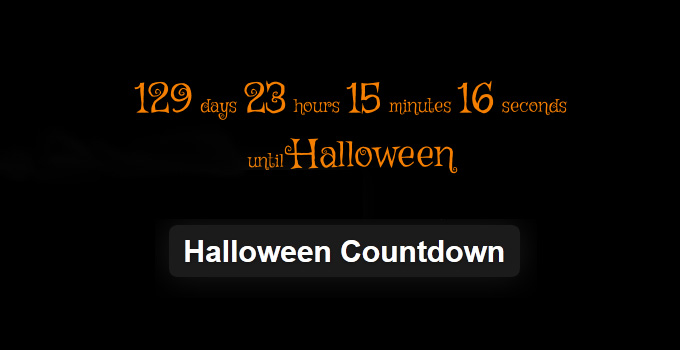 This plug-in doesn't store anything in your WordPress database and requires you to edit any code or adjust any settings. Just place the shortcode [hcount] to any post, page or text widget and you're good to go! You can see its live demo here.
Introduced by WPEka, WP Halloween is a premium WordPress plug-in that allows you to add several different spooky Halloween effects to your site. Using this highly functional plug-in, you can create flying creepy little bats, showcase scary ghosts and display evil-looking floating pumpkins on your site's pages.
Best of all, you'll have the ability to disable all these effects whenever you want without deleting or deactivating the plug-in. WP Halloween costs only $9.
# Halloween Pop-Up Card:
Halloween Pop-Up Card plug-in provides you a simple yet effective way to set up a funny/spooky Halloween atmosphere on your WordPress site. This fantastic plug-in lets you create a pop-up card with custom "treat"/message, moving funny spiders, custom background music and custom signature/logo. It comes with a user-friendly backend where you can modify the content of your Card.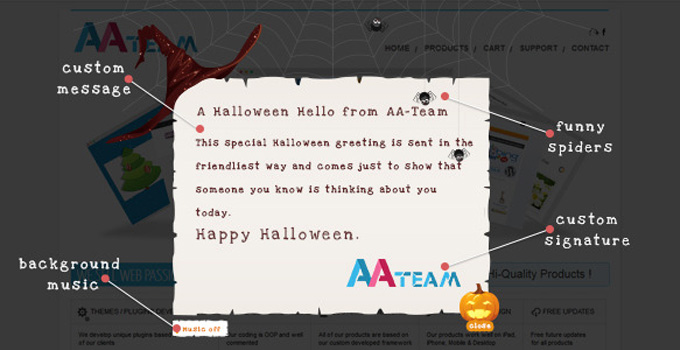 DW Halloween, written by DesignWall Team, is an easy to install, simple to configure and free to use Halloween plug-in for WordPress. With this fun plug-in, you can deck your site with scary flying pumpkins/bats. Also, you'll be able to add links or text messages and use them for promotions related to Halloween. DW Halloween comes with a user-friendly interface by which you can choose as many pumpkins as you wish and control your animation: pumpkin size, flying path, text, wing speed, etc.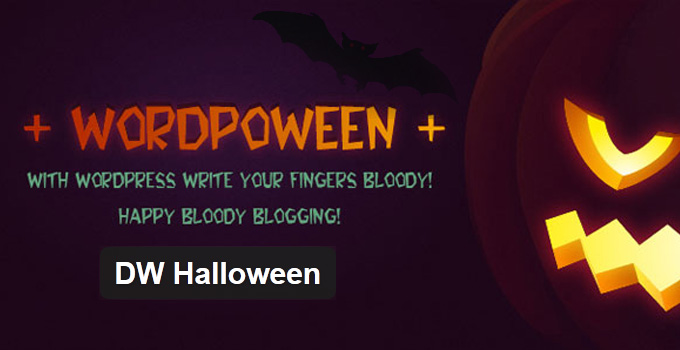 A few weeks ago, this powerful plug-in got an update with some more creepy characters such as Alien, Bingo, Frank, Devil, Witch, Phantom, Frankenstein, etc. Even, now you can upload your own custom flying object like mummy, zombie, goblin or walking skeleton, and can also add a fade effect to added items. If you're looking for a highly customizable Halloween plug-in with lots of options, DW Halloween is the perfect choice for you to give your visitors a feel for Halloween season.
In addition to these, you can also try Halloween Rain, Halloween Box and Halloween Panda WordPress plugins to welcome the festive spirit of Halloween to your WordPress site.
Switch to a Spooky Halloween Theme
Although there are several WordPress themes available for this joyous event, it's indeed a dramatic and drastic thing to change the theme of your WordPress site for just one or two days. Particularly if you run a serious business site, changing your WordPress theme is not strictly recommended.
However, if you have a fun or hobby site, here are a few free WordPress themes to check out:
That's it!
WordPressIntegration wishes you a happy and scary Halloween. Feel free to contact us if you are looking for custom Halloween plugin and theme development.