8 Highly Customizable Free WordPress Themes for 2020
September 19th, 2023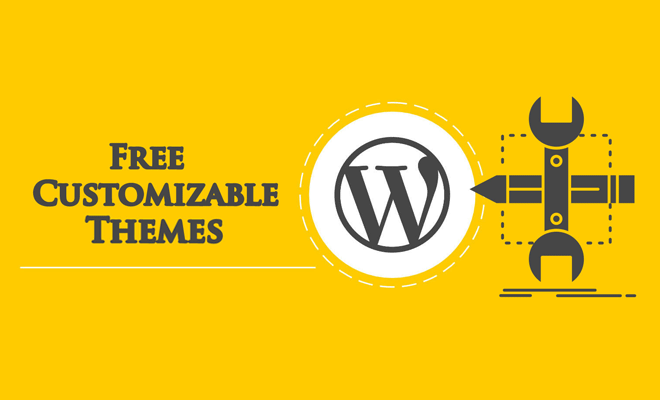 Finding a WordPress theme that looks and functions exactly the way you want can be a challenge – if not impossible. With hundreds of thousands of great free and premium WordPress themes available in the market today, even if you do find a suitable theme to use, you'll undoubtedly like to customize it to best match your business needs and this is where fully customizable WordPress themes come in handy.
So if you're not familiar with coding and looking for a highly customizable WordPress theme that can be customized without needing to touch a single line of code, here is our well-researched list of the best free fully customizable WordPress themes that are packed with several customization options such as color pickers, drag and drop layout builders, font selectors, styling options, and so on. However, before we get into our hand-picked list of highly customizable WordPress themes, let's first understand what a customizable WordPress theme is and how it works!
What is a Customizable WordPress Theme?
Simply put, a customizable WordPress theme is the one that you can edit and change as per your needs. Designed and developed especially with your satisfaction in mind, a customizable WordPress theme allows you to edit, change, add or remove any unnecessary or useful elements from their site to craft a unique website that matches your vision!
One of the best things about customizable WordPress themes is that they generally require no coding for customization. This means that even a WordPress beginner can change the look of their website to something they exactly want, without any help, hassle, or ever touching PHP code. Ultimately, it all goes to the four main reasons why using a customizable WordPress theme is utterly beneficial:
Having full control over the look and functioning of your WordPress site
Presenting a unique website appearance
Build a solid online presence for your brand
No coding knowledge required to create a full-fledged design
Obtaining a guarantee for the future
Since not all WordPress themes are customizable, you should be very careful when picking a WordPress theme. As an advice, you should check out the theme demo profoundly to find out the extent of customization.
What to Look for in a Customizable WordPress Theme?
Simply by heading over to Google, you can find a myriad of WordPress themes for many niches and purposes. Some of them are free, while others are premium offering advanced features at a cost. With hundreds of thousands of options available, it becomes quite overwhelming to choose the right WordPress theme with extensive customization options. Hence, during your search, it's recommended you look for things mentioned below in a WordPress theme:
#Key Features and Functionalities: Particularly when you're opting for a free customizable WordPress theme, consider the various features and functionalities your site will need. For instance, if it's an online store, your theme must integrate well with an eCommerce plugin.
#The Scope of Customization: Perform in-depth checks with demos to make sure the theme provides a vast scope of customization while also maintaining a perfect balance between the design and user experience.
#Frequent Updates & Developer Support: This is crucial to make your WordPress site future-proof. To keep your site's integrity, always pick a theme with regular updates, consistent developer input, round-the-clock support service, and an active community to troubleshoot any issues you face during theme customization.
#User Reviews and Ratings: Finally, check out the reviews of current users to learn about the pros and cons of the theme you're going to install or purchase. While each review might not be helpful, some of them would surely give you a fair idea of how good the theme is for customization.
Top 8 Highly Customizable Free WordPress Themes for 2020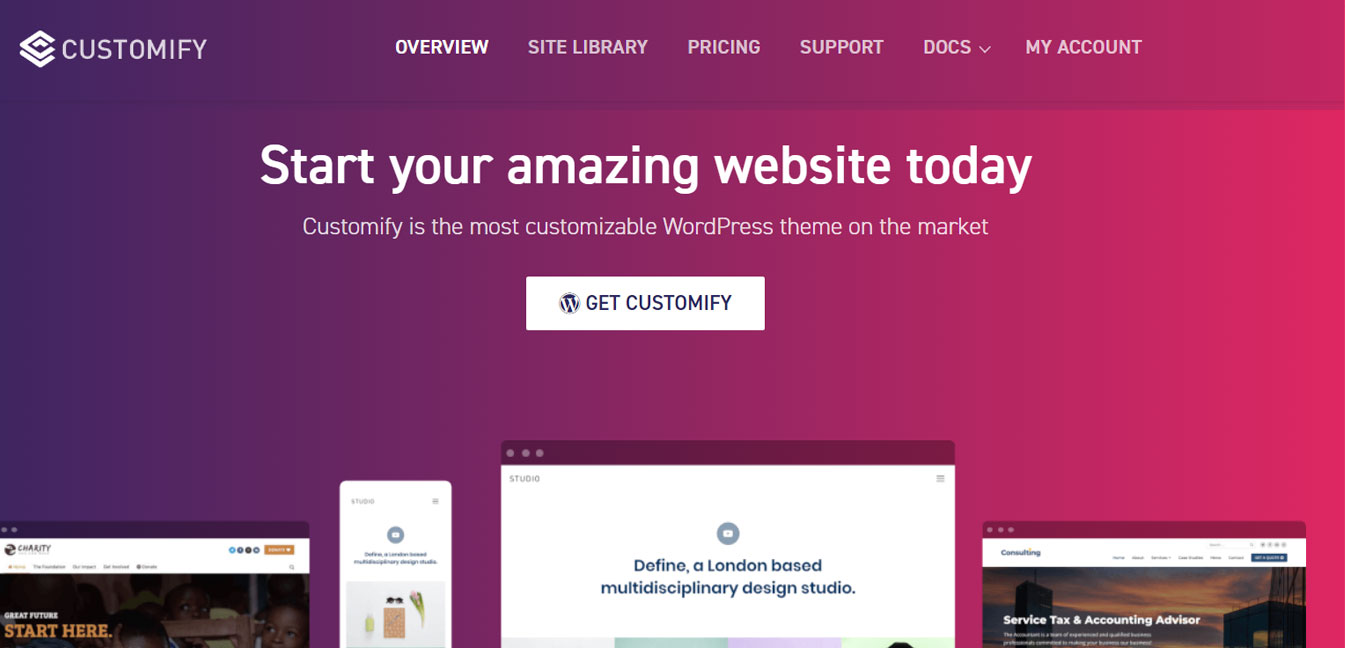 Customify is one of the highly customizable free WordPress themes on the market today!
Pre-packed with a comprehensive real-time header and footer builder, it not only works perfectly with the native WordPress customizer but also supports a number of popular page builders, including Elementor, SiteOrigin, King Composer, Brizy, and Divi.
Along with being lightweight and speedy, Customify is built with the latest SEO practices in mind and delivers a pleasant user experience on all devices and platforms.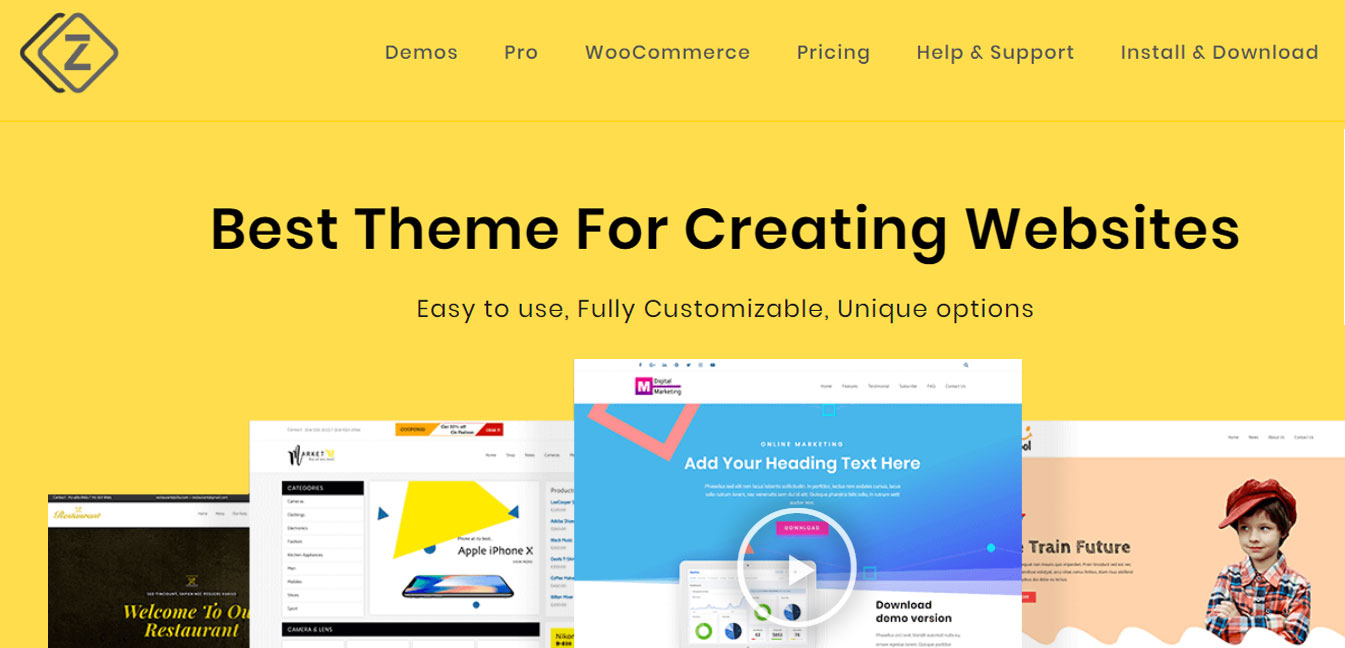 Zita is an intuitive, lightweight, and flexible WordPress theme with heaps of fully customizable options like color and typography adjustment, container settings, header and footer options, etc.
Specially made to work with your favorite page builders, it also allows you to change everything using the WordPress Live Customizer – without any coding skills required.
Zita is translation and RTL ready as well as supports the Gutenberg editor. Moreover, leveraging the power of WooCommerce with Zita, you can also build and customize an online store according to your needs.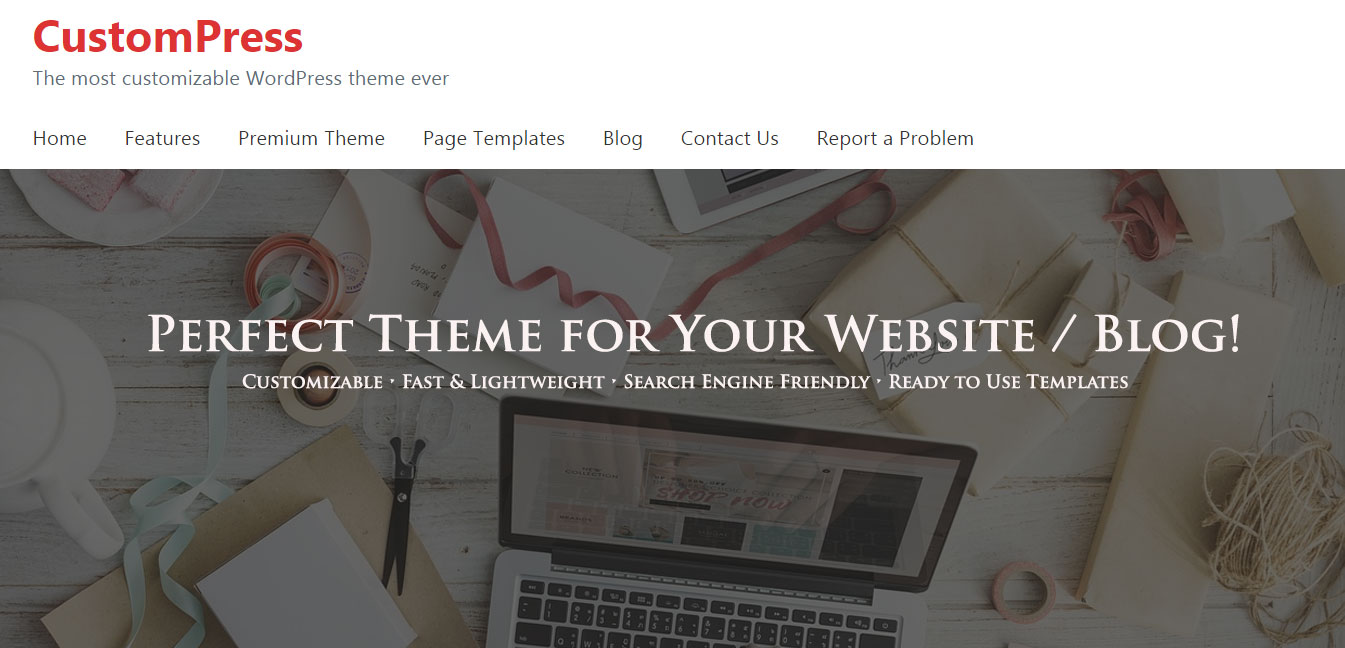 CustomPress is another best free fully customizable WordPress theme that allows you to customize your site quickly and easily with a live preview.
With this amazing theme, not only you can customize your website's typography like a pro, but also you're able to create a web page of your liking in just a few minutes.
CustomPress is well-optimized for excellent speed and performance and fully supports all the latest page builders, including SiteOrigin, Elementor, and Beaver Builder.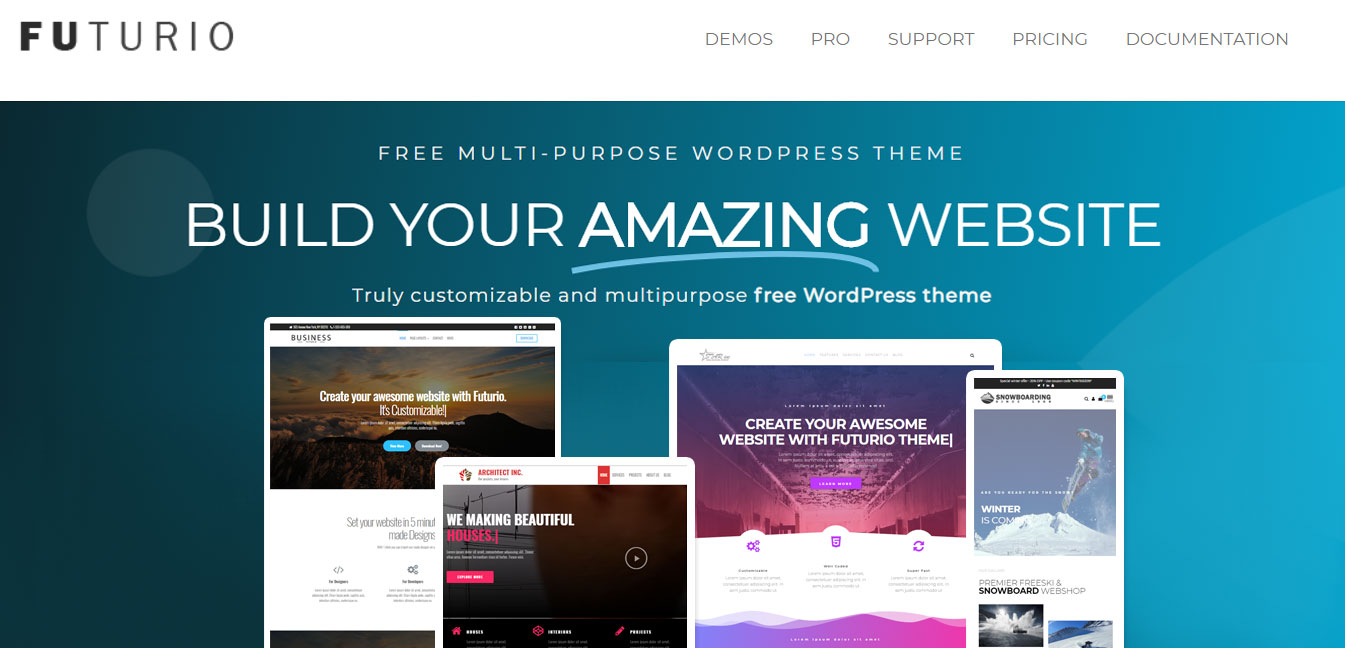 Futurio is one of the best free customizable multipurpose WordPress themes designed to work with all page builders out there in the market.
Featuring over 100+ custom theme options and 10+ free demos, this lightweight and speed optimized theme is fully WooCommerce-compatible and features a multitude of powerful and highly customizable widgets for Elementor – making building professional WordPress sites a breeze for everyone.
With several in-built header styles and dozens of demos to import, you can get your site up and running in minutes with Futurio.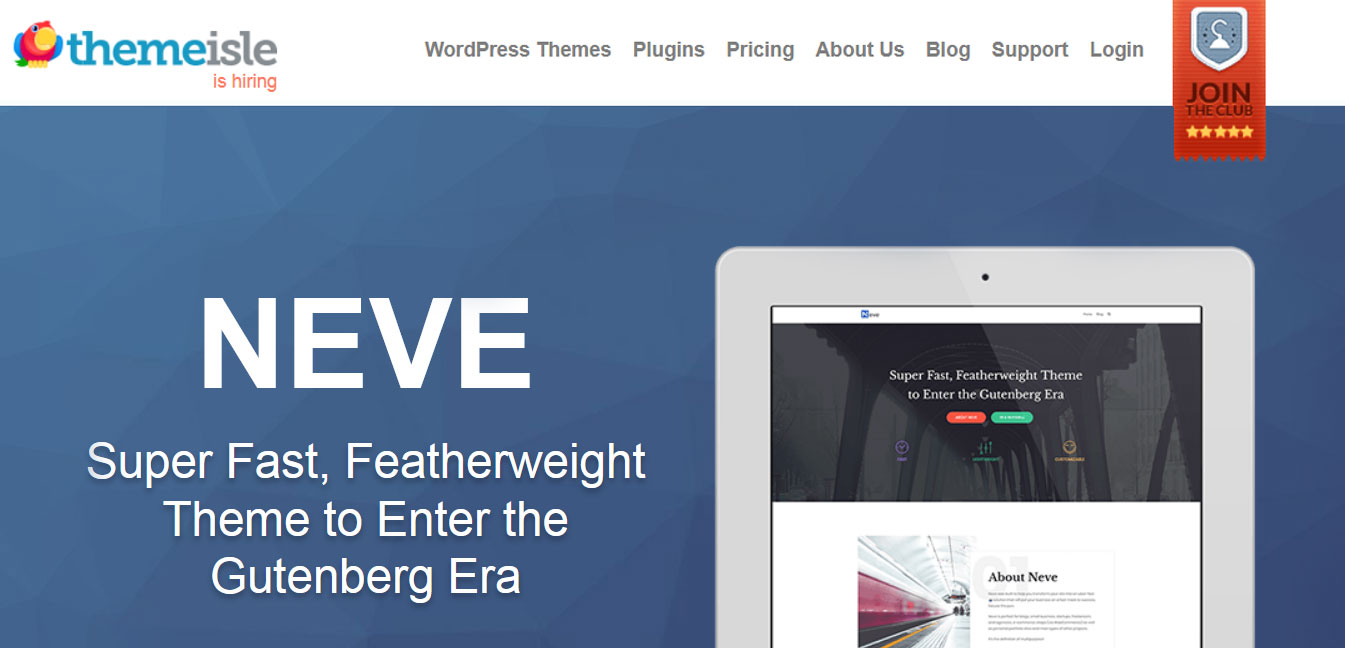 Built by brilliant coders at Themeisle, Neve is a highly customizable free WordPress theme that is extremely fast, lightweight and page builder friendly.
Alongside having full support for prevalent page builders, including Divi, Brizy, Beaver Builder, Elementor, and SiteOrigin, this fabulous theme is fully compatible with the new WordPress editor, Gutenberg, and is also well-optimized for all mobile devices and AMP.
Furthermore, Neve is Translation and RTL Ready and it comes with a fully responsive mega menu, making it easy for you to arrange and organize your submenu content.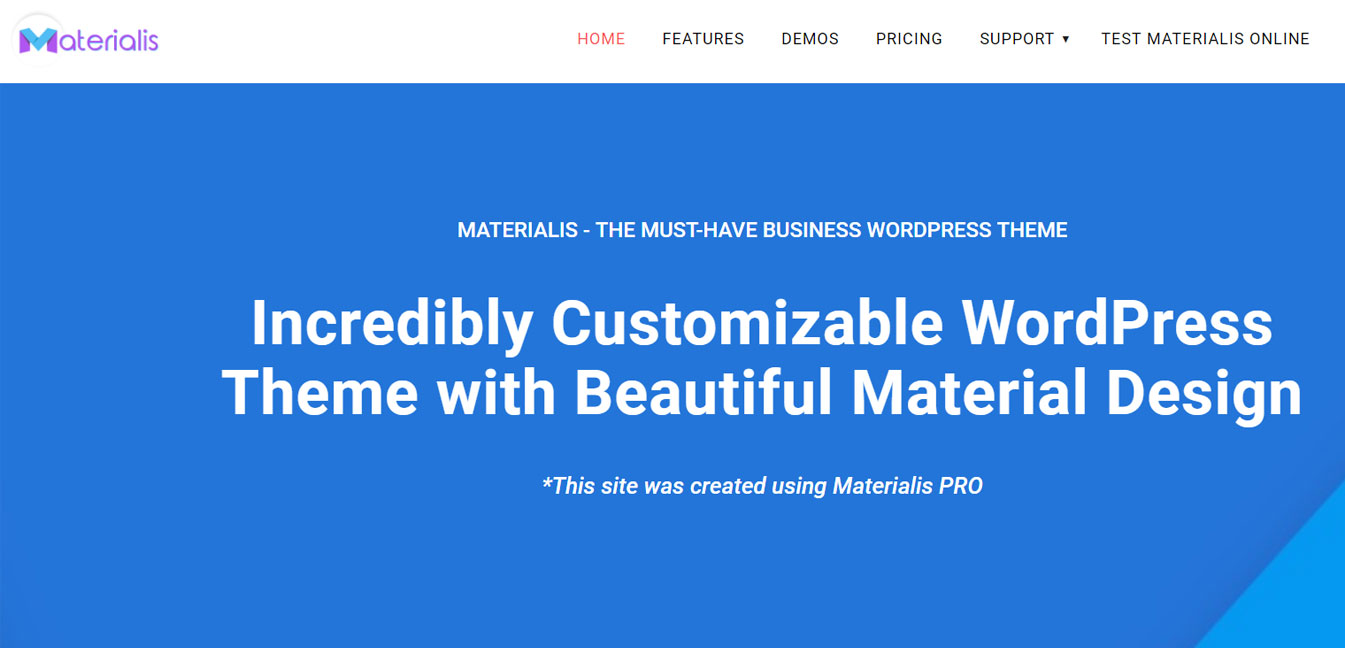 As the name itself explains, Materialis is one of the best free highly customizable WordPress themes based on Google's beautiful Material Design.
With this fully-responsive and mobile-friendly theme, you can combine multiple design options – like header layout, overlay, background, spacings, media type – to build a truly unique WordPress site.
There are more than 100+ predesigned blocks available to help you build beautiful pages in the blink of an eye. Moreover, you can directly edit live content in the native Customizer and create outstanding hero sections using a wide range of design options.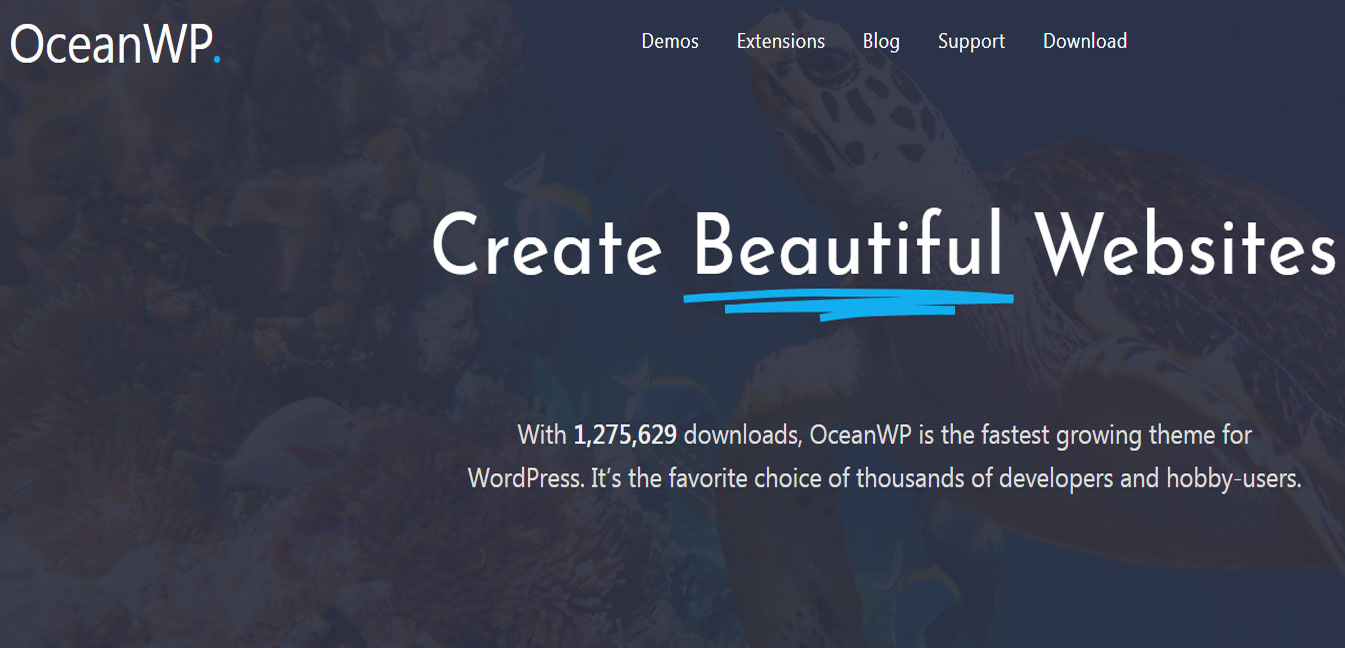 With more than one million downloads, OceanWP is another highly customizable free WordPress theme used extensively by professional developers and hobby-users for creating one-of-a-kind websites.
Designed to work with the best drag and drop page builders in the market, OceanWP is a perfect theme to build and customize WooCommerce-powered store with hi-end eCommerce functionalities such as Native Cart Popup, Floating Add To Cart Bar, Off Canvas Filter, and Quick View.
What's more interesting is that you can further extend the power of OceanWP with an abundance of extensions provided.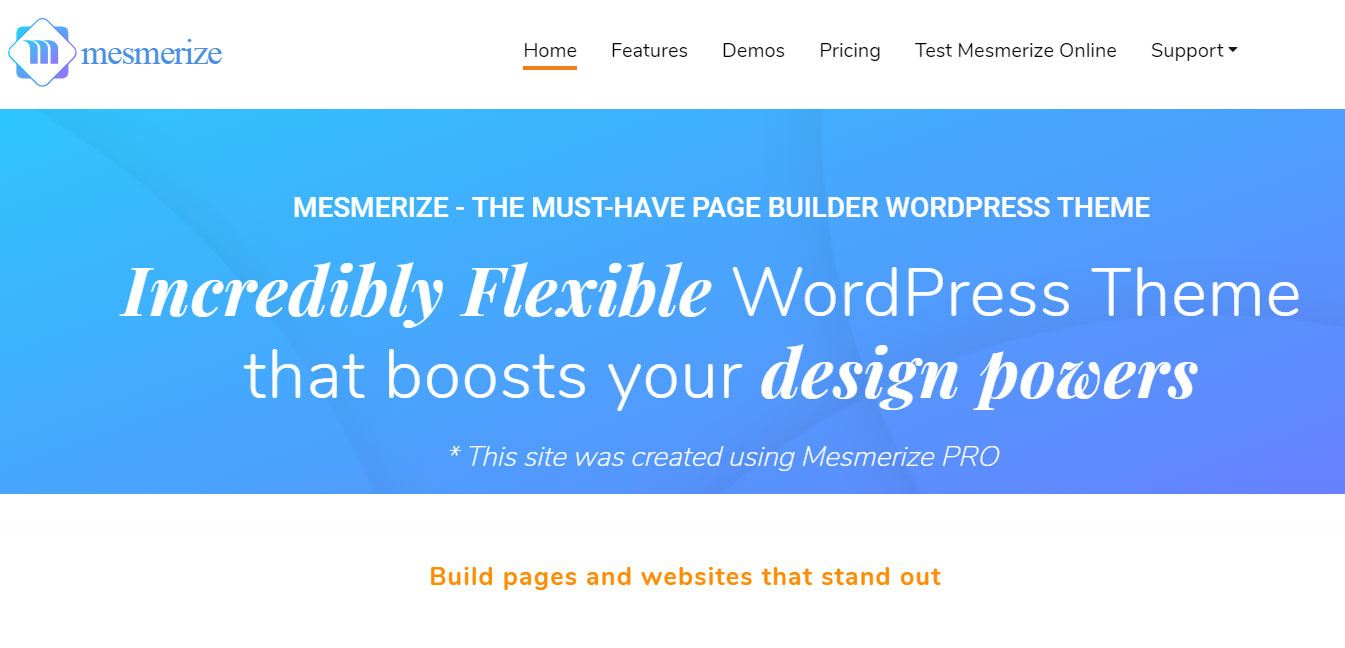 Mesmerize is one of the best free fully customizable WordPress themes to create truly unique and outstanding websites.
Packed with 100+ predesigned blocks that enable you to build beautiful pages in no time, Mesmerize takes the Customizer to a whole new level with live content editing facility.
Additionally, this powerful theme comes with several navigation layouts so you can customize navigation of your website to your likings. With Mesmerize, you can even create outstanding hero sections without any prior designing experience.
Different Options for Customizing a WordPress Theme
When it comes to customizing a WordPress theme, you have various options for different situations. Here's a quick overview of all the options available to you:
#Using the WordPress Customizer: Go to Appearance >> Customize in your Dashboard to tweak your theme's settings, fonts, colour scheme, and layout. You can even see a preview of the changes you made in real-time.
#Using Theme Options: Nowadays, many WordPress themes offer a dedicated 'Theme Options' panel to give their users complete control over the look and feel of their sites. You can find this option under Appearance in your Dashboard. If your theme has this feature, you can utilize it to change the appearance of your WordPress site.
#Using Custom CSS: You can modify the look and feel of your WordPress theme by adding custom CSS to it using the Customizer's inbuilt 'Additional CSS' option. You can access this in Appearance >> Customize. Moreover, you can also use Jetpack's Custom CSS Editor for the same.
#Using Plugins: Sometimes, you don't need to customize your WordPress theme at all. Instead, you need to install a relevant plugin to extend the functionality of your WordPress site. Particularly when the customization is based on functionality rather than design, you should use an appropriate plugin.
#Creating a Child Theme: If you're running a third-party WordPress theme and you want to edit the code, create a child theme to ensure you won't lose the changes you made whenever an update arrives.
#Hire a WordPress Developer: Ultimately, if you don't have an idea of how to customize a WordPress theme, you can hire an expert WordPress developer to do all the heavy lifting for you.
Best Practices for Customizing a WordPress Theme
So, you have decided to customize your WordPress theme! Well, before you commit any changes, follow these tips to ensure you won't lose your code or break your site after customization.
#If Possible, Make Customizations without Editing Code: Only edit the code if you have good knowledge of coding, and you're well familiar with how to do it safely.
#Use a Local Development Site: Perform changes on a local WordPress installation as doing so will not affecting the live site.
#Use Version Control: When customizing your WordPress theme, use a version control service like GitHub to track your changes.
#Use a Staging Site: Test your changes on a staging site first, and if everything works fine, push your changes to your live site.
#Test Your Changes on Mobile: Any changes you made to your theme must work well on mobile as well as desktop.
#Keep Accessibility in Mind: Make sure any changes to your theme are accessible to users with disabilities or sensory impairments.
#Stick to the WordPress Coding Standards: Make sure the changes you made are in line with the WordPress coding standards.