13 Crucial Questions to Ask When Hiring a WordPress Developer/Agency
October 3rd, 2023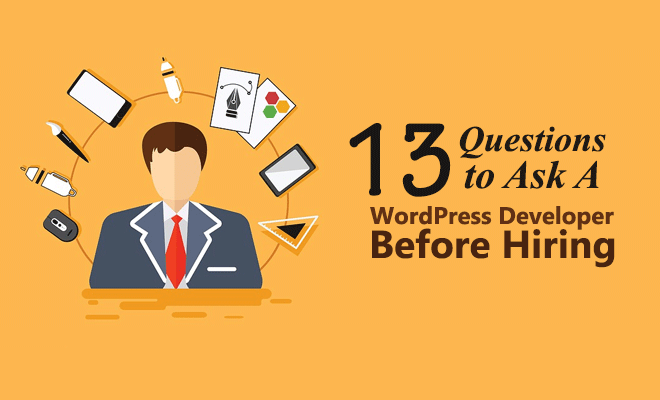 When it comes to hiring an expert developer with immense expertise in WordPress development, the pool of professionals leaves you confused. Hence, setting out certain criteria becomes inevitable to help you make the right decision. Here are 13 questions that you must ask your WordPress developer/agency before you hire them.
1:- How long have you been working with WordPress?
Experience matters the most when you're going to hire expert WordPress developers. Ask your WordPress developer or agency how many years of experience do they have in developing custom WordPress solutions. As a general rule, hire a developer/agency with at least five years of WordPress-specific experience.
2:- What details do I need to provide before getting started?
A flawless WordPress development takes place when you share each minor detail of your project with the developers. Ask your developer what information they need to get started with quality WordPress development. Generally, they require your company profile and the requisites you want to develop your WordPress site with. This helps a developer and WordPress development company to plan the appropriate layout and styling scheme.
3:- How would you build my site? Would you customize an existing theme or create a custom theme from scratch?
There are mainly three ways to build a dynamic website in WordPress:
Using an existing free or paid theme as it is.
Customizing an existing WordPress theme to fit the design to your specific needs.
Converting a PSD file to a custom WordPress theme.
Freely ask your developer or company whether they will be using an existing theme or customize it to the given requirements or creating a brand-new custom WordPress theme from scratch. The idea here is to judge the developer's ability to differentiate between different options.
4:- Will my WordPress theme be Responsive?
Since more and more users are utilizing mobile and tablet devices for browsing and other similar tasks, over 90% of the websites are today responsive. As compared to regular sites, responsive websites get higher click-through rates. So, ask your developer whether or not he can incorporate responsive web design into your WordPress theme. Also, if you are bringing your existing static HTML site to WordPress via HTML to WordPress conversion, ensure the developers you're going to hire specialize in existing site to responsive WordPress conversion.
5:- Will you help me with Search Engine Optimization (SEO)?
Although WordPress in itself is the most SEO-friendly platform, it still needs some best SEO practices to be implemented to rank your website higher in search engine results. Hence, ask your WordPress expert what tactics he will be employing to boost the ranking of your site.
6:- What will you do to improve the speed of my WordPress site?
According to various reports, 53% of the visitors leave a web page if it takes more than 3 seconds to load. Make sure the developer or company understands the importance of a blazing fast website that loads at the speed of light on mobile as well as desktop.
7:- Do you follow the WordPress Coding Standards?
The WordPress Coding Standards (WPCS) is a whole set of guidelines and rules to ensure the code you write for WordPress adheres to the outlined conventions. Ask whether or not the developer has a vast knowledge of WPCS and is proficient enough to avoid any coding errors and improve the code's readability.
8:- How would you ensure the security of my WordPress site?
This is probably the most important thing to consider when you're going to hire a WordPress Developer. As WordPress is the most popular open-source CMS available in the market today, it is an attractive target for hackers' attacks. So ask your developer or company what plugins and security practices they will be following to keep your WordPress site safe from Hackers. Also, ask how they will manage the backup of the WordPress site?
9:- Do you specialize in WordPress Plugin Customization?
While WordPress offers thousands of plugins that you can use to extend the functionality of your site, they sometimes don't match your exact requirements. In such a situation, you have to either customize the specific plugin or ask the developer to build a custom one. So before you outsource your WordPress project to any company or developer, confirm his expertise in WordPress Plugin Development and Customization.
10:- Will you be able to turn my WordPress site to an eCommerce store in the future?
A WordPress site can be easily converted into an online store with WooCommerce and other similar eCommerce solution. Confirm with your developer whether or not he specializes in WordPress eCommerce Development.
11:- Will you provide a child theme?
A child theme allows you to apply site customizations without making any changes to the code of the original (parent) theme. Ask the developer whether he will provide a child theme or not.
12:- Can you provide client references and show your portfolio?
When you're going to hire someone for WordPress development, it's reasonable to go through their portfolio to judge their level of expertise, coding style, and know what sorts of projects they have delivered in the past. In the same way, you ask for a portfolio, ask them to provide at least three past references relevant to your project to see how they deliver projects.
13:- What's your provision to offer support and maintenance?
Finally, ask your developer/company whether or not they will provide prompt WordPress Support and Maintenance services after the development work is completed. As this may lead to adding extra cost, make this clear before making the final decision.