Why sitemap is important for a WordPress website?
September 20th, 2023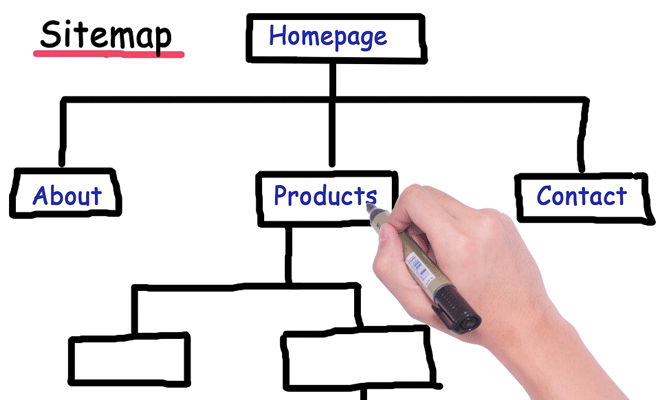 Sitemap is a listing of different web page on a website which guides a visitor about content and other important information. It structures a website, helps in ranking, increases web traffic, and makes ease in navigation. It alleviates overall process of website by positioning links on sitemap page in well versed manner. This article will discuss why sitemap is important for a WordPress website.
Provide quick reference
Sitemap generally gives idea about over all Web page of a website. Sitemap is the best idea to give quick reference to the visitors. A visitor can get to know the idea about website in very less time without visiting other pages and click on their desired pages from the sitemap. It also helps in increasing web traffic and navigation of a website.
Helps in indexing website
The links on site maps helps to index the web pages on website. Indexing Web page by simply visiting on site map page gives ease to the visitors and makes them familiar with over all website. It is the best way to measure what the WordPress website is all about? Each and every page will be visited by users if sitemap has been placed in right manner.
Helps in ranking
The sitemap pages not only gives overall idea of a website but also gives links in text, so that links can be opened in new page and thus helps in ranking in search engine. Generally sitemap requires text link and search engines love links on webpage so automatically it makes ease for the crawlers to search the link and thus helps in ranking of a WordPress website.
Good for SEO Link
Sitemap is the best way to provide text link on WordPress website. However, many links are provided on a website but site map gives a visitor overall idea about a website. No any webpage will be untouched if sitemap is linked in well manner. The anchor text link in sitemap is one of the easiest navigation tools which also increases site ranking.
Good for easy navigation
Sitemap is generally guides visitors by providing lots of links. It gives lists of web page with text anchor link which can be clicked to another page and thus visitors can easily search their required information in very less time without any hurdles. Now modern version of XML sitemap is very famous amongst webmasters owing to its downloading nature of flash and bulky sites.
Works as a planning tool for web design
>Web site with fewer page or enormous pages needs planned structure for a webpage to get high traffic and sales, this becomes easy when web master uses sitemap option on a website. If more pages have to be added, then site map easily facilitates these procedures. There will be no any hodgepodge of any webpage without linking to one another.
Increase web traffic
From sitemap, visitors get idea about what content is given on a website using anchor text link of sitemap page and thus they click on particular page according to their requirements. As website grows, the sitemap must be updated with recent activity of a business. If you are selling product and offering service, then visitor can get to know the instant information from sitemap and thus prefer to return to navigate the site in future.
Increases advertising value
Sitemap is valuable for many advertisers because it provides over all idea to position the advertising in different pages of a website. The positioning of advertising is very important aspect to promote a business online and when it is positioned in a right way then it gives desired result.
Enhance value of Web page
A visitor always prefers specific information on any website and sitemap helps in getting specific information as it guides users about overall website with links. As users click on link they go to desired web page in less time. Thus it adds value to a website with well structured content and anchor text links.
Conclusion
Sitemap is best way to get information from any website in very less time as site navigation becomes easy and top ranking is possible by using this wonderful tool. It helps in increasing traffic, ranking and makes easy the navigation. This article has discussed why sitemap is important for a WordPress website.