WordPress Maintenance Checklist to Keep Your Site Up-to-date and Safe
September 19th, 2023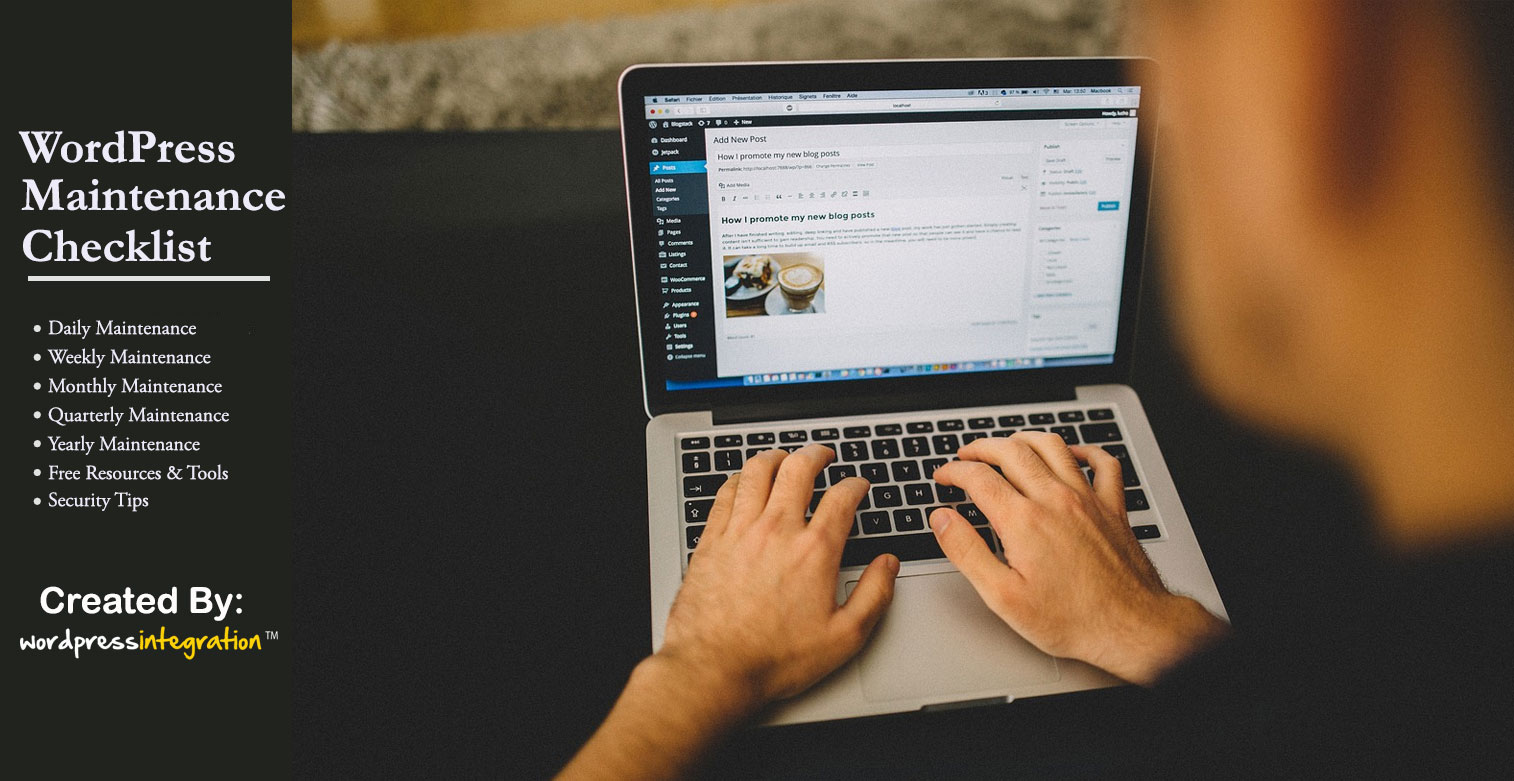 Running a successful WordPress blog or website is not just about publishing fresh content and promoting it regularly. Just like anything else, it also requires you to carry out maintenance routines to ensure your WordPress site is safe and performing at its best. Concretely, if you overlook the maintenance of your WordPress site, you may face several unpleasant consequences, like:
Your site may load as slow as treacle
Important functionality might break into pieces
your visitors' computers may become infected by your website
Your site may be hacked or even be delisted from search engines
Hence, whether you're a newbie or seasoned WordPress user, Regular Maintenance is one of the best things you can do for the betterment of your WordPress site!
While hiring a reliable WordPress Maintenance Service provider is arguably the best option especially if you run a high-traffic business site, you can maintain your WordPress site yourself if you are on a tight budget or not willing to hire a WordPress maintenance agency. All you need to follow this handy WordPress Maintenance Checklist that is based on our team's experience of managing hundreds of WordPress sites on behalf of our clients.
The Checklist contains 14 crucial WordPress maintenance tasks that you need to perform regularly to keep your site safe and running smoothly. While some of these maintenance tasks can sometimes be automated, there are others which you should do manually.
Following these recommendations will not only help you stay ahead of your competitors, but it will also keep your site in excellent health to deliver users a remarkable experience. The Checklist is so simple and easy to implement that you don't need to be a WordPress developer to perform any of these maintenance tasks.
Additionally, for your convenience, we have broken down the Checklist into four sections, Daily, Weekly, Monthly, Quarterly, and Yearly. Feel free to adjust them to your needs.
That's enough talk. Now get to work!
Daily WordPress Maintenance Checklist
#Back Up Your Website:
You don't realize the importance of a backup copy of your WordPress site until you desperately need one in adverse situations. Backups are indeed like insurance policies – you hope you would never use them but when something goes wrong, they can prove to be a lifesaver. So never, ever make the same mistake again.

Instead, make it a habit to regularly backup your WordPress site, both on the web server and your local computer. While many hosting providers include backups in their Managed WordPress hosting plans and perform daily automated site backups, there are also several plugins and services to automate the WordPress backup process:
After running the backup, don't forget to verify the existence of the backup files at the destination of your choice. As sometimes these services and plugins may also suddenly stop working without you even noticing, it is highly recommended you take manual backups of your WordPress site from time to time. For detailed information on WordPress Backups, you can refer to this link.
#Get Notified About Downtime:
Perfection is the next level of Done and the same applies to your website's uptime. May be your site won't be available 100% of the time, but you should make every possible effort to make sure it is up 99.9% of the time. While most hosting providers promise to deliver 99.9% uptime, it is eventually your responsibility to ensure there is no downtime on your WordPress site.
Every second in which your website isn't accessible means you're losing a huge amount of traffic as well as damaging your brand's reputation. Hence, it is imperative to keep track of when your website goes down so that you can bring it back online as soon as possible. A few services you can use to monitor your website's uptime are:
UptimeRobot: A free service that tests your site every five minutes and notifies you about downtime.
Super Monitoring: Checks your website every minute and notifies you about downtime.
Pingdom: Offers plenty of automated checks to ensure your site is up and running at all times.
#Review and Tighten Security:
Since WordPress powers one-third of the web, hackers love it as a target. Imagine how many websites using the same platform they can hack at once. So if you really want to protect your WordPress site against hackers, you must admit the fact that your site is never secure enough. WordPress security is not a one-time strategy, it is rather an ongoing process!

While WordPress already offers several tactics to hardening the security of a WordPress site, you should add your own proactive measures as well. Luckily, there are several plugins and services available to help you tighten the security of your WordPress site. Some of them are:
Apart from that, you should also scan your WordPress site for potential malware daily. You can use Sucuri's Sitecheck, which is a free malware scanner, for the same.
Weekly WordPress Maintenance Checklist
#Update Everything:
Installing pending updates is something you should never take lightly. This is because you never know when a hacker will get into your site just due to an old version of WordPress core, theme, or plugin. While updating something is just a matter of a few clicks, most of the users ignore this task probably due to its simplicity. Don't make the same mistake!
Luckily, WordPress features a built-in system to help you manage updates for WordPress core, themes, and plugins. Just go to Dashboard » Updates and you'll be able to see all the available updates there. Install these updates on a staging website first to check if something break or interfere with any existing functionality. If everything is okay, install the pending updates on the live site in this order:
WordPress core updates
Theme updates
Plugin updates
Before you install any update, make sure you always have a backup in place.
#Check and Delete Spam Comments:
If you already use Akismet to deal with comment spam on your WordPress site, then it automatically filters out spam from your comment moderation queue. However, since even Akismet isn't perfect and it sometimes marks valid comments as spam, it is recommended you manually take a quick look at your spam list to make sure there are no legitimate comments incorrectly marked as spam.
Once you're done, you can permanently delete all spam comments from your WordPress site. Also, don't forget to reply to genuine, insightful comments as this is a great way to establish and maintain an active relationship with your readers. If you get a lot of comments, then you need to do this daily.

Some other WordPress Antispam plugins that you might want to try are:
#Perform a Visual Inspection:
It is inevitable to visually inspect your website at least once a week to check if there are any problems with layout or formatting. To ensure your site is looking and functioning exactly the way it should, test for:
Cross-browser Compatibility: Perform this test in different popular and widely used web and mobile browsers, including Chrome, Firefox, Safari, and Internet Explorer/Microsoft Edge. A few tools you can use for Cross Browser Testing are:
Responsiveness: Check if your WordPress site fits and adapts to different mobile, tablet, and desktop device resolutions. Some tools you can use to test Responsiveness are:
Test All Your Forms: Forms are not a "set-it and forget-it" system. Rather, you should test all forms on your site regularly to ensure they are functioning as expected. This is even more critical for business websites that use forms as a primary source of generating leads and attracting new customers. So, if a form is not working, take the necessary actions to get it fixed as soon as possible.
Monthly WordPress Maintenance Checklist
#Optimize Your Database:
WordPress stores everything in form of tables within a database. It contains all your blog posts, pages, users, comments, categories, tags, and settings. However, over time, your database may get bloated with a lot of unwanted junk data. These can be spam comments, drafts and revision posts, settings from uninstalled but undeleted plugins, and so on.
This unnecessary data can weigh down your WordPress database, making your site load slower on both the front and back end. Also, it dramatically increases the size of your WordPress backups, which makes the downloading, uploading, and restoring backups a very time consuming and cumbersome process.

For that reason, optimizing your WordPress database at least once a month becomes imperative to improve its performance. Following are the plugins you can use to clean up and optimize your WordPress database:
If you run a WordPress eCommerce site, transients can sometimes bloat your database. To deal with them, you can use the Transients Manager plugin.
#Performance Audit & Optimization:
No one likes browsing a slow website! Besides the fact that Google now considers Speed as a crucial ranking factor for both desktop and mobile searches, a fast loading website also delivers users a pleasant, satisfactory experience. This is why you need to regularly check your site's loading time. To check how quickly your WordPress site loads, you can use these website speed test tools:
While the quality of your web host matters a lot in the speed equation, there are two key areas you should focus on to improve the speed of your WordPress site:
Additionally, you can use Content Delivery Networks (CDNs) such as StackPath (formerly MaxCDN), Cloudflare, and KeyCDN to serve your content and images as static files.
#Perform a Thorough Content and SEO Audit:
The next thing you need to do as part of this WordPress maintenance checklist is to conduct a thorough, in-depth review of your content and SEO strategy. This is where you need to leverage the power of Google Analytics and Google Search Console to analyze how your content marketing and SEO strategy are working.
Login to your Google Analytics account and assess how your organic traffic and rankings have been developing over the past few weeks. Review things like:
Where your visitors are coming from
What they are doing on your website
Is your organic traffic went up or down in the last few weeks?
How your visitors are responding to your content (average time on page, average session duration, bounce rate, etc)
Which one of your content is receiving special attention?
Likewise, with the help of Google Search Console, you can find out search keywords where your site appears in SERPs (search engine results pages). You can further sort it to show you search keywords where your site can easily higher in search results by improving those articles.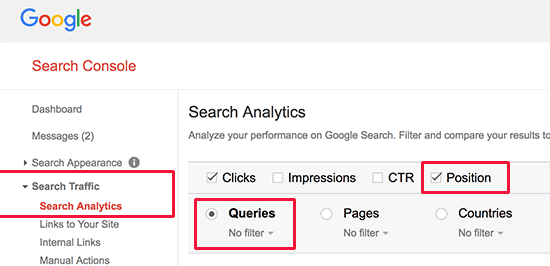 For more advanced SEO insights and analytics, you can consider using SEMRush, Moz Pro, and Ahrefs.
Besides that, the following are some other important things you should take into account to improve the SEO performance of your WordPress site:
Review On-site SEO: Your website's Click-through rate (CTR) depends a lot on how optimized your meta title and description tags are. Hence, make sure you review them at least once a month. Also, don't forget to follow on-site SEO best practices such as using SEO-friendly URLs, internal linking, using heading tags and inserting keywords in your posts, etc.
Find and Fix 404 Errors: When a user requests a page that is no longer available on your WordPress site, he encounters a 404 error page which is bad from both SEO and user experience perspectives. To avoid 404 errors, make sure to implement 301 redirects to redirect such pages to other similar working pages.
Find and Fix Broken Links: Broken links are dead links that go nowhere and lead to error messages. These links can be either external or internal. Having too many broken links on your WordPress site results in a higher bounce rate, causes bad user experience, and can even lead to getting penalized by Google.
Thus, it's very important to find and fix (correct, replace, or remove) broken links on your WordPress site from time to time. While both Google Analytics and Google Search Console (under Crawl >> Crawl Errors) help you find links on your site that are broken, you can use these tools and plugins as well:
Quarterly WordPress Maintenance Checklist
#Change All Your WordPress Passwords:
Strong passwords are one of the best and most effective ways to keep your WordPress site safe from brute-force and other similar malicious attacks. Therefore, it is recommended you change your WordPress passwords frequently to ensure they're strong and safe enough. This includes passwords for your Dashboard area, FTP or SSH accounts, and your WordPress database.
When creating passwords, make sure to use a combination of capital and small alphabets, numbers, and special characters (symbols) or use the free LastPass Password Generator tool to generate the strongest passwords possible for your WordPress site.
#Remove Unnecessary Users:
If you have outdated or unnecessary users active on your WordPress site, then you're inadvertently putting your site at risk of getting hacked. So regularly go through your list of users and delete ones that aren't active anymore. Especially have a look at Admin users and double-check if they still need Admin privileges.
#Remove Unnecessary Themes, Plugins, and Other Files:
Similar to inactive users, it is also pointless to keep unnecessary themes and plugins in your WordPress site. While obsolete themes are one of the most common reasons why WordPress sites get hacked, on the other hand, unused plugins are often responsible for negatively affecting the speed of your WordPress site. So delete those themes and plugins that are no longer required and don't forget to clean your WordPress cache after deletion.
Also, check your wp-content folder for unnecessary files and browse through your Media Library to remove any temporary and redundant files (images, audios, and videos) which are no longer required. Clearing them regularly will not only save a lot of storage space on your server, but it will also improve the performance of your WordPress site. For this purpose, you can use Media Cleaner plugin.
Yearly WordPress Maintenance Checklist
#Review Your WordPress Setup:
It is recommended you set aside 2-3 hours to review your entire WordPress setup once a year. Ideally, you should review:
Your Hosting Company: Check if it still fulfills your requirements or there is another better hosting provider that specializes in WordPress hosting.
Your Theme: Review your current theme and look for alternatives that are more visually appealing, load faster and easier to use.
Your Plugins: Review your installed plugins and search for better alternatives.
Third-party Tools and Services like analytics tools, CDNs, etc.
By reviewing these items, you can be sure that your WordPress site is ready for the upcoming year.
#Review Your Content Strategy:
Similar to reviewing the above-mentioned components of your WordPress site, you also should take time to review the performance of your content strategy. While your content strategy depends to a great extent on factors such as your budget, team size, marketing goals, etc, there are a few things and metrics that you should review at least once a year:
Review Your About Page to ensure your website content reflects your brand identity.
Review Your Policies and Terms to make sure they are up to date with the latest regulations.
Review how your opt-in forms and calls to action are performing.
Ensure that event tracking is set up and running.
Use Google Analytics to find out the category of content that got the most shares and comments in the past few months. Narrow down to the relevant topics.
Conclusion:
If you run a WordPress site, you cannot escape the responsibility of its regular maintenance. Like anything you want to keep in excellent health, your WordPress site needs regular maintenance as well. This WordPress Maintenance Checklist encompasses all the tips and tools that you can use to keep your WordPress site fast, secure, and up-to-date. So follow these steps regularly and turn your WordPress site into a valuable asset!