How to Detect & Remove SEO Spam from a WordPress Site?
September 19th, 2023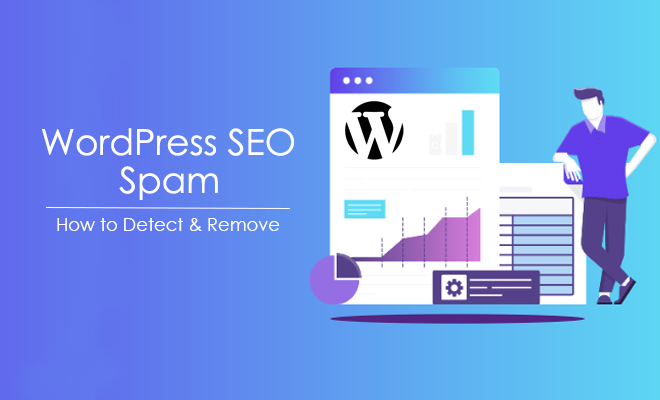 Given the fact that WordPress is the world's most popular CMS powering nearly 40% of the web, it has always been a lucrative target for hackers and cybercriminals. While hackers usually break into a site through newly discovered vulnerabilities, automated bots and malicious scripts injected by hackers can SEO spam your WordPress site to attract a massive amount of fake traffic.
If your WordPress site got infected with SEO spam, don't panic. You can follow the steps and tips given below to quickly detect and effectively remove SEO spam from your WordPress site. Let's start with understanding what SEO spam exactly is, followed by different SEO Spam types and how they hurt your WordPress site.
What is SEO Spam on WordPress?
A search engine, such as Google, considers various factors to determine where to rank a website in search engine result pages (SERPs). One of the most significant factors is the quality and quantity of backlinks coming to your site. Generally, the more the number of high quality backlinks your website has, the higher its chances of getting ranked higher in search results.
Sometimes SEO Spammers use illegitimate methods and techniques to insert contents and links pointing to their site on your website to improve their site rankings in search engines. This method manipulates the behavior of the search engine algorithms and is called Spamdexing or SEO Spamming.
Types of SEO Spam on a WordPress Site
Also known as search spam, black hat SEO, or web spam, SEO spam comes in many forms. Here are the most common ones.
Spammy Links that take your website visitors to another online property where they can easily get scammed.
Spammy Keywords that get your site rank for keywords hackers are using in a scam.
Spammy Ads to direct visitors to another scammer site through pop-ups and banner ads.
Spam Emails that are sent to your customers on your behalf to promote hackers' products or services.
Spammy Posts & Pages optimized to rank for keywords hackers are using in a scam.
New Pages on your website stuffed with spammy content and links pointing to scammy websites.
Spam comments on blog posts.
Needless to say that these kinds of practices can make your customers lose trust in your business. Both customers and search engines will soon start seeing you as a spammer.
How Does SEO Spam Hurt Your WordPress Site?
The worst thing about SEO spam on your WordPress site is that it is considered your fault. Spamdexing or SEO Spam can negatively affect your WordPress site in several ways, including but not limited to:
#Google Blacklist: The search engine giant may blacklist your WordPress site and show a notification or warning like shown below to prevent users from visiting your website.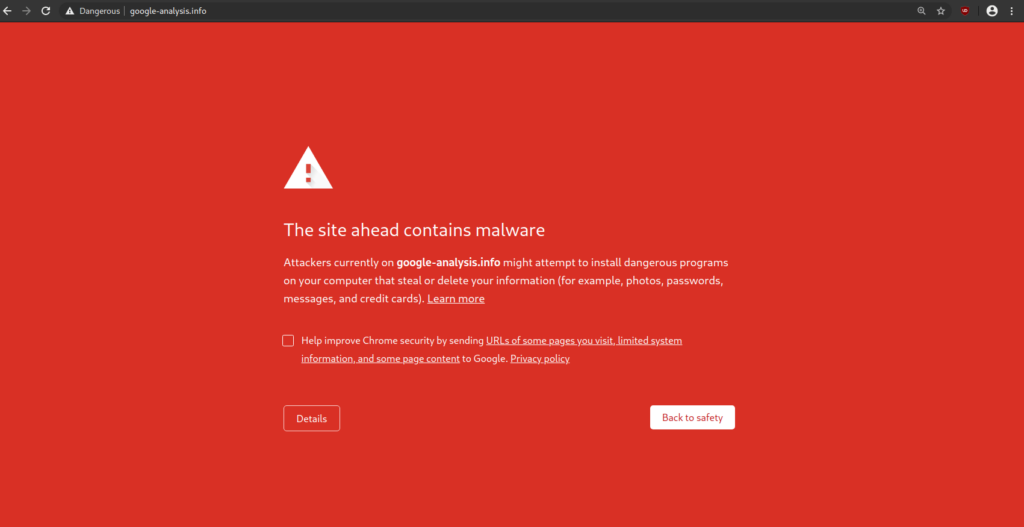 Even Google and other search engines may also put up a warning on search engine result pages, even before users click the link.

#Web Host Suspension: Like search engines, your website hosting can also suspend your WordPress site.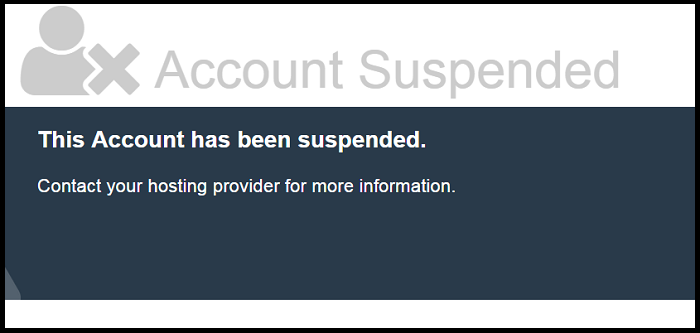 #Your search engine rankings, performance, and traffic may drop due to frequent security warnings.
#SEO Spamming may force your WordPress site to rank lower in search engine result pages.
#When users search for your website, products, or services, spammy results appear in search results.
#SEO spam can undermine your brand's authority, causing visitors to lose trust in your business.
Ways to Detect SEO Spam on a WordPress Site
Detecting SEO spam can sometimes be tricky because it is disguised in the cloak of your site's core files. If you suspect your WordPress site has fallen victim to hackers, here are a couple of ways to help you discover the infection:
#Simple Website Examination: Look through your Dashboard. If you see something unusual, like unknown admins, posts, pages, plugins, or themes, this indicates your WordPress site is a victim of SEO spam. You can also check your website's sitemap to see if new pages have been added.
#Check Google Analytics and Search Console: Google Search Console and Google Analytics are the best and most comprehensive tools to check your WordPress site's overall SEO health. Take full advantage of these tools to discover the presence of SEO spam on your WordPress site.
Go to Security & Manual Actions >> Security Issues in your Google Search Console, and you'll be able to see SEO spam issues with red flags there if any.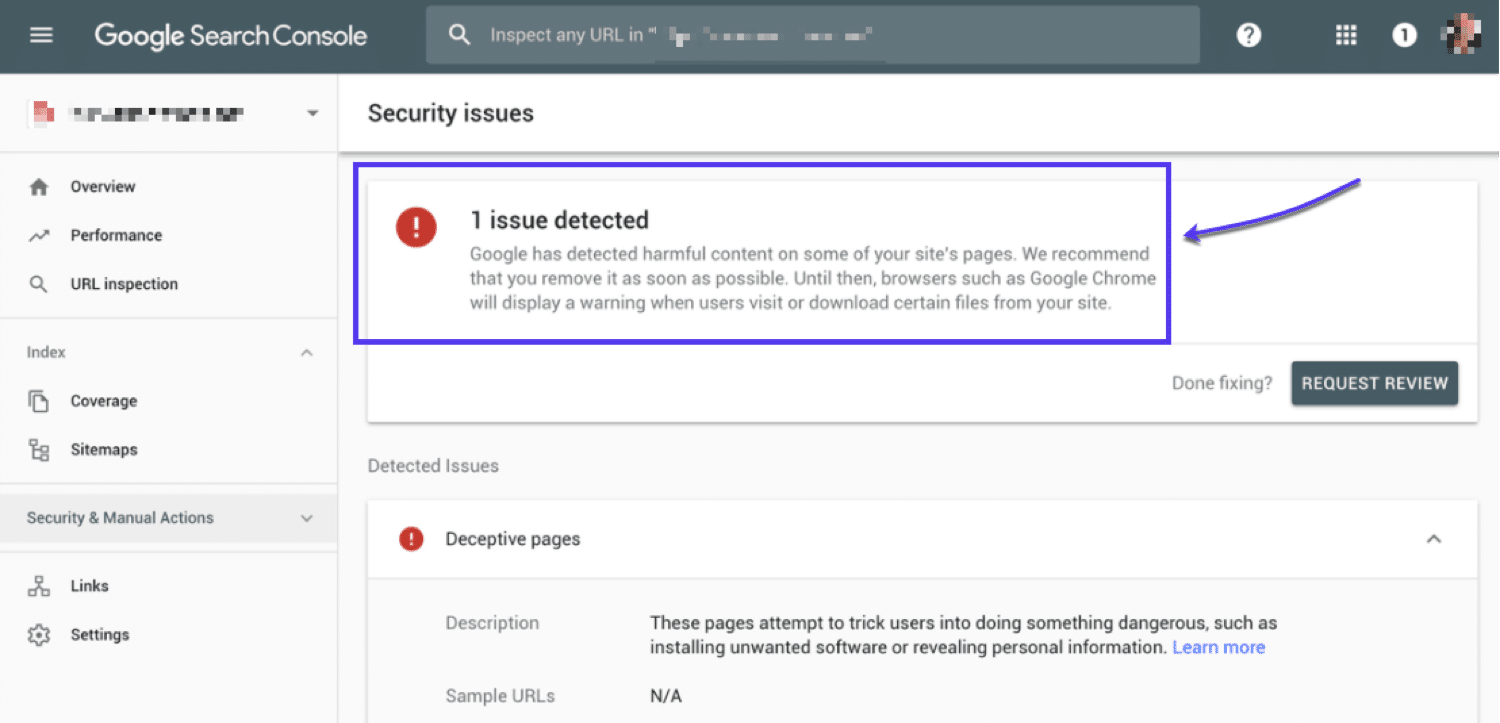 If your WordPress site is verified with Google Search Console, you will receive penalty notifications like these:
Harmful content
Hacked website
User-generated spam
Unnatural links to/from your website
Cloaking or sneaky redirects
The hidden text or keyword stuffing
Spammy structured markup
Cross-site malware
Code and SQL injection
Server misconfiguration
Unusual link or page activity
Likewise, you can check for any sudden and rapid traffic fluctuations inside your Google Analytics account. A sudden increase or decline in traffic is a sign that your site is infected.

You can also use the Google Search Console to check any sudden drop or spike in traffic under 'Performance.'
#Google Transparency Report: With the help of the Google Transparency Report, you can check whether or not your WordPress site is secure enough to visit. Enter the URL of your site or a specific web page in the search box, and Google will tell you about all the harmful content like harmful backlinks.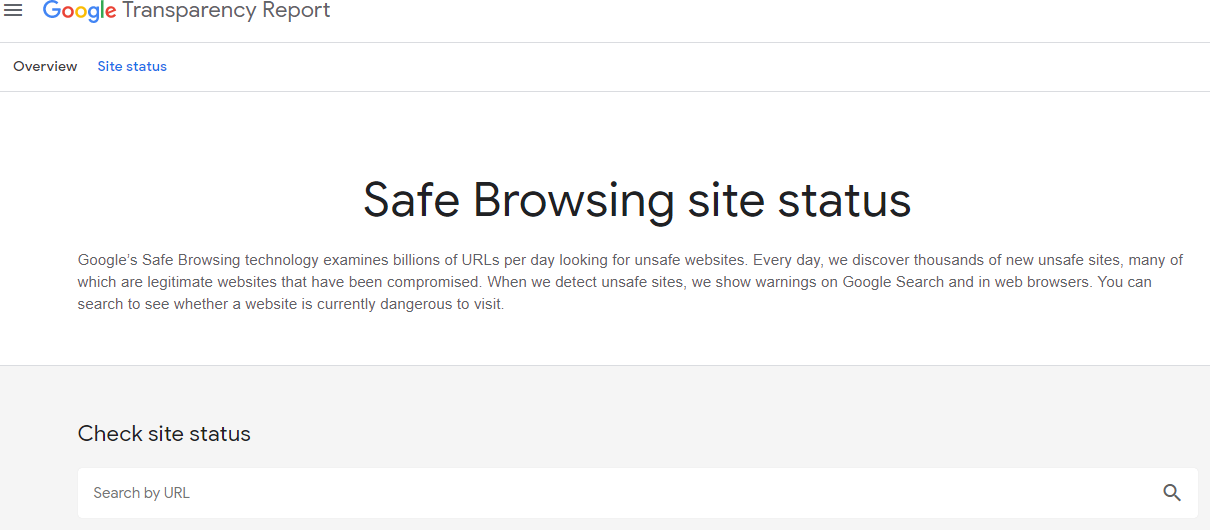 Even if your website is not affected, it's always a good idea to check your site standing with the search engine from time to time.
#Google Dorking: It refers to using custom queries in the Google search bar to get specific results. Enter the following query in the Google Search Bar:
site:yoursitename.com/
Replace yoursitename with the name of your WordPress site. Now you will be able to check any malicious or misleading pages on your WordPress site, as shown in the following graphic: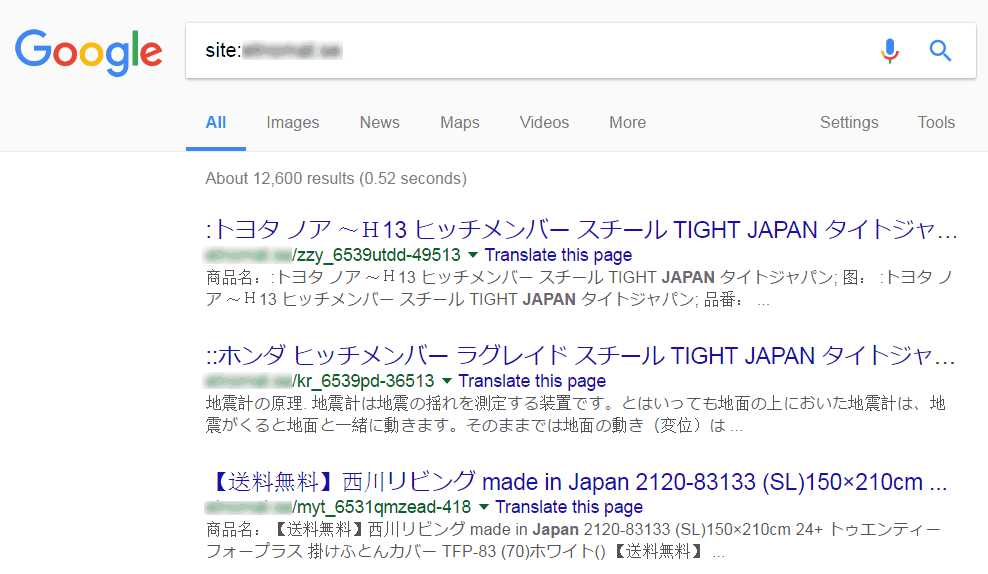 #Check Your Backlink Profile: Use tools like Majestic and Ahrefs to get detailed information about the link coming to your website. If you notice any suspicious backlink activity – like incoming links with unusual anchor text, links from low-quality websites, a sudden jump in the number of backlinks – this means your site has a problem with SEO spam.
#Website Scanners: Use website scanning tools like Sucuri SiteCheck, UnmaskParasites, SiteGuarding, UpGuard, and MalCare to scan your WordPress site to check vulnerabilities, SEO spam, blacklist status, and malicious entries.
#Google Ads Account Got Disabled: If you run Google Ads for your WordPress site, you will see a warning regarding suspension in your Google Ads account.
How to Remove SEO Spam from a WordPress Site
If you have SEO spam on your WordPress site, the best step is to fix it manually. Follow the steps given below to remove SEO spam from your WordPress site:
#Replace Your .htaccess File: BlackHat SEO Spammers modify the contents of the .htaccess file for their advantage. So, replace it with the default version.
#Removing Malicious Codes: Go to cPanel > File Manager > public_html in your web hosting account and delete any malicious code in all your recently modified files. Go to cPanel > phpMyAdmin and do the same with your database files. You can use a website scanner to spot any malicious code added to your files.
#Reinstall your WordPress core, theme, and plugins, and reinstall them from a trusted source. This will help you remove all the compromised files. Also, remove themes or plugins you're not using as they may contain vulnerabilities.
#Submit Link Removal Request: Go to the Google Search Console and submit the infected pages for removal using the 'Removals' feature.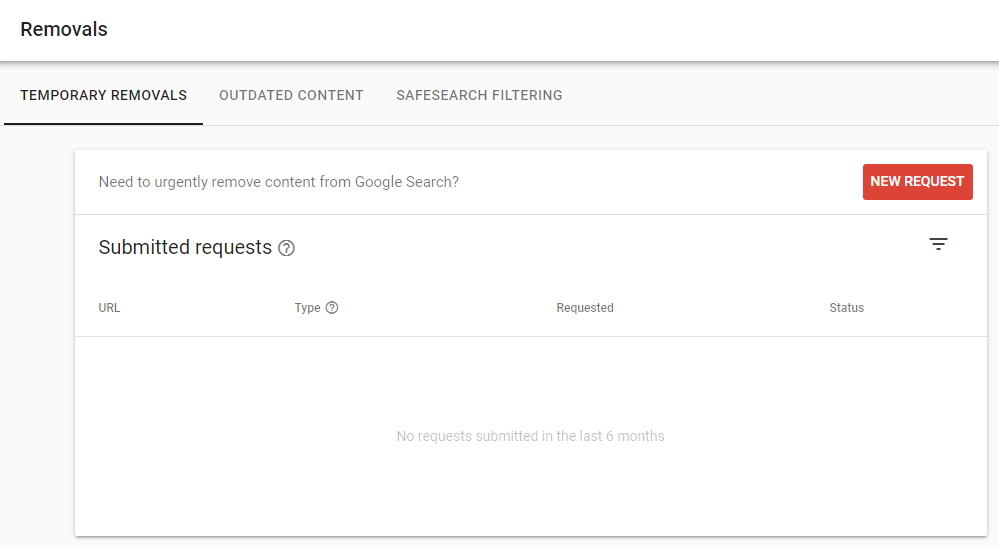 #Change Your Passwords for Admin, FTP, database, etc. Use a Web Application Firewall (WAF) such as Wordfence to protect your WordPress site in real-time against cyber attacks.
Also, limit the number of login attempts, implement two-factor authentication, and update your WordPress core, themes, and plugins to the latest version to prevent future vulnerabilities.
#Hire a Professional: If none of the above works for you, you can hire WordPress SEO experts to remove spam from your site.
How to Protect Your WordPress Site From SEO Spam?
Removal of SEO spam does not guarantee that your WordPress site will always stay safe in the future. Follow the tips given below to strengthen your site's security further:
Implement CAPTCHA.
Install a web application firewall (WAF) and a security plugin.
Keep track of your backlink profile.
Keep everything up-to-date.
Apply the Principle of Least Privilege (POLP) to your WordPress site.
Stay safe, retain your reputation, and keep your SEO rankings!