9 Best Free eCommerce WordPress Themes for 2020
October 10th, 2023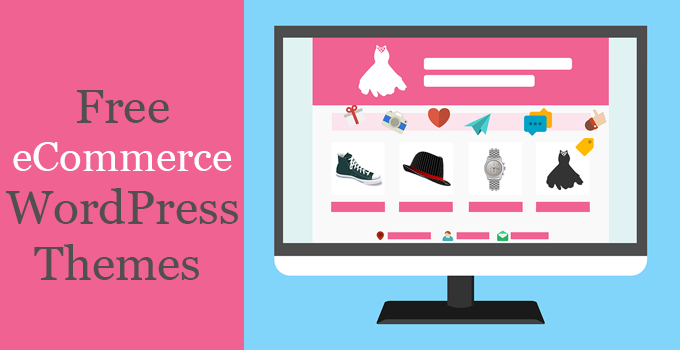 Gone are the days when people used to avoid utilizing WordPress for the creation of an online store. With the acquisition of WooCommerce back in 2015, WordPress today is not limited to just content management. Instead, it is now being used on a considerably large scale to run fully-fledged eCommerce sites. If you're wondering why WordPress today has become the go-to choice for many eCommerce owners, here are some reasons that make WordPress a perfectly suitable platform for creating online shops:
Seamless eCommerce Integration
Incredibly Easy to Install, Configure, Use and Manage
A Huge Variety of eCommerce Themes and Plug-ins
Scalable, Flexible and Secure
Endless Product Customization
Supports Multiple Payment Gateways
No Ongoing Fees
A Continuously Growing Platform
Consequently, given the enormous use of WordPress in eCommerce arena, many theme providers are offering both free and premium eCommerce themes to help shop owners make their online stores interesting and appealing to their potential customers. Since most of the premium eCommerce themes are quite expensive to purchase (usually between $80 and $199), we've researched and gathered some best free eCommerce WordPress themes that you can use to create your online store in 2020. But, before we check them out, let's get familiar with the key characteristics of a high-converting WordPress eCommerce theme!
What to Look for in a WordPress eCommerce Theme?
#Navigational Ease
Ease of navigation leads to a great online shopping experience. Research shows that nearly 70% of people rely on navigation versus search to look for something on a website. Hence, when picking a WordPress eCommerce theme, make sure that the route from one page to another is clear.
#Fast Loading Time
A blazing-fast page load speed not only contributes to good user experience but also it is now an official Google ranking factor. In fact, more than half of customers abandon a website if it takes more than 3 seconds to load.
So before deciding on any WordPress eCommerce theme, run the theme's demo against free Google PageSpeed Insights tool. Alternatively, you can also try GTmetrix and Pingdom Tools.
#Security
When you're running an online store, security must be your top priority as you store users' sensitive information, such as credit/debit card details and physical addresses. While a lot of your store's security is dependent on your web host, SSL and security plugins, ensure the theme you're going to pick has its own security features and accreditations. For instance, the Divi theme incorporates a Safe Seal by Sucuri.
#Mobile-Responsive Design
While the world has already moved to mobile, Google now prioritizes the mobile version of a page for indexing and ranking. Hence, to check the mobile-friendliness of your WordPress eCommerce theme, run its demo URL through the Google Mobile-Friendly Test Tool.
#Customization
Whether you're going to install a free theme or planning to purchase a premium one, the one thing you should always look for is customization. Perform in-depth checks with the theme's demo to ensure the theme provides an enormous scope of customization.
#Clean Code
To avoid any issues related to SEO, make sure the theme is built in accordance with the latest coding standards, particularly WordPress coding standards. You can use the W3C Markup Validatorto figure out potential markup errors in your theme's demo.
#Paid or Free
In most cases, free themes are good to start a WordPress site. However, when you're setting up an eCommerce site with WordPress, it's recommended you invest in a premium theme. This is simply because premium themes are usually more secure as they receive frequent updates. Plus, they offer better support and design aesthetics out-of-the-box.
#Accessibility
While accessibility has no impact on your search engine rankings, it's always wise to deliver everyone the best possible experience. So, make sure the theme is fully accessible to users with disabilities or sensory impairments.</[p>
#SEO
To help your online store rank higher in search engine result pages, make sure your prospective WordPress eCommerce theme is built with the best WordPress SEO practices in mind.
#Social Sharing
Check if your WordPress eCommerce theme gives users the ability to share products in one click. At the bare minimum, your theme must have shareable buttons for the popular social media platforms, including Facebook, Twitter, Instagram, and Pinterest. And if it allows users to login with their social media profiles, even better.
#eCommerce Plugin Compatibility
WordPress offers a wide spectrum of eCommerce plugins to help you set up a conversion-optimized online store in minutes. Some of the best WordPress eCommerce plugins you can use in 2020 are:
The theme you're going to download or purchase must support the plugin you plan to use!
#Translation
If you're planning to sell globally or to a varied demographic group, opt for a multilingual WordPress theme.
The Best Free eCommerce WordPress Themes for 2020
1 – Leto:
Leto, lovingly crafted by aThemes, is a very clean and lightweight WooCommerce compatible WordPress theme perfect for creating any kind of online shop. Packed with an extremely powerful Theme Customizer, this theme is 100% translation ready and also supports recent versions of all popular web browsers like Chrome, Firefox, and Opera. Moreover, to help you impress your customers, it also allows you to add an image or video in the header area.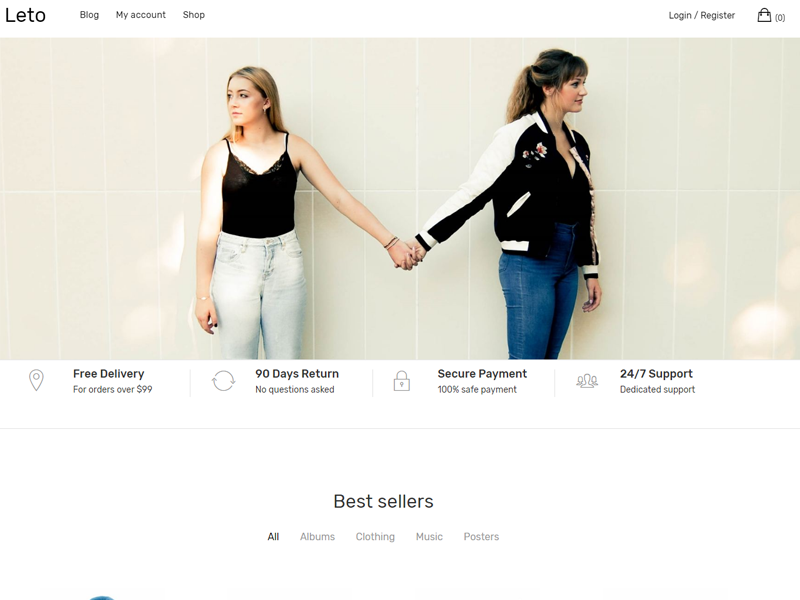 2 – ShopIsle:
Built by ThemeIsle, ShopIsle is a modern, elegant and beautiful WordPress theme, featuring a smooth scrolling full-screen slider on the homepage to make the shopping experience pleasant and enjoyable for customers. With the integration of popular Contact Form 7 plug-in, it offers your customers the chance to easily get in touch with you via a quick and user-friendly contact form. There's also a pre-built about us page offered, where you can flawlessly write who you are and what you love to do.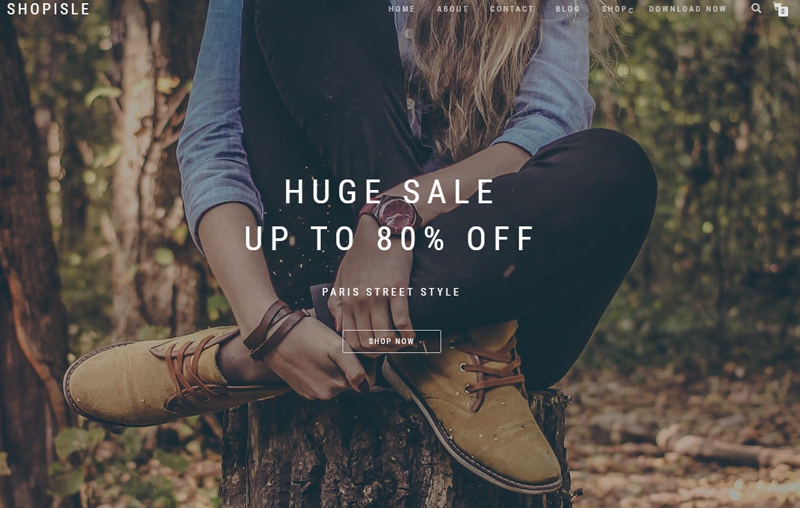 3 – Shopper:
Shopper is a simple and lightweight WordPress eCommerce theme with a grid layout and minimal design. Compatible with all popular modern web browsers like Chrome, Firefox, Safari, and IE10+, this amazing theme comes with a powerful theme options panel and features Schema Structured Markup for better search engine optimization. A perfect choice for any kind of online shop whether it's a cosmetics store, fashion store, sports store, or a multi-niche store.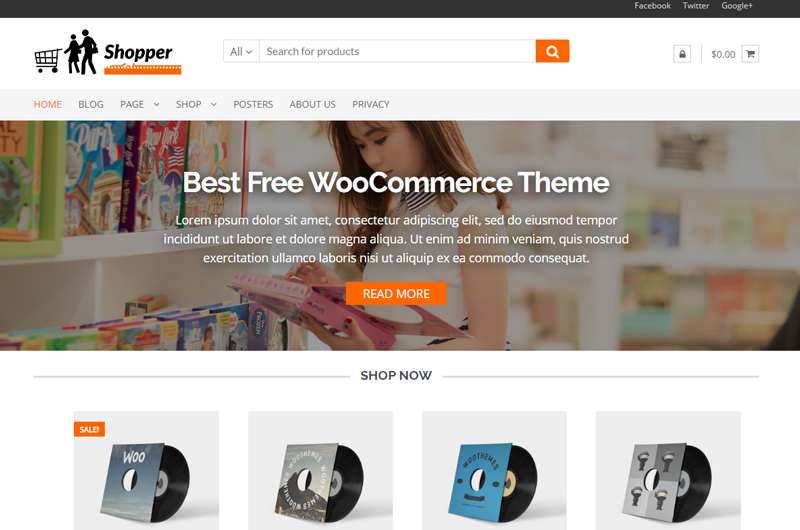 More Information | Live Demo
4 – Tyche:
Coded by folks at Colorlib, Tyche is a neat, professional and minimal WordPress theme with plenty of powerful eCommerce features and functionalities. It has Google Maps, social media, and contact form integration, and offers a great blog page design to keep your customers coming back for latest news, offers, and shopping. Moreover, with the help of Custom CSS option, you can edit, customize or stylize any element of your online store to fit your design requirements. A perfect choice for a fashion and accessories store!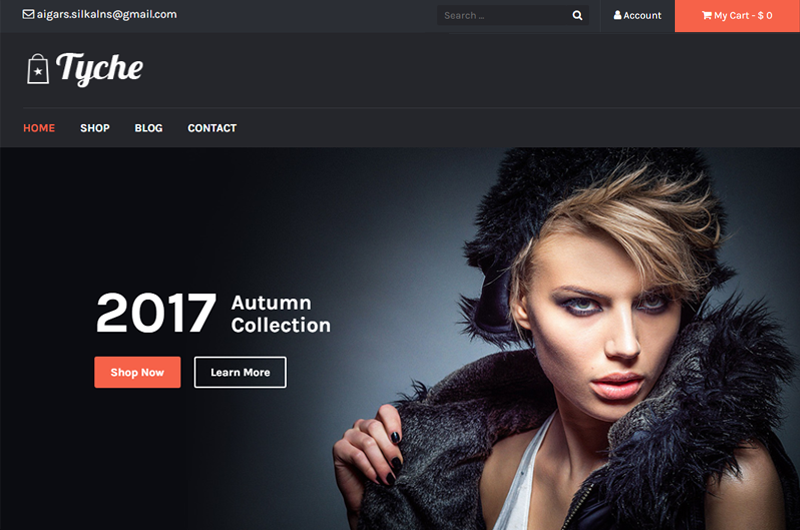 More Information | Live Demo
5 – Storefront:
Storefront, developed by WooCommerce core developers, is a highly intuitive, flexible and customizable eCommerce theme featuring a very clean, lightweight and minimal design. Built on the top of Automattic's starter WordPress theme Underscores, Storefront offers a water-tight integration, not only with WooCommerce itself but also with its several extensions. It is fully compatible with several popular Page Builders, such as Beaver Builder and Visual Composer, and comes with valid schema markup for an outstanding SEO performance.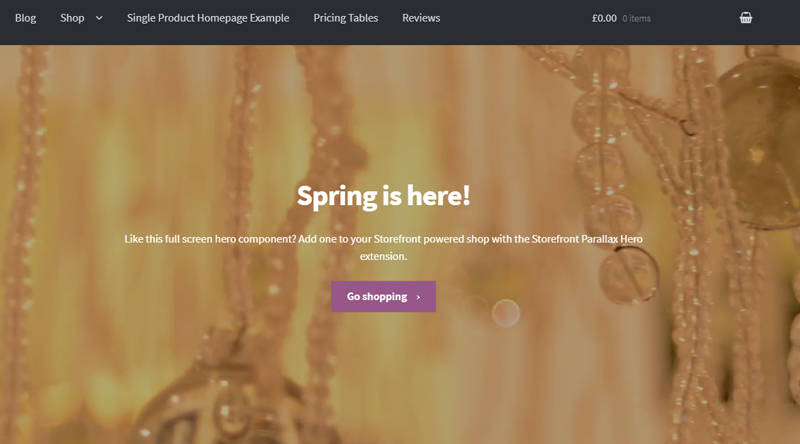 6 – MetroStore:
Created by sparklewpthemes, Metrostore is a clean, professional-looking and highly customizable eCommerce theme for WordPress platform. Not only this stunning theme is fully translation ready but also it guarantees full compatibility with all major WooCommerce plug-ins. Metrostore is packed with 10+ custom widgets, 8+ widget areas, a powerful Customizer, and is well-optimized to load in a snap. A great fit to create health stores, beauty stores, technology stores and sports stores.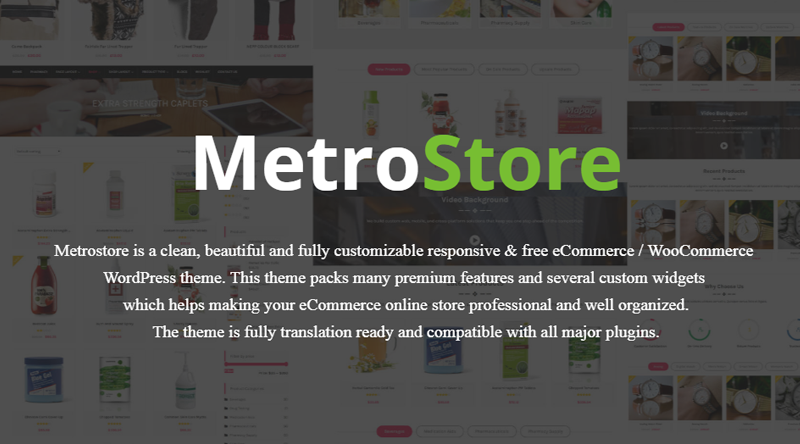 7 – Online Shop:
As the name itself suggests, Online Shop is an extremely powerful, fully customizable yet very easy to use WordPress eCommerce theme for both aspiring and professional online store owners. With 9+ custom widgets, unlimited colors options, a Live Customizer, and several other similar features, this spectacular theme offers you unlimited possibilities to make your online store as unique and beautiful as possible. In addition to eCommerce, this multi-purpose theme can also be used to create other types of the sites, including a blog or single page website.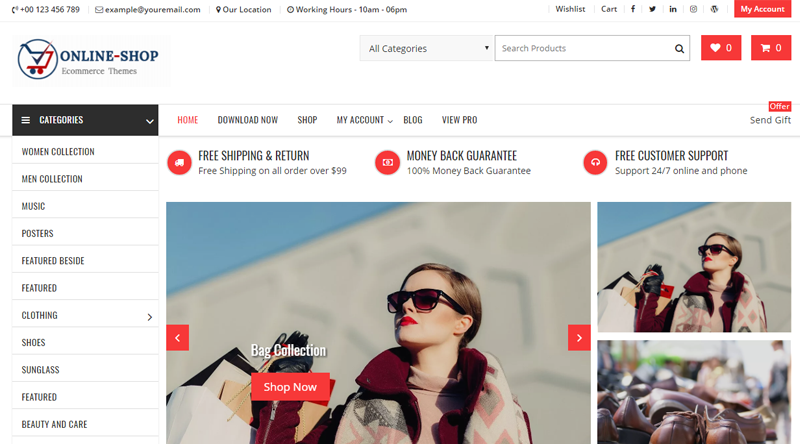 8 – eCommerce Gem:
eCommerce Gem is an easy-to-use and customize multipurpose WordPress eCommerce theme suitable for the online store of any type, including jewelry, cosmetics, fashion, medical, mobile, and books. Built with all the latest SEO practices and standards in mind, the theme provides you high visibility in search engines – helping you always stay ahead of your competitors. Key features of the theme include featured and latest products carousel, a full-width easy-to-use slider with featured image, search within a category, built-in call to action buttons, and multiple drag-and-drop widgetized sections on the front page.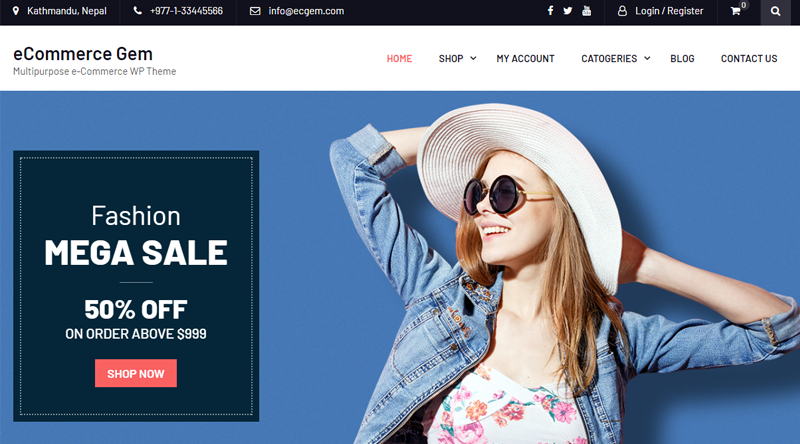 9 – BuzzStore:
Buzzstore is a lightweight, sleek, and premium-looking WooCommerce WordPress theme packed with several unique features and custom widgets that make any online store professional, well-organized and customer-friendly. Having 4 different header layouts and 7+ inbuilt widget sections, the theme integrates smoothly with WooCommerce and is also fully compatible with other popular plug-ins like YITH WooCommerce Quick View and YITH WooCommerce Wishlist.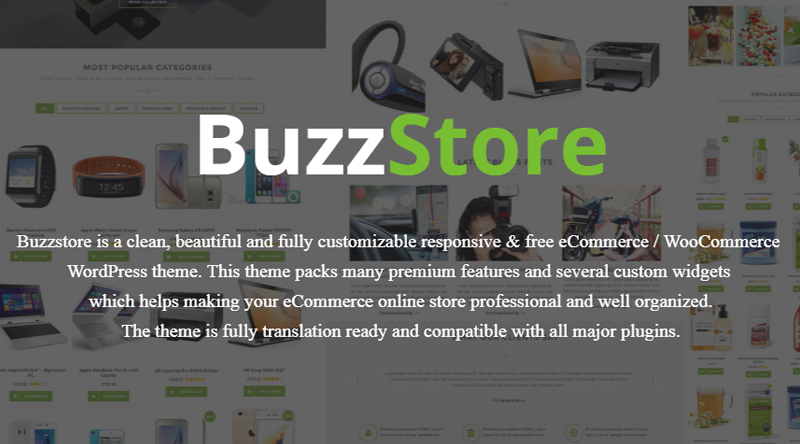 Tips to Build a Profitable WordPress eCommerce Store
#Identify Your Target Customers:
Figure out what you want to sell and who your target audience is.
#Use the Right eCommerce Plugin:
If you already have a WordPress site, we recommend you using the WooCommerce plugin to turn your ordinary site into a full-fledged online store.
#Choose the Right eCommerce Development Partner:
While you think you can handle everything related to setting up your eCommerce site, you have to hire a reliable WordPress eCommerce Development partner at one point or another to get the desired results. And if you're using WooCommerce, you may need to hire WooCommerce development experts to leverage the true potential of the world's most popular WordPress eCommerce plugin.
#Employ a Strong SEO Strategy:
Since a search engine optimized online store drive more conversions and sales, make sure to implement the proven WordPress SEO tips and techniques to rank your online store and products on the top of search engine result pages. To optimize your online store for technical SEO elements such as Rich Snippets and Local SEO, you may consider hiring professional WordPress SEO services.
#Don't Neglect the Power of Mobile:
According to Statcounter, nearly 55% of traffic today comes from mobile and tablet devices. While using a fully responsive WordPress eCommerce theme is definitely the best way to cater to your mobile audience, you can also consider building a highly interactive and functional mobile app for your eCommerce business with the help of WordPress mobile app development experts.
#Focus on Security and Performance:
Lastly, add a 256-bit SSL certificate to your online store and make sure it is optimized to load at the speed of light.
Real-life Examples of Online Store Built with WordPress